The Best Plastic Moving Boxes and Bins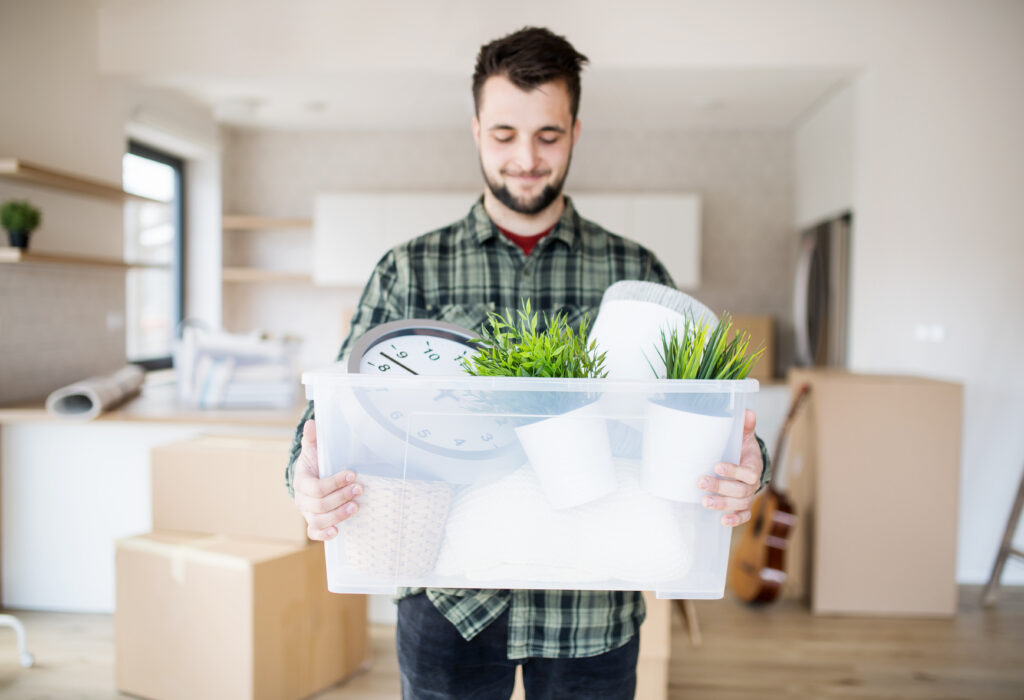 Moving can be a very stressful experience for anyone, no matter how exciting the circumstances of the move might be. Being organized and having a system when you move can make the process go more smoothly, and allow you to easily find all your stuff when you get to your new home.
The best way to do this is to start off with packing on the right foot: having the right plastic moving boxes to get it all done. Best of all, you can keep plastic moving bins as another storage solution, or hold onto them until your next move, meaning that in some sense this is also an eco-friendly moving solution.
The 7 best plastic moving boxes and bins
When you start your search for plastic moving boxes and bins, you might find yourself a little overwhelmed by all the options. How can you choose the right bins that will support your items but also last through your next move? Here, you can choose from the top 7 best plastic moving boxes and start packing!
Best overall: U-Haul Ready-Go Box
While collapsible plastic bins are great for moving, what if you don't want to hold on to any bins whatsoever after making the move? Then take a look at the U-Haul Ready-Go Boxes. U-Haul is a household name in the moving business and they understand their customer's needs. Just pick up your bins, pack what you need in them, move, and return the bins back to U-Haul. These also are compatible with other U-Haul products (like the U-Haul dollies) making for easy moving!
U-Haul Ready-Go Box details
The dimensions are 20\"W x 24\"L x 12\"H.
Pros and cons of U-Haul Ready-Go Box Storage bins
Pros:
Reliable and trusted bins from a company.
You don't have to keep the bins when you're done, saving you space and money in the long run.
No assembly required – just pick them up and they are ready to use!
Tight-latching lid to secure your items in a waterproof bin.
Cons:
You don't own them, so it may be hard to put the money down to rent them. However, they are generally very, very affordable.
With COVID-19, it may be a little worrisome to use bins that others have been using, however U-Haul states that they clean the bins after every use.
Best for budget: Sterilite Latching Crate Storage Bin
Sterilite is a trusted brand when it comes to plastic storage bins and boxes. And, if you're looking to save money on your plastic moving boxes (perhaps you have a lot of stuff to move!), then the Sterilite Latching Crate Storage Bin is your best bet. The bins are deep enough to fit whatever you need, and there are several sizes to choose from.
The most enticing feature about the Sterilite Latching Crate Storage Bin is the latching handles on opposite sides of the bin's lid. These latch down, securing the lid in place and ensuring your items stay protected and won't fall out of the bin. Best of all, this storage bin is the best bang for your buck, ranging from $5.98 to $13.98 (as of publish). The bins are sturdy – customers reported having the bins for several years with no cracks – and they stack on top of one another easily.
Sterilite Latching Crate Storage Bin details
The Sterilite Latching Crate Storage Bin comes in 15 qt, 25 qt, 32 qt, 64 qt, and 106 qt storage capacities.
Pros and cons of Sterilite Latching Crate
Pros:
The latches make sure all your stuff is stored tightly and safely.
Bins are clear, so you can see what's inside! No more disorganization once you start unpacking.
Cons:
They may be a little difficult to hold – you'll have to stretch your arms out wide.
Packing them too tightly may make it difficult to latch the lid, meaning you'll have to take some stuff out, even if you're not at the maximum weight capacity.
Best for downsizing: CleverMade 400 Series Solid Wall Storage Bin
Though plastic moving/storage bins are sustainable in general (if you were to use them again and again), they can be hard to hang on to after a move. For example, if you're downsizing to a smaller home after your move, what are you going to do with all of the plastic bins you've used to move your stuff? This is where CleverMade 400 Series Solid Wall Storage Bin comes in.
These handy collapsible bins deconstruct and stack vertically for optimal, out-of-the-way storage with the interlocking nesting system. These are great for moving or storing items if you live in a small space. Unlike other plastic moving boxes on this list, the CleverMade 400 Series Solid Wall Storage Bin is more pricey at $45 for one. But, if you plan on keeping them and reusing them, they are an excellent, versatile option.
CleverMade 400 Series Solid Wall Storage Bin details
Dimensions: 23.5″ x 15.3″ x 12.4″
Collapsed Height: 2.25″
Product Weight: 4.4 lbs
Weight Capacity: 100 lbs
Volume Capacity: 62L / 16 Gallons (up to 100 lbs)

Pros and cons of CleverMade 400 Series Solid Wall Storage Bins
Pros:
An excellent investment. Think – they are the Space Bags of plastic moving bins!
They have great side-grip handles for heavy lifting.
Cons:
There is no lid for the bins, so while they are great for stacking when no longer in use, they could be a tad awkward to handle in transit compared to other bins.
Pricey compared to other bins.
Best for eco friendly: Bin It
In the theme of being even more sustainable, Bin It is a cool, innovative company whose tagline is "The Smart Move." Although there are plenty of other companies that allow you to rent bins, thousands of people driving to and from those company stores every day to pick up their bins is not good for the environment, due to the carbon emissions from the vehicles.
But, Bin It brings their plastic moving bins straight to you, and you can hold on to them for a few weeks. When you're done moving, you can take your time unpacking, and the company will come and retrieve their bins from you when you're finished. In terms of pricing, you'll have to get a quote on their site, but packages are based on how many bedrooms are in your home, and you can go off that depending on if you're a "hoarder or a minimalist."
Bin It details
Bin It comes in two sizes, 27″L x 17″W x 12″H and 24.5″L x 20.6″W x 48″H for their wardrobe bins. The website also says each bin holds:

5 sweaters and 5 winter jackets or…
12-15 pairs of shoes or…
48 books or…
15 pairs of shorts or…
30-40 t-shirts or…
17,000 Tootsie Rolls or…

Pros and cons of Bin It bins
Pros:
User-friendly interface on their website, making it easy to navigate.
Very practical: You can return bins when you're no longer using them.
Sanitized after each use.
Recycled and eco-friendly solution.
Limit the amount of moving tools/supplies you'll need.
Cons:
Currently only located in a handful of cities.
They seem to be a bit new to the game, which isn't always a bad thing.
Best for heavy-duty items: HDX Tough Storage Bin
If you're looking for heavy-duty storage bins for the items you might not be unpacking for several months (or, that just might stay in the garage), check out the HDX Tough Storage Bins. HDX sells many different types of bins, but the HDX Tough Storage Bin can hold all your heavy items when moving.
The HDX Tough Storage Bins come in different size capacities, and all have a black bottom with a yellow lid so that they are easy to distinguish from your other plastic moving boxes. Customers say they are strong, durable, and stackable, and provide a toughness that you cannot find in other bins. Plus, they're outfitted with a snap-fit and lockable lid for secure storage. This means they can stay in a corner of your garage without the worry of bugs or dampness getting in.
The HDX storage bins have a 94% rating from customer reviews via Home Depot, and for that rating, the price of these bins – ranging from $5 to $40 max – are a no brainer.
HDX details
The HDX Tough Storage Bin comes in many sizes, including: 7 GA, 12 GA, 17 gallon, 27 GA, 38 GA, 55 GA, and 70 GA.
Pros and cons of HDX
Pros:
These bins have a reputation in the heavy-duty storage department, so they are a trusted brand.
Many size capacities available, and at really affordable prices for what you're getting.
The lockable and snap-fit lid means your items will stay secure.
Easily stackable for when you move and to store later.
Cons:
Some customers have mixed reviews, but most seem to be pleased consistently. It seems if you have a problem with your bin, you can utilize the warranty.
The black color of the bin means that you won't be able to see what's inside, so make sure to pack it with items you won't need for a while after moving, or clearly label each bin.
Best for versatility: VENO Heavy Duty Moving Bag Storage Tote
If you have a lot of oddly shaped items that won't fit so neatly into a square or rectangular plastic moving bin, then you'll need something more versatile, flexible, and lightweight that doesn't sacrifice strength and durability. For all your many clothes, blankets, pillows, and anything that won't get crushed, check out the VENO Heavy Duty Moving Bag Storage Totes. Just pack and zip it up and you're ready to go.
And, while these aren't quite plastic moving bins, they can help you a lot with your move. You can easily stuff as many items as you can into these duffle-like bags, and they are super heavy-duty. They also come with straps for easy carry or to wear on your back. As a bonus, VENO storage totes are made with recyclable materials. Get a set of four, six, or eigth at $27, $36, and $44 respectively.
VENO Heavy Duty Moving Bag Storage Tote details
29″ W X 12″ H X 14", holding up to 80 L.
Pros and cons of VENO Heavy Duty Moving Bag Storage Tote
Pros:
A unique product that's easy to pack without being limited by rigid sides.
Easy to stuff.
Easy to carry.
Fold it up when you're not using it.
Cons:
Not stackable like bins.
May be hard for some people to lift, as the bags can hold more weight than you initially expect.
Best for maneuvering: Sterilite 40 Gallon Industrial Tote
The Sterilite 40 Gallon Industrial Tote is a bit of a misnomer. Unlike the moving bag listed above, the Sterilite Industrial tote is a deep, rectangular-shaped bin that measures 36.75 x 21.38 x 18, and has a tight-fit drip-resistant lid, The best feature of this plastic bin is that it comes with wheels and a handle, so you can roll the bin instead of having to carry it.
The Sterilite 40 Gallon Industrial Tote costs around $57, and can be purchased at most large retailers, which means you can get it whenever you need it. Sometimes, you may be able to buy up to four of these in bulk to save some money.
Sterilite 40 Gallon Industrial Tote details
Pros and cons of Sterilite 40 Gallon Industrial Tote bin details
Pros:
Transportable.
Sturdy/Heavy-duty.
Can hold a lot of weight.
It has 4.5 stars on Amazon.
Cons:
The handle is short, so you may have to bend a little when rolling it. Pulling the entire full bin with the handle may be difficult.
It may throw off movers who aren't used to seeing a bin like this, and it's possible they could damage the handle and the wheels if they don't carry the bin properly.
Things to consider when buying plastic moving boxes and bins
When you buy plastic bins for moving, there are certain factors you want to consider before making your purchase:
Durability – Will your plastic bin be able to hold the weight you're putting in it? Sometimes, even if bins have a weight limit, they don't hold up well at the top of that limit, starting to crack, weakening the plastic and essentially defeating its purpose.
Shape and stackability – Do you need bins that are more rectangular, flat, tall, etc.? Can the bins easily be stacked, even with bins from a different manufacturer?
Movement – Are the handles, wheels, or straps to help you move or life the bin?
Quality and reviews – Does the plastic bin live up to its reputation? What are other people saying about it, and how does it compare to other bins?
Cost and guarantee – You might be looking at the best plastic bin out there, but if it doesn't fit within your budget, then it's not the right option for you. Additionally, you'll want to check what the warranty is on the product, in case you end up with one that's defective or breaks.
The bottom line
Moving is usually always a hassle, even for the most organized, relaxed, and experienced people. One major aspect of the moving experience is getting the right plastic moving bins to pack your things in. It can be hard to find the right bins that are sturdy, affordable, easy to lift, can hold a lot, and have a solution for storage when you're finished. These are the seven best moving bins we found that meet this criteria.
Frequently asked questions
Q:
Where can I buy plastic moving boxes?
A:
There are several places you can buy plastic moving boxes. You can try online at Amazon, the brand's website, or online/in-store at retailers like Home Depot, Target, or Wal-Mart. There are also companies that will rent plastic moving bins to you, like U-Haul or Bin It.
Q:
Is it better to move with boxes or totes?
A:
It's up to you whether you want to move with plastic moving boxes or totes. Boxes are better for items with shape, delicate items, etc., whereas totes are better for soft items that can't get crushed. You might decide to use a mix of both!
Q:
How do you pack a plastic bin?
A:
To pack a plastic bin, always put the heavier things on the bottom that won't get crushed under heavier weight. Fit items into each other and fill up empty spaces. Do not make the bin so heavy that you won't be able to lift it. Organize each box by the room in which the items will come from/go after moving.