The Best Mattress Bags for Moving and Storage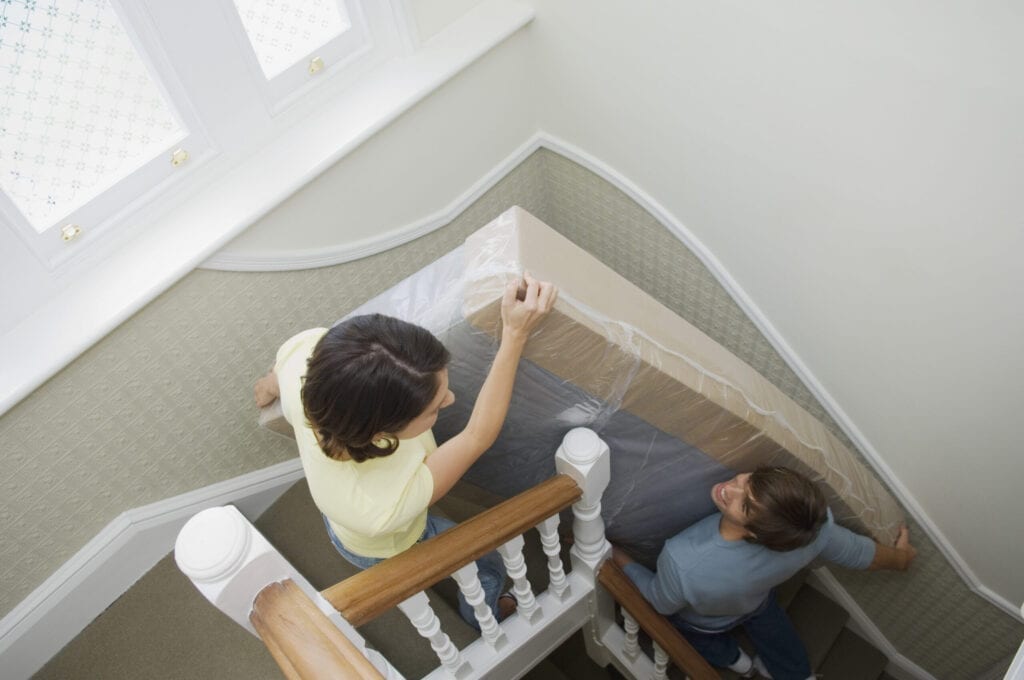 Mattresses are typically a financial investment, with some of the best mattresses costing well over $1,000. Much like fine china and other valuables, they need extra care when moving. The last thing you want to worry about is that your mattress was torn, soiled or damaged in some way during transit. With the coronavirus a present risk, keeping your mattress hygienic — especially if movers are involved — is another important factor, making a mattress bag a must.
A mattress bag can keep your bed clean and protected during a move. And if you need your items stored for some time before you finally move into your new home, keeping the mattress sealed in a mattress bag ensures your bed will remain dust-free and dry until it's time to set your bedroom up. With so many mattress covers on the market, which one is best? It all depends on your needs and budget.
The top 10 mattress bags for moving or storage
We used criteria including customer reviews, durability, price, ease of use and thickness when selecting the 10 best mattress bags for moving and storage. Real customer reviews are crucial when getting an objective idea of how each mattress cover works in real-world situations. All mattress bags featured come highly recommended by the bulk of the buyers who reviewed them.
If you don't plan on moving often, investing in a higher-cost mattress bag isn't necessary. You can still buy a quality bag that will survive a move for an affordable price. The ComfortHome mattress bag is the perfect example — you'll get two bags for less than $12 and free shipping if you're an Amazon Prime member.
The ComfortHome mattress bag is no-frills and best for a single use. There are no handles or other bells and whistles, but considering the price, it may be worth the trade-off. You'll need to seal the bag using packing tape once you insert your mattress or box spring. But once you do, the 1.5 Mil polyethylene cover will protect your bed against moisture, dust and dirt.
ComfortHome mattress bag sizes offered
Pros and cons of ComfortHome mattress bag
Pros
Cons

Comes with two mattress bags
Simple design for packing a mattress
Plastic can be reused to cover other furniture pieces or as a drop cloth

No handles
Requires taping closed — does not come with self-adhesive for easy sealing
Mattresses are bulky and difficult to handle. And if you've ever moved before, you know that items tend to get damaged in transit. To reduce the chances of soiling or damaging your bed, Tru Lite's mattress bag is one of the most durable, heavy-duty bags available.
The thick 4 mil. commercial grade plastic won't rip or tear so your mattress stays protected. In addition, the heavy-duty bag has deep gusseted corners so even the thickest pillow top mattress will fit inside.
Tru Lite mattress bag sizes offered
Twin/Twin XL/Split King
Full/Full XL
Queen
King/Cal King
Pros and cons of Tru Lite mattress bag
Pros
Cons

Puncture-proof and tear-resistant heavy-duty plastic
Large bag size for XL and deep mattress styles

No handles
Requires taping to close unless you order the self-adhesive seal version
Trying to wrap a large, bulky mattress is sometimes a challenge. Linenspa's envelope design makes it fairly simple to place your mattress in the bag. Slide the end of a mattress into the opening and work the bag up the remainder of the mattress. Once you do, fold the extra plastic over and seal with packing tape.
The 2 mil clear polyethylene isn't the thickest, but should be sufficient to keep your mattress safe and dry. Linenspa provides you with two mattress bags per order — use one for the boxspring and one for the mattress.
Linenspa mattress bag sizes offered
Pros and cons of Linenspa mattress bag
Pros
Cons

Comes with two mattress bags
Simple design for sliding a mattress in

No handles
Requires packing tape to seal
Mattress bags use a lot of plastic, which can end up taking up space in a landfill. You can opt for a reusable mattress bag, which could come in handy for more than just one moving or storage trip.
LLYWCM's mattress bag is made of thick, waterproof material. It features double stitching and a double heavy-duty zipper for durability. Integrated handles are strong enough to make it possible to carry the mattress or drag it without tearing the bag. The bag is one of the more expensive ones in our best mattress bag roundup at $40, but considering it's reusable, it should pay for itself over time.
LLYWCM mattress bag sizes offered
Pros and cons of LLYWCM mattress bag
Pros
Cons

Reusable
8 handles
Heavy-duty zipper

Bright blue color
More expensive than other types of bags
There are times when you may want your mattress to keep a low profile. You may want to conceal the pricey brand of your mattress from the movers, or perhaps the stains on the mattress are best hidden during a move.
An opaque mattress bag, such as BYSURE's, is a good choice on either occasion. The 3 to 6 mil material is thick enough to stand up to handling during a move. As with all the mattress bags in this roundup, there are no vent holes, so you can seal the mattress and keep moisture, dirt and bugs out.
BYSURE mattress bag sizes offered
Pros and cons of BYSURE mattress bag
Pros
Cons

Available in 3, 4, 5 or 6 mil thicknesses
Can be recycled
Opaque white design hides the mattress brand and/or stains

No handles
Requires packing tape to close
One of the most damaging things that can happen to your mattress is moisture. If your mattress gets wet and is unable to properly dry because it's wrapped in plastic, the mold and mildew that can develop will ruin it.
Most mattress covers are made of plastic to solve this issue, but thinner plastic can tear or puncture. UltraBlocks' waterproof mattress bag uses the thickest, 6 mil plastic available to keep moisture out. The bag has dual self-adhesive closures so you can peel and seal your mattress bag quickly.
UltraBlock mattress bag sizes offered
Pros and cons of UltraBlock mattress bag
Pros
Cons

Reusable
100% recyclable
Self-adhesive closure

No handles
15" thick mattresses may be a tight fit
Moving a mattress, especially a larger size, is a challenge. Even with a couple of people, trying to get one out of your home and into a moving truck isn't easy. Not many mattress bags come with grab handles. Nordic Elk's comes with eight to ensure you have a good grip when moving your mattress.
Nordic Elk's mattress bag is constructed of heavy-duty tarp material for a waterproof and tear-resistant design. A heavy-duty zipper ensures you can reuse the mattress bag on other occasions. It's the only mattress bag in our roundup that comes with a warranty — the manufacturer guarantees the bag for five years.
Nordic Elk mattress bag sizes offered
Twin
Twin XL
Full
Full XL
Queen
King
California King
Pros and cons of Nordic Elk mattress bag
Pros
Cons

Reusable
Thick tarp material
8 handles
5-year warranty

Blue tarp color is opaque
More expensive than other mattress bags ($40 range)
Best for packing mattress and box spring together: Seal-It Mail and Ship Bag
Mattress bags are typically designed to wrap just your mattress or box spring. Seal-It's design is deep enough to fit both in one bag. Doing so may save you on per-item fees, or help reduce the chances of one or the other getting lost.
The low-cost bag is meant to be single-use. As long as you're not traveling too far, or you're being fairly careful while handling the wrapped mattress/box spring, it should do its job.
Seal-It mattress bag sizes offered
Pros and cons of Seal-It mattress bag
Pros
Cons

Inexpensive
Can fit a standard-thickness mattress and box spring

Must be sealed with packing tape
Only one size bag available
Keeping your baby's mattress clean and hygienic is likely a high priority. The issue is, most mattress bags end up being too large to properly wrap an infant crib mattress. Colgate created a mattress bag for cribs that's just right for the smaller size.
The zippered bag is easy to manage and can be reused in the future. Save it for each time you need to move the mattress, or upcycle the bag to store blankets and other items once your baby outgrows his or her crib.
Colgate mattress bag sizes offered
Pros and cons of Colgate mattress bag
Pros
Cons

Durable plastic
Reusable design with a zipper enclosure
Bedbugs are a serious problem. Discovering some on your mattress means your home is probably infested, requiring expensive and time-consuming efforts to get rid of them. Keep bedbugs in or out of your mattress by wrapping it in CalmNite's mattress storage bag.
There are no vent holes in the 4-mil plastic mattress bag. If you suspect your mattress may have bedbugs or other pests, sealing it in the bag for a week or two is a good way to get rid of them. On the other hand, if you're worried about your mattress picking up some pests on a move, folding the flap over and sealing it with heavy-duty packing tape is bound to reduce the chances of that happening.
CalmNite mattress bag sizes offered
Twin/Twin XL
Full/Queen
King/Cal King
Pros and cons of CalmNite mattress bag
Pros
Cons

Thick pest-resistant plastic
No vent holes
Approved for disposal when containing a contaminated mattress

Requires taping the flap closed
Things to consider when shopping for mattress bags
When looking at mattress bags, there's more to finding the right bag than buying the cheapest one. Some other factors to consider are:
Purpose: Decide on whether you'll be using the mattress bag to place the bed in storage or move it. You may want a heavier-duty bag if movers will be transporting it.
Construction: Depending on how much handling it will get, look for mattress bags thicker than 2 mil. In addition, mattress bags with handles and reinforced stitching make it easier to carry and move the mattress without tearing the bag.
Enclosure/reusability: Mattress bags with zippers or self-adhesive seals can be reused more easily than mattress bags requiring packing tape to close.
Impact on the environment: Once the mattress bag's life cycle is over, recyclable bags have less impact on the environment. Some are even made with recycled materials, for an earth-friendlier bag.
The bottom line
A mattress bag for moving or storage can extend the life of your mattress. Moving trucks and warehouses are dirty, dusty places. To reduce the chances that your mattress stains, gets wet or tears, wrap it in a mattress bag. The small investment, typically between $10 and $40, is well worth it.
Frequently asked questions
Q:
Where can I buy mattress bags?
A:
You can find mattress bags at some office supplies stores, moving companies, U-Haul or Amazon. Compare mattress bags from the variety available to decide which kind is best for you.
Q:
Can you vacuum seal a mattress?
A:
Many people vacuum seal a mattress bag to save space. It all depends on the type of mattress. Foam mattresses without springs are the easiest to vacuum seal.
Q:
What material is best for a mattress bag?
A:
When choosing a mattress bag, look for the thickest, waterproof, unvented material you can find. Unvented mattress bags don't allow dust, moisture or pests to enter the bag. Choose a bag that's between 4 and 6 mil. for maximum durability.