Moving Help from Two Men and a Truck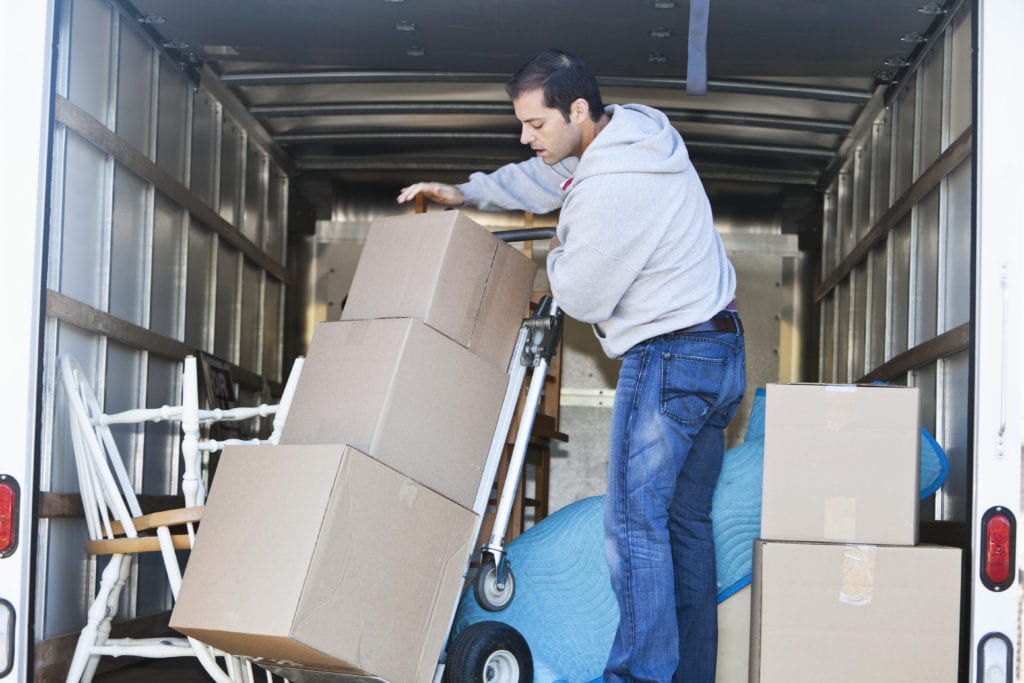 A quick look at Two Men and a Truck
When it comes to companies that help with moving, few have a brand identity as strong as Two Men and a Truck. When the company started out in the 1980s, it was true to its name. Brothers Brig and Jon Sorber started the moving service when they were in high school with a moving truck their mom bought them for $350.
Now, the company is one of the largest moving company franchises in the world, with more than 350 locations across the country. That makes the services of Two Men and a Truck accessible to most people, and a viable option to consider if you need help with moving.
When you hire Two Men and a Truck, local movers will load your belongings in one of their 26-foot trucks. Once your possessions are loaded, the moving service will transport everything to your new home or place them in temporary storage, should you wish. Local moves are generally charged by the hour, while long-distance moves are based on total weight and gas mileage. Other Two Men and a Truck moving services include local moving labor without a truck, packing, and self-storage.
How much does it cost to rent Two Men and a Truck?
Each franchise is independently owned and operated. That means each location sets its own moving rates, so costs will vary depending on your location. The Two Men and a Truck cost of services also vary depending on the size of your home, the number of stairs it takes to access your home, and the distance your items are moved. Another factor that might impact your quote is if you have any specialty items (like pianos or exercise equipment) to move.
You must contact Two Men and a Truck directly to obtain an accurate quote. Remember, local moves are charged hourly. Long-distance moves are charged by the number of miles and weight of the load.
To give you a rough idea of costs, below is a sample quote for a local 12-mile move for a 1 bedroom apartment in Austin, TX*. 
| | | | | | |
| --- | --- | --- | --- | --- | --- |
| Truck Size | Base Rate | Included Mileage | Estimated Fuel Costs | Add-Ons | Estimated Price |
| 26 feet | $110/hour, estimated 4-6 hours | Mileage included | Fuel included | $110 travel fee | $550-$770 |
*prices as of 11/25/19.
Understanding your Two Men and a Truck quote
To give you the most accurate quote, you will need to provide Two Men and a Truck with an overview of all of the furniture and boxes you plan to move. You will receive a non-binding quote, which is based on the movers' prior experience of similar jobs. The quote is subject to change depending on the time it actually takes to complete your move and how accurate your estimated amount of cargo was. You can receive a binding quote that doesn't change only if you have a representative of the company perform an onsite estimate prior to your move.
For local moves, your quote will display the hourly rate and an estimated number of hours that the move will take. If it takes longer than your initial estimate, you can expect to pay more.
Long-distance moves will charge you by weight and distance, so you can expect to see line items for those on any quote you receive.
Your cargo includes minimum insurance mandated by the federal government that covers public liability, property damage, and cargo loss and damage. The included coverage is generally very low, only paying 60 cents per pound of damaged items. You can opt to buy full value coverage that includes everything on board should any of your cargo is lost or damaged.
Breaking down Two Men and a Truck's fees
Two Men and a Truck's fee structure is fairly straightforward, however, there are a number of add-ons that can increase the cost of your move.
Hourly rate: The hourly rate is for local moves and is charged as long as you are using the truck and two provided movers.
An extra helper: For big moves, you might want to hire "three men" and a truck. The third mover will cost you extra, but if you have a lot to move it will take less time and save you money in the end.
Packing help: Can't bear the thought of spending all day taping up cardboard boxes? You can hire Two Men and a Truck to pack your items as well.
Packing supplies: Even if you plan to pack your own stuff, you still need supplies. You can buy them from Two Men and a Truck before your move.
Taxes: Depending on where you live, you might have to pay sales tax. That can add a good amount to the final bill.
Tips: You aren't required to tip, and the movers won't ask for one. But it is generally considered customary to tip movers 5 to 10 percent of the total cost of the move, especially for a job well done.
What size truck do I Need?
Two Men and a Truck are equipped to handle any size move using their fleet of moving trucks, which for the most part are all 26-foot trucks — which can accommodate most any size home.  The 26-foot moving trucks used by Two Men and a Truck can carry the contents of up to five to seven rooms.
Two Men and a Truck: The pros and cons
As with any move, you need to weigh the pros and cons of the various methods. Remember that Two Men and a Truck is a professional moving company, which will always be more expensive than a do-it-yourself move. However, there are many benefits to hiring a moving company worth considering.
The advantages of hiring Two Men and a Truck
You don't have to lift a finger. Moving your own belongings can be backbreaking work. Avoid injury and strain when you hire Two Men and a Truck.
No driving required. Driving a moving truck can be a perilous adventure for many people. Let someone else do it, especially if it is a long-distance haul.
The disadvantages of hiring Two Men and a Truck
It's costly compared with a DIY move where you rent the truck and load your own cargo. You're paying for convenience.
You won't be able to access your items during the move.
Two Men and a Truck reviews
Two Men and Truck has mixed reviews from different sources on the web. The company has a B- rating from the Better Business Bureau, which is awarded independently from the ratings submitted by customers on the site which give the company one star out of five.  Consumer Affairs users give the company 3+ stars based on more than 200 reviews. Many customers were impressed with the speed and reliability of the movers, while others were disappointed by unexpected charges and scheduling issues.
Frequently Asked Questions
How much does Two Men and a Truck cost?
Cost varies depending on the scope of your move and by location. The company's rates are competitive with other moving companies, which charge on average $80 to $100 an hour for local movers and $2,000 to $5,000 total for long-distance moves.
What size moving truck do I need?
Two Men and a Truck will determine the size truck needed to move your belongings. Generally, a 26-foot truck can hold the contents of almost any size home.
Should I purchase insurance for my Two Men and a Truck moving truck?
The liability coverage included with your move only pays pennies on the dollar for your belongings in the event of a loss. For this reason, it is wise to purchase full-coverage protection. However, your homeowners or renters policy may cover you already, so it is best to check with them to see before buying more insurance through Two Men and a Truck.
What do I need to do to prepare for my move?
Consult MYMOVE's interactive checklist to learn more about preparing for a move.
Do I need to tip my movers?
You are not required to leave a tip, but movers normally receive and rely on tips as a part of their income. A tip of 5% to 15% of the total move is usually sufficient for both movers to split.