Are PODS' Moving Containers Right for Your Move?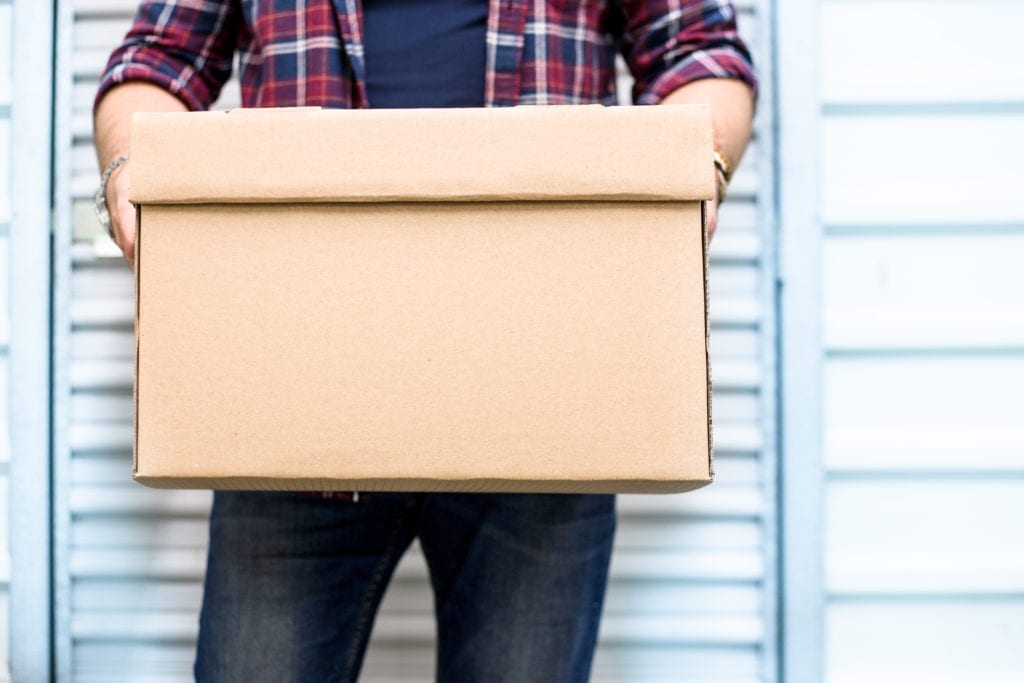 If your packing timeline requires more flexibility than a moving truck provides, moving containers are perfect for you. For this method of moving, a spacious storage container is dropped off right outside your home, allowing you to pack in your furniture and other belongings. Then you have the storage container picked up and taken to your new home for unloading.
That's the premise behind PODS®, which helps people who are moving relocate to a new home without having to hire professional movers. PODS eliminates the need to drive a moving truck and take the risk of transporting your load on a long-distance trip. Ease and convenience are just some of the reasons why people are considering moving containers over traditional moving services.
If you have a move coming up and are considering PODS' moving containers as a means for getting your stuff from point A to point B, keep reading to learn everything you need to know about the moving and storage company.
 Key features that differentiate moving containers from other storage methods
PODS offers the convenience of moving your container to a new destination — or keeping it in one of their secure storage warehouses — until you're ready to have the moving container delivered to your location.
When loading your unit for moving, take as much time as you need. PODS' units are rentable on a monthly basis, so you'll be charged every 30 days. Whenever you've loaded your container, you can schedule a pickup.
PODS' services are available in nearly every state, as well as in Canada, Australia, and the United Kingdom. Moving containers are available on a first-come, first-served basis, so wait times to receive a unit may vary.
Moving containers come in three lengths: 7-foot, 12-foot, and 16-foot. All three versions have the same width and height of 8 feet.
PODS moving costs can vary widely depending on the distance the unit must travel to and from your location, the availability of moving containers in your area, and the time of the month or year.
PODS' containers are dropped off by a truck equipped with the company's patented loading and unloading lift system called Podzilla. The equipment makes it possible to drop off and pick up a pod on level ground almost anywhere with street access.
PODS' containers are steel reinforced and weather resistant.
How much does it cost to rent a PODS unit?
The cost of using a PODS moving container can vary depending on the length of your unit rental and the distances it travels to and from your locations. The size and number of containers you choose will also impact the price. Every PODS rental quote is personalized.
For starters, some customers may opt to use a moving container to provide temporary storage at a PODS warehouse.
This is the most affordable option for those only needing temporary storage solutions. PODS will bring you an empty container to load yourself. They will then drive the loaded container to a PODS secure warehouse, where it will stay until you're ready for your belongings. When you give the go-ahead, they will drive the unit back to your location for you to unload and will pick up the empty container when you're ready.
To give an idea of the cost, here's a quote for a customer in Charlotte, NC, (28208) who's looking for temporary PODS storage for one month: *
 A 12-foot container is the smallest option available for warehouse storage and costs $164.99/mo.
The customer will also have to pay a $49.99 fee to have the empty container delivered, and another $49.99 fee for PODS to drive the full container back to them at their home when they no longer need storage.
The total price to rent a PODS unit for storage for one month is $264.97, plus taxes. The customer will be charged $164.99 every 30 days until they call for their unit to be returned.
*Prices quoted valid as of 10/5/2020. Prices vary based on services and location.
When it comes to having your moving container delivered to another location, costs will vary depending on whether it's a local or long-distance move.
Below are two sample quotes from PODS.com:
Local move quote
A local move is one that is roughly 20 miles. As an example, let's look at what it would cost to move from Charlotte, NC (28208) to McAdenville, NC (28101) using a PODS moving container: *
A 12-foot container was the smallest size available at a recurring charge of $154.99/mo.
According to the quote, the customer will be charged a $49.99 fee when the empty container is delivered in Charlotte and another $49.99 pick-up fee for when the unit is retrieved from McAdenville.
There's also a $49.99 fee to move the packed container from the old home to the new home.
Once the delivery location has been confirmed, a customer will be asked to provide payment info. The quote states that the customer will be charged $204.98 the day before the initial delivery (this includes the container delivery fee and the recurring monthly rate to rent the unit).
The customer will then be charged $154.99 every 30 days until PODS picks up the empty container.
The total cost after completing your move within 30 days would be $304.96, plus taxes.
*Prices quoted valid as of 10/5/2020. This is the initial quote given based on ZIP Codes™ provided. Prices may vary based on the specific addresses inputted.
Long-distance move quote
To understand the cost of PODS moving and storage for a long-distance move, let's consider a roughly 500-mile move from Charlotte, NC (28208) to Pittsburgh, PA (15212): *
According to PODS, only the 7-foot containers and the 16-foot containers are eligible for a long-distance move.
Here's the quote for a 7-foot unit:
Total costs are broken down into three payments.
The first payment would be $414.94 and includes the PODS moving container rental for one month, as well as local drop off and pick up of the container. It also includes a $49.95/mo. content protection fee (of $10,000 value).
The second payment would be $745.30. This is the shipping fee, based on mileage.
The third payment would be $130. This is the local drop off fee.
The total cost after completing your move within 30 days is $1,290.24, plus taxes. The customer will then be charged every 30 days until PODS picks up the empty container.
*Prices quoted valid as of 10/5/2020. This is the initial quote given based on ZIP Codes™ provided. Prices may vary based on the specific addresses inputted.
Understanding your quote
As you can see, there are many factors that affect the cost of using PODS. If you're moving a very long distance or across state lines, you may have to call to obtain a quote. Otherwise, you can get a quote online from PODS by answering a few questions on their website. They will email you a quote that will expire in a few days if you do not respond right away.
Check your quote for a list of charges and add them all up to arrive at a final cost for using a PODS moving container. Remember that the further your moving container must travel, the greater the cost will be.
You must also decide whether to purchase insurance. There are policies available to cover both the container and your contents inside of it. Learn more information about PODS insurance on their site.
Breaking down PODS' fees
PODS is fairly transparent about its pricing, but you still might encounter certain fees depending on your situation.
Your initial quote from PODS will not include applicable local taxes. These can add quite a bit to your final bill depending on the tax rate in your area.
Some moves are subject to a fuel subsidy fee and vary from location to location.
Remember, you will pay a recurring fee every 30 days for the cost to rent the moving container.
You may be subject to delivery fees when PODS moves the container to a new location or when the company picks up or drops off an empty container.
What size moving container do I need?
It's important to pick the right size unit: too small, and you will not have enough room to load all of your belongings, and too big your contents are more likely to shift during transport. Use the size guide below to determine which size moving container and how many of each you will need.
| | | | |
| --- | --- | --- | --- |
| Container Size | Container Material | Capacity | Max Weight Limit |
| 7 feet | Steel | 1 room | 5,200 lbs |
| 12 feet | Steel | 2-3 rooms | 4,700 lbs |
| 16 feet | Steel | 3 to 4 rooms | 4,200 lbs |
The pros and cons
Like any service, PODS has its pros and cons. Consider the following:
The advantages of renting a moving container through PODS
The container is located right outside your home, making loading and unloading easy.
No driving required.
Flexible drop-off and pick-up dates.
Not charged based on the weight of your cargo.
The disadvantages of renting a moving container through PODS
Depending on the details of your move, renting a PODS moving container could be more expensive than renting a truck and moving yourself. Pricing may vary when compared to the cost of hiring professional full-service movers. It's important to get multiple quotes and consider different types of moving help when deciding what method is best for you.
You have to pay for 30 days of use, even if you don't use all 30 days to move.
PODS reviews
PODS has mixed reviews from consumers online. The company has an A+ rating from the Better Business Bureau but only has a two out of five-star customer satisfaction rating. PODS has four out of five stars from Trustpilot. Negative reviewers complain about being overcharged, missed delivery dates, and dropped containers. Positive reviewers encountered no issues and found PODS for rent to be a convenient and comprehensive moving solution.
What are PODS moving containers?
Moving containers are portable storage boxes designed to carry the contents of a home or apartment. Moving containers can be transported by a large truck from point A to point B. They can also be easily stored in a warehouse for an indefinite period of time. Storage containers can also be placed outside of a customer's home for a desired period of time as they are designed to be weather resistant.
Unlike moving trucks, moving containers come to you and you never have to do any driving. All you have to do is pack and unload your container. PODS is one of the leading companies providing moving containers to the public. Other companies that provide moving containers include U-Haul, Zippy Shell, 1-800-PACK-RAT, and Go Minis.
Frequently asked questions
How much does a PODS container cost to rent?
A PODS moving container generally starts at $149 a month; however, prices vary based on distances and location.
What size moving containers does PODS offer?
The units come in three sizes: 7-foot, 12-foot, and 16-foot. All units are 8 feet wide and 8 feet tall, but the length varies according to the specified size.
What is the best way to pack a moving container?
When packing a moving container, take care to evenly distribute the weight as much as possible. Load the heaviest items on the bottom layer and pack lighter items on top. Fill any negative space with blankets, towels, pillows, stuffed animals, or other bulky objects that can help prevent shifting.
Do I need a parking permit for my moving container?
In some cases, you might need to obtain a parking permit for your moving container. Work with your local company representative to determine how to best obtain these permits, if required.
­Which moving container company is right for me?
Obtain quotes from multiple moving container companies. You might find one is cheaper than the others, but you might also find that one has better service or more convenient times for delivery. Choosing the best company depends on a number of factors that only you can determine.