Choosing a Moving Truck For Your Long-Distance Move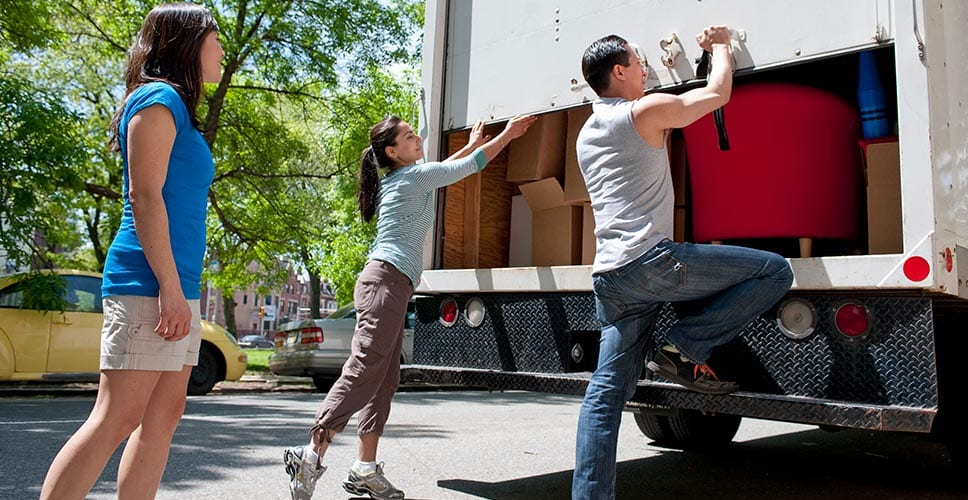 So you've decided you're going to rent a truck for your move. Now comes another decision: Should I get a one-way moving truck or round-trip? It can be tough to know which is better, and the answer really depends on your situation.
Let's look at some of the factors involved.
One-way versus round-trip truck rental — What's the difference?
A one-way moving truck rental allows you to pick up the moving truck near your old home and then drop it off when you get to your destination. A round-trip rental requires you to return the truck to the same location where you picked it up.
One-way rental trucks can be particularly useful for long-distance moves. Moving truck rental companies tend to charge a flat rate that includes a certain number of miles and days, with the option to buy additional distance or time.
Round-trip rentals are usually best when you're moving within the same city. You'll pay a fee for the rental per day that varies depending on the size of the truck and then a certain charge per mile that you drive. This is why, for longer distances, a round trip can get more expensive — not to mention inconvenient.
Need help deciding what size truck to rent? Make your decision with MYMOVE's moving truck guide.
One-way vs. round-trip — What's cheaper?
The answer also depends on your situation. For longer moves, one-way truck rental is probably cheaper than round-trip. For example, to rent a 20-foot Uhaul truck to move from Chicago to Indianapolis would cost $269, according to U-Haul's online estimate. That includes 2 days of rental and up to 221 miles.
If you rented that truck round-trip instead, the cost would be closer to $700. This is because you'd also pay for the miles for the return, which means the total trip would be about 375 miles, and you'd probably need an extra day, too. Plus, you'll spend an extra day driving.
But if you're just moving nearby, say, from Chicago to Chicago Heights, the cost of a one-way rental is $235 for one day and 39 miles. Round-trip, in this case, would be about $150.
So if your move is short, be sure to look at quotes for both options to determine which is cheaper. Changing your move day might also make a difference.
What does a one-way moving truck rental cost?
The cost for a one-way moving truck rental varies on a few factors, including the size of the truck, the distance you're traveling, and the number of days you want to keep it. Here are some estimates for various distances from Chicago for a 10-foot Uhaul rental on a Saturday:
| Distance | From ZIP | To ZIP | One-Way Pricing | Days | Round-Trip Pricing |
| --- | --- | --- | --- | --- | --- |
| 25 miles | 60106 | 60010 | $145 | 1 | $84.45 |
| 50 miles | 60106 | 60449 | $154 | 1 | $148.95 |
| 100 miles | 60106 | 61370 | $214 | 1 | $277.95 |
| 150 miles | 60106 | 61745 | $274 | 2 | $406.95 |
Note: Rates were based on an online quote of $1.29 per mile. Mileage charge varies based on the day of the week, truck availability, and other factors that can change daily.
What about the cost of insurance? Do I need it?
First, let's talk about the truck itself. While your personal car insurance policy and even some credit cards could cover a rental car, that doesn't extend to larger vehicles such as moving trucks.
This means you'll probably want to consider at least some collision coverage, otherwise, you could be stuck with the full bill for any damages. On top of that, you could be charged for what's known as "Loss of Use." Basically, when the company isn't able to rent out their truck because of the damage you caused, they can charge you to cover the money they might have earned by renting to other people.
Now, how about your stuff inside the truck?
If you have a home insurance policy, check that before the move. Some policies will cover your items if they're damaged while they're on the truck. Be sure to ask your agent to be clear. One caveat: Most policies do not cover the items if they're damaged while being carried. So, if you drop that 50-inch TV, you'll be footing the bill for a new one.
As with any insurance, moving coverage is a gamble, and the choice is all about how much you're willing to risk.
OK, but can I actually drive a moving truck?
Now for the real question: Can you — or should you — drive a moving truck?
This one is going to have to be a personal decision based on your gut. You know your driving habits better than anyone. But just because the truck is huge, that doesn't mean you can't do it.
This article was originally published on May 8, 2018. Updated to reflect current Uhaul rates on Sept. 10, 2019.