At Your Service: Five Pros, Besides Movers, Who Make Moving Easier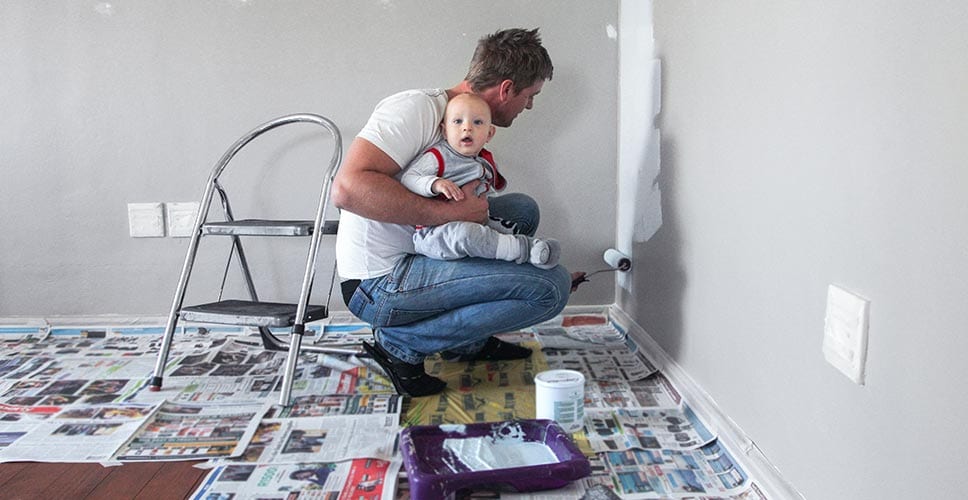 Asking for help can be hard—but asking for help moving? You're suddenly in the starring role in Xfinity's commercial where everybody you know and love is miraculously unavailable. Professional movers can be godsends when it comes to the heavy lifting, but what about the miscellany of to-dos you're guilty of being miraculously unavailable for — including cleaning up that party you threw to kiss your home goodbye? There's a person for that.
The best part? When you're hiring help instead of begging for it, there's no obligation involved. There's no unspoken agreement you'll drive them to the airport (second on the list of Things People Don't Want to Help You Do) once the moving dust has settled. Priceless? Arguably so.
Do you have too much on your plate leading up to moving day? Here's who can come to your door to help.
1. Babysitter
With all the boxes and logistics that moving entails, many things can get in the way, including those beloved children. Whether it's to streamline moving day itself or to find a few hours of distraction-free packing, a professional babysitter can be worth every penny. Especially when those pennies amass to an average of only $12 hourly on Care.com.
Launched in 2007, Care.com prides itself as being "the world's largest online marketplace for finding and managing family care, with more than 30.8 million members, spanning over 20 countries."
Using their website, you can modify the who, what, where, and when of your ideal (and heavily vetted) sitter that's standing by and ready to save your day.
Book a babysitter now.
2. Pet Sitter
Pets are people, too. Are they not? Their needs, during a time when stress and stimuli are at an all-time high, should be considered. Let's face it: it's also when these escape artists can slip through the door — the only thing that could make a move even more stressful.
Enter Rover, the site for your pet sitting or watching needs. Whether it's boarding, house sitting, drop-ins or walking, there's a way they can look out for your fur baby while you're preoccupied.
They call themselves "the dog people," though their scope covers cats and many other pets. They offer a Rolodex of sitters, but only the most qualified. Rover's site says they accept less than 20 percent of potential sitters because of these high standards.
Start searching now.
3. House Helper
If this term feels too broad, you haven't met Handy, a one-stop-shop for household services. A peruse of their site feels too good to be true: cleaning, picture mounting, tv hanging, furniture assembling, electronic installations — are we inside a mover's dream?
Handy defines itself as "the leading platform for connecting individuals looking for household services with top-quality, pre-screened independent service professionals." Handy or what? With a quick (60-second) booking process and a Handy Happiness Guarantee promising a second pro at no charge if you're not fully satisfied, there doesn't seem to be a lot to lose here except the will to do it yourself instead.
Book a service now.
4. Food Deliverer
Not all heroes wear capes. Some wear food logos on their cars. When you're not able to leave your door because you're packing, unpacking, or just too tired, Uber Eats will bring your favorite local restaurant straight to you — and allow you to watch it in real time.
Uber Eats, an offshoot of the popular car service Uber, allows holders of the mobile app to seamlessly peruse, purchase and track delivery of their food. Delivery fees can vary based on the restaurant and your home's distance from it, but they typically range from $2 to $8. Though the delivery fee might be too hefty for some, if you've experienced true hanger, it's likely you'll prefer it over the price you pay not ordering it. It might not only save moving day, but your sanity as well.
Locate a participating Uber Eats restaurant near you now.
5. Mobile Masseuse
Could the most heroic of all be a professional who brings something intangible to your door? If it's relaxation, yes. Soothe, an on-demand mobile massage service, does just that, massaging you in the comfort of your home anytime from 8 a.m. to midnight.
According to their site, Soothe represents "11,000+ independent, licensed and certified massage therapists, all of whom are vetted in person to ensure expert massage technique and professionalism."
Whether it's for a reprieve in the midst of moving out of your old home or as a housewarming gift you give yourself in your new one, you probably deserve it after a move.
Book your massage — then pat yourself on your (soon-to-be relaxed) back. You asked for help!