Everything You Need to Know About Auto Shipping Companies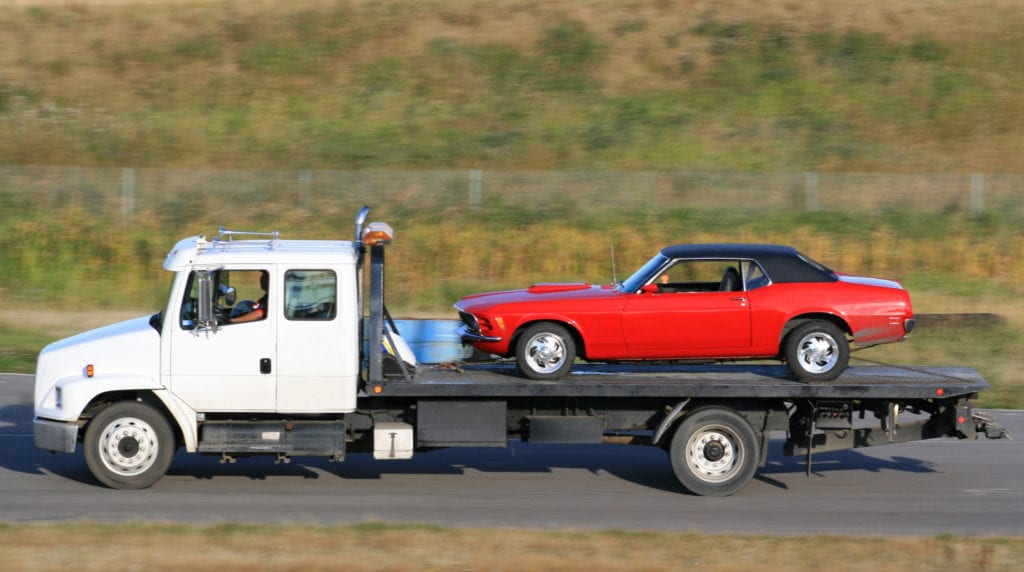 Sending a car from one city to another — let alone cross-country — is no small feat. That's where auto shipping companies come in. They handle the nitty-gritty details so you can focus on your move.
Auto transport carriers work with drivers to get your vehicle where it needs to go. But there's more to finding automobile transport companies than good rates. Does the car shipping quote include insurance coverage? Guaranteed delivery? Look for transparency and great communication from auto transport carriers at the outset.
The best auto shipping companies
Sherpa Auto Transport: Best transparent pricing
AmeriFreight: Best for discounts
Ship A Car Direct: Best at screening shippers
More on the top car shipping companies
Sherpa Auto Transport: Best transparent pricing
According to the Better Business Bureau, Sherpa Auto Transports have an average 5-star (out of five) rating from nearly 150 customer reviews. Sherpa Auto Transport reviews show customers are thrilled with the door-to-door shipping and transparent pricing.  A deposit holds your spot and guarantees your price won't change. But, to get a quote, you have to know your destination ZIP codes, date, and provide your contact information.
Car transport may make your vehicle a little dirty, but Sherpa Auto Transport offers a Clean Car Guarantee. You'll have seven days after delivery to head to the car wash. Save your receipt, and send a copy back to the auto transport company for up to $20 reimbursement.
AmeriFreight: Best for discounts
Repeat customers and those with multiple cars save even more. AmeriFreight reviews often comment on affordable pricing and frequent updates on vehicle status. AmeriFreight has an average 5-star (out of five) rating from over 1,000 customer reviews.
Get a free online quote from AmeriFreight without sharing your personal information. But the available discounts for automobile shipping are where real savings occur. Members of the military and students can find discounts, as well as first responders, senior citizens, and early birds (if you commit to the service within 48 hours after receiving a quote).
Ship A Car Direct: Best at screening shippers
Ship A Car reviews cite excellent communication at every step of the car delivery process. Ship A Car has an average of 4.75 stars from 200 customer reviews. You do not need to pay a deposit to save your place. Although it isn't encouraged, you can pack other items into your car — for a price. However, items left in the car aren't guaranteed, so it's something to think about.
This car shipping company maintains a database of over 7,500 screened auto shippers. If you don't want to use an assigned carrier, Ship A Car promises to switch you with a different one.
Considerations for choosing the right car transport
Automobile transport companies are easy to find, but how do you know who to trust with your vehicle? Relying on someone else to move your car, motorcycle, or other vehicle is stressful. But you may want to consider factors other than price when picking out the right car carrier service for you.
Reviews
What do other people have to say about the auto transport carriers on your list? Browse auto transport companies' reviews for a clearer look at the way a company operates. It doesn't mean you will have the same experience, good or bad. But, one too many negative reviews might be telling you something.
Insurance
Auto transport companies, by law, must have up-to-date insurance. Ask for proof. Check how the company handles damage to your car and the kind of damage they cover. Every policy is going to cover damage a different way. Find out if you would have to pay a deductible and if your insurance covers your car transport too.
Guaranteed rates
Is your quoted price what you'll pay in the end? What can affect your quoted price and how can you avoid extra fees or a surprise bill? Be honest about the state of your car and provide all the information the car shipping company wants. Check if the company you consider offers a locked-in price for your peace of mind.
Extra bonus
Shipping a vehicle isn't cheap, so when a company throws bonuses, it can make a difference. Some auto transport companies, like Sherpa Auto Transport, reimburse you for up to $20 on a car wash after the trip. Others, like AmeriFreight, offer repeat customer discounts.
Auto-shipping cost
The costs of shipping a vehicle aren't easy to figure. Auto shipping companies consider many factors to determine your final cost. The distance between locations, your vehicle, and the type of car transport you choose affects your cost.
Add in other considerations like the season, if your move date is near a major holiday, and the weather, and your price can change. Contact multiple companies for estimates. Then, you'll have a better idea of what you can expect to better make your decision.
The bottom line
Moving a household is hard enough. Adding in updating a license and registration along with a long-distance move for your vehicle is a whole new level of stress. But at least you have a slew of automobile shipping options.
Put your long-distance vehicle move in the hands of a capable company. Do your research. Read auto transport companies reviews, get quotes, and see what company feels right to you.
Frequently Asked Questions
How do you ship an automobile?
You can ship a car from state to state or internationally. Many auto transport companies offer different services to transport your car. Some let you choose between door-to-door delivery or terminal pickup. You'll have to decide if you want to transport your car in an open-air trailer or in an enclosure to keep it protected.
How long does it take to ship a car?
The time it takes to get your car delivered depends on the distance between the location, the type of transport you chose, and the dates you picked. Expect your auto delivery to take anywhere from a day (for close destinations) to a week or longer. Auto shipping companies will give you a time range so you know when to expect your car.
What is the cheapest way to ship a car?
Open-air truck trailer transport is the cheapest way you can transport your car. Of course, the more flexible you can be with the dates, the better off your wallet will be. Avoid peak moving season, like summer, and skip holiday transports to save even more. Check for deals and call several companies to figure out where you can get the best rate.