Create Peace of Mind By Childproofing Your Home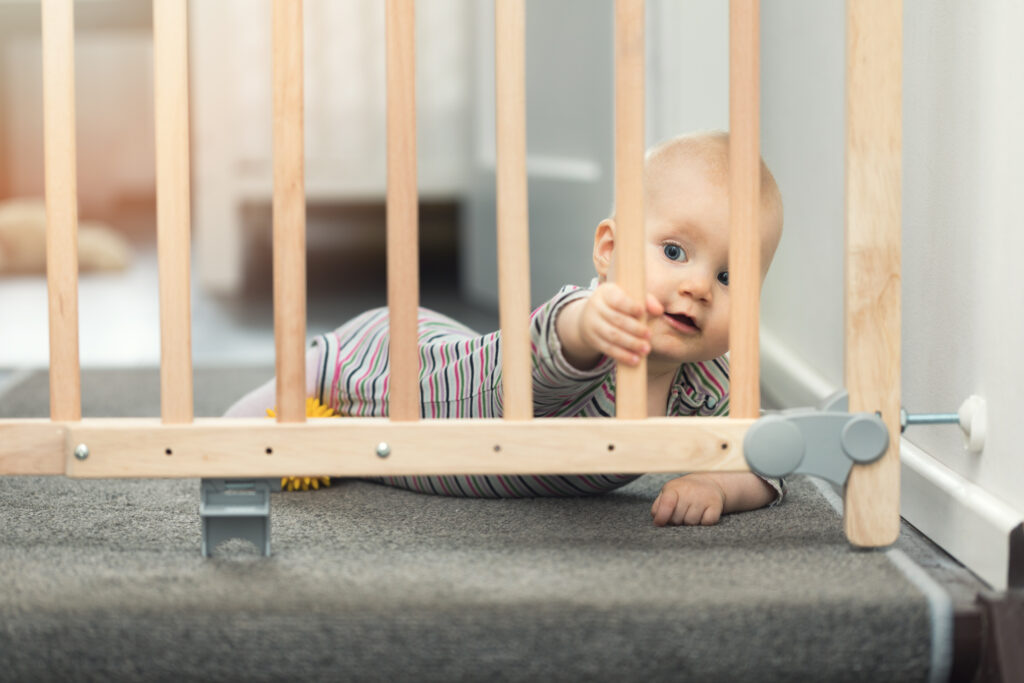 Raising kids is one of life's greatest joys, but it's tempered by the apprehension of making sure they are cared for and safe. Bringing children into a new home or space means searching out and addressing potential hazards. After all, injury is the number one killer of children and teens according to the Centers of Disease Control and Prevention. Every year, approximately 2,000 children ages 14 and younger die as a result of a home injury resulting primarily from fire and burns, suffocation, drowning, falls, choking, poisoning and firearms, according to data compiled by Stanford Children's Health.
As such, childproofing your home is one task that cannot be overlooked. In fact, with children staying home more now than ever, childproofing is an essential task every parent and caregiver must complete in order to help reduce and prevent unintentional injuries. With parents working from home and having to balance their time between working and caring for their children, childproofing your home helps improve child safety at home, when you can't keep eyes on your kid 24/7. It can help provide peace of mind when trying to juggle work and parenting responsibilities.
Learn the high-risk zones
When childproofing your home, you need to look at the entire house, inside and out. If you look at the house from your child's level, you'll see there's a lot of areas where little ones can inadvertently get into trouble. Think everything from electrical cords running along the floor to collectibles resting on a bookshelf, to the pool outside and an open gate in the fence. It's important to incorporate childproofing a home room by room.  Use this handy guide as a childproofing checklist.
Living room
TV mounted: Today's TVs are much larger than in years past. The most popular TV size right now is 65 inches, which weigh approximately 52 pounds without a stand. Therefore, you want to mount it on the wall where children can't reach it or tug it down.
Furniture secured: Kids are notorious for pulling on furniture to stand up, to aid in walking, and even to climb on. You want to secure any large furnishings to the wall so they don't topple over onto children. This includes bookshelves, TV armoires, and  cabinets.
Pictures frames placed high or away: Children love grabbing and looking at photo frames because they often recognize the people pictured. This could lead to not only broken frames, but also broken glass. Move these items outside of the kids' reach.
Fireplace covered: Doors on your fireplace serve two purposes when childproofing: First, closed doors will keep kids from reaching into the fireplace and touching hot ashes or gas logs. Second, it will keep sparks from leaping out onto your floors or, worse, your children.
Cover edges and corners: We've all done it: clipped a corner on the coffee table, resulting in sharp pain and a lingering bruise. For small children, these mishaps could be much worse. These corners could jab an eye, whack a nose, or bang their head. Cover up furniture and even fireplace hearth edges and corners with padding.
Power strip covered: If you have a power strip sitting in a corner with all your electronics plugged into it, it's important to cover it so inquiring little minds and hands won't be tempted to play with it. Nothing could prove more tempting than trying to unplug all those cords, except maybe trying to put them in their mouths.
Candles out of reach: Whether burning or not, candles should be placed outside of your kids' reach. Obviously, a flickering flame would be tempting to touch, but children also may be tempted to try and bite into the candle wax. And candles in glass or porcelain containers could lead to broken pieces everywhere.
Keep small toys out of reach: For children who have older siblings, it's important to keep their siblings' small toys safely out of reach. These little parts and pieces could be a choking hazard, so they should be stored safely when not in use. When in use, parents should supervise younger siblings to make sure those small toys don't go in their mouths.
Bathroom
Toilet covers and latch: You'll be surprised about what kids will want to put into the toilet, or, worse, take out, so install a safety cover with a latch.
Install drawer/cabinet safety locks: For any drawer or cabinet that contains something harmful to your kids—cleaning supplies, medications, makeup, etc.—install safety locks to prevent access.
Storing medicines properly: Medications should be placed out of all kids' reach. Installing a safety lock also or motion sensor is important to prevent older kids from getting into these items as well.
Keeping cords and devices away from children: Always keep an eye out for your children when using appliances like a curling iron or hair dryer, to ensure they don't get burned or trip over the cords. When not in use, store these devices where the kids can't get to them.
Outlet protectors: Install safety plugs into power outlets when not in use to prevent small hands from inserting items into the slits.
Anti-scalding devices for the faucet: It doesn't take long for hot water to become dangerous for children, so install anti-scalding devices to prevent burns.
Kitchen
The kitchen offers obvious hazards that require childproofing, such as the hot stove, sharp knives in drawers and poisonous liquids for cleaning. But there are other, less obvious hazards as well.
Childproof your stove knobs with knob protectors
Get an oven lock for the oven door, and a stove guard
Make sure cords from appliances are tucked away
Install outlet guards
Cover edges and corners
Safety locks should be on the cabinets and drawers

Make sure these locks are engaged when storing poisonous liquids

Use appliance locks on the refrigerator, freezer, and dishwasher.
Look out for sneaky hazards

dish soap, vitamins, magnets, plastic bags

Practice safe cooking

Make sure you are cooking while your child is in a high chair. Keep pans away from their reach.
Bedroom
In each bedroom, check the following potential hazards when childproofing the house.
Cover outlets
Secure any furniture
Be aware of the way the window opens

Check to see if there is potential to push the screen open.

Secure the bed or crib to prevent a fall
Remove heavy lids to toy chests
Keep minimum toys/blankets in the bed
Remove small choking hazard toys
Look out for window coverings
Outdoors
When childproofing, house exteriors are just as important as the interiors. Evaluate your outdoor living space and entire yard for places to shore up safety.
Pool safety and covers
Securing play structure
Keeping out any poisonous plants
Secure the gates/fences
Make sure child wears sunscreen
Keep them away from the roads
Be aware of large branches that may fall
Be aware of small choking hazards
Make sure to keep children hydrated
Safety around the house
Small children thrive on exploration, so take precautions to limit any potential hazards when childproofing your home.
Use safety gates
Secure furniture
Get door knob covers
Invest in corner and edge bumper
Keep furniture away from the window sills
Cover all outlets
Routinely check smoke alarms
Install Co2 detectors
Use monitors/cameras
How to unwind after childproofing the home
Once you have vetted the house and completed your childproofing checklist, take a moment to mentally rest and recharge. Keeping your kids safe is paramount, but this requires mental awareness, too. With children forced to remain within the home, and many adults working from home, it's important to promote your mental dexterity to care for you both. A regular mental break to refresh your mind allows parents and caregivers to remain sane throughout the summer, working from home and day-to-day life.
Techniques to stay centered
Turn on calming or your favorite music throughout the day
Get exercise

You can even set time to work out or walk  with your child/children

Try yoga
Pick up a hobby

You can do this with your child. (arts, crafts, etc)

Set time to talk to your friends and family
Embrace the chaos

It's okay for the house to be a mess or the schedule to get off-track

Wellness apps:

My Water & Drink Reminder: With this app, you can set reminders to make sure you are drinking enough water each day.
Upright Go: Using a small device between your shoulder blades and a smartphone app, you will receive notifications when you start to slouch.
Calm: From short meditations to sleep stories and more, this app helps you enjoy more mindfulness to reduce stress and anxiety.
Resources:
Poison Safety for Kids
Fire Safety Measures
Toy Safety Measures
Outdoor Safety Measures
*Disclaimer: Prevention is not always 100% effective, and you should always have supervision for your little one.