How to make a mid-range mileage move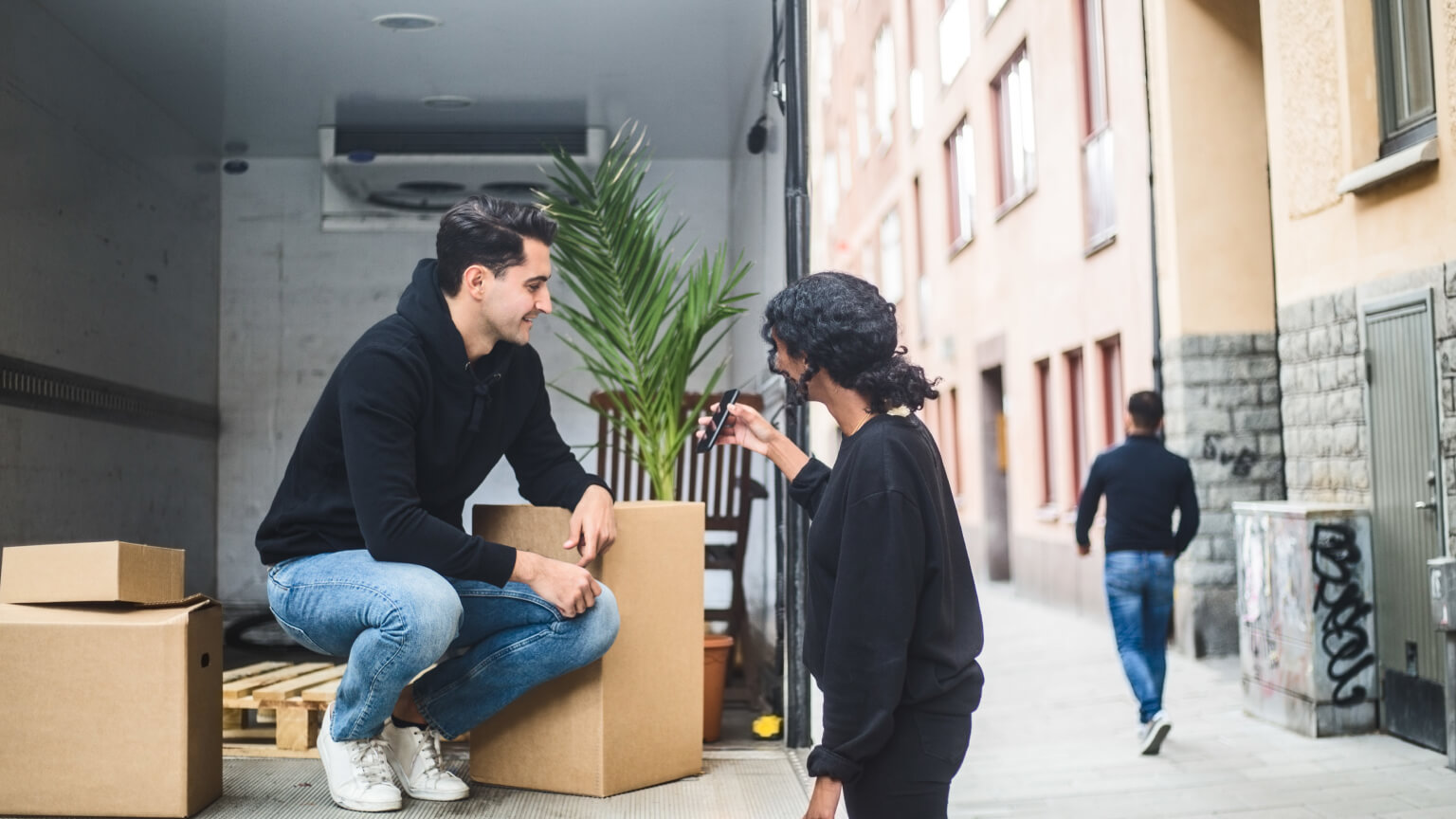 It's easy to find advice about moving across the country (definitely hire movers) or down the street (bribe some friends to help with pizza). The middle ground is a little trickier. What should you do if you're moving one state over, or just a couple hundred miles away?
The good news is that all your options are on the table. You can hire movers to do it all for you, rent a truck and move everything yourself, or plan a combination of both. 
Hire movers or DIY?
The biggest decision you'll have to make when planning your mid-range move is whether you hire movers or not. In general, hiring movers will take a lot of time and stress out of the process, but it will add about $2,000 to your budget for a 100 mile move. 
Hiring professionals
There's a lot that goes into moving quotes — the size of your home, how many belongings you have, whether you need movers to pack and unpack for you. In general, you can expect to pay between $2,000 and $3,000 for a mid-range move. MYMOVE recommends getting at least three detailed moving quotes before picking a company. 
| Distance | Movers cost* | Packing cost* | Total cost |
| --- | --- | --- | --- |
| 50 miles | $1,808 | $435 | $2,243 |
| 100 miles | $2,059 | $435 | $2,494 |
| 200 miles | $2,344 | $435 | $2,779 |
| 350 miles | $2,538 | $435 | $2,973 |
| 500 miles | $2,642 | $435 | $3,077 |
*Average of quotes through MYMOVE for 2-bedroom apartment
Doing it yourself
As you can imagine, doing the heavy lifting yourself will shave a lot off your moving costs. A mid-range move can cost anywhere in the neighborhood of $300 to $1,500 if you pack, drive, and unpack everything yourself. Like with moving quotes, the price of your truck rental will vary based on your specific pickup and dropoff locations. You'll also have to tack on an extra $50 to $100 if you need to transport your car with the moving truck. 
| Distance | U-Haul rental* | Moving supplies** | Gas*** | Total |
| --- | --- | --- | --- | --- |
| 50 miles | $129 | $210 | $21 | $360 |
| 100 miles | $175 | $210 | $42 | $427 |
| 200 miles | $249 | $210 | $85 | $544 |
| 350 miles | $575 | $210 | $148 | $933 |
| 500 miles | $789 | $210 | $212 | $1,211 |
*For 15' Truck (1 Bedroom Home to 2 Bedroom Apt.)
**1-2 Bedroom Kit from U-Haul
***At average price as of 03/23/22 ($4.237/gallon) and 10 MPG
How to prepare for your mid-range move
Getting ready for a mid-range move requires a lot of the same steps as any other move. The sooner you can get started, the easier the whole process will be. 
Book your movers or truck early
Once you know what day you're moving in, you should lock in your movers or truck. Movers book up fast — especially in the peak months between April and September. They also have less availability around the beginning and end of each month when apartment leases typically end, and on weekends. It's easier to get a truck closer to moving day, but it doesn't hurt to cross this off your list early, too. 
Don't put off the packing
Whether you're moving down the street or across the country, you'll still have to pack up your entire home and get it onto a truck. It's a massive undertaking, and it can quickly get overwhelming if you put it off too long. Start early, and with your least essential belongings like books and seasonal clothes. 
Sell or donate unused items
There's no point in dragging stuff you no longer use to your new home, and moving provides a great excuse to declutter. You can sell items online or in-person through websites like Craigslist and Facebook Marketplace, or donate them. Many charities even offer free pickup for furniture you want to donate. 
Change your vehicle's registration and insurance
No matter where you move, you'll need to let your insurance company know about your new address. If you're also moving out of state, you'll need to update your license and vehicle registration. You usually have about 30 days to do this from your move-in date. 
Don't forget
No matter how many to-do lists you have, some tasks always slip through the cracks in the chaos of moving. Remember to complete these essential steps before moving day. (You can also check out our pre-move checklist for a more complete list.) 
Request time off work
If you're going to be moving during the week, you might need to take a day or two off work. It never hurts to give yourself an extra buffer day for packing and unpacking, too. 
Change your address
You can easily have your mail forwarded to your new home for just $1.10 by filing a change-of-address request with the USPS®. You should complete this at least two weeks before Moving Day. Your mail will be forwarded to your new address for 12 months after the start date in your request. 
Transfer utilities
Whether you're keeping the same internet, electric, or gas provider, or need to set up service with new ones, you'll need to take care of utilities at both homes. We recommend stopping service at your old place the day after you move out, and starting service at the new one the day before you move in.