What You Need to Know About Building Your Own Home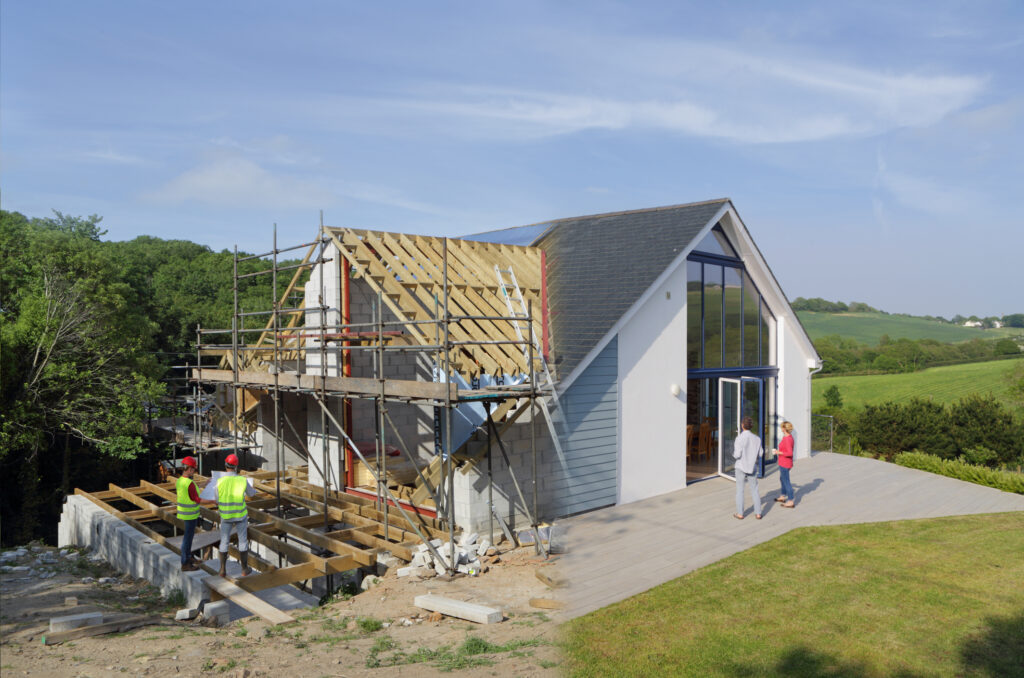 Building a house is a dream for many people. The ability to choose the exact layout and finishes when you build your own house is an exciting and rewarding process. But a new build isn't for everybody. House construction is a long and complicated process. Not everyone is suited to the amount of decision-making and risk tolerance involved.

If you've ever wondered how to build a house on a parcel of land, we'll introduce you to the factors involved with the process. Building a house on vacant land is an opportunity to create your dream home just how you want it. But, you should know what you're getting into first.

[deals-hub-ad]
Factors to consider when building a house
When building a house, there's a great deal of planning ahead of you — much more than you would face by buying an existing home. The process of building a home is lengthy and involved but can pay off if you see it through.
Site selection
To build a house, you first need to choose a suitable site for construction. Before you buy, make sure the land is developable. Not only does this mean that the ground itself is stable, but also that you would be able to obtain the necessary permits to build a house. You'll also need to consider whether the land is connected to utilities, including electricity, sewer, and water, and how much it would cost to connect if not. Whether you buy a lot in a new subdivision or a parcel of land in the country, you'll want to choose your homesite wisely.
Choosing a builder
Hiring a reputable builder to construct your home is critical to a successful project. There are several options when it comes to selecting a builder. You could work together with an architect and hire a builder separately to construct your home using those plans. Or choose a design-build firm that can handle both the design and construction of your home. A "build-on-your-lot-builder" will often have pre-existing plans that you can choose from. Either way, make sure you have a written contract in place before work begins and have it reviewed by your attorney to make sure you're adequately protected.
Time
The purchase of an existing home takes between 30 and 60 days, but building your own home takes an average of seven months, according to the U.S. Census. Not everyone has the time to wait for a house to be built, and the process itself takes a lot of patience. Bad weather and accidents can cause construction delays.
Budget and financing
To successfully build a home, you'll have to set a budget — and stick to it. Choose materials and upgrades carefully. If you get carried away with expensive finishes, you could end up overspending. If you need to borrow money to pay for construction, you also have to consider financing sources. Home construction loans typically carry higher interest rates and shorter loan terms than conventional mortgages. Many home construction loans have a large balloon payment due at the end of the loan term, which means you may have to get a new loan to pay off the balance.
How much does new home construction cost?
Building a home involves numerous components, including site work, foundations, framing, interior, and exterior finishes, mechanical systems, and landscaping. There could also be considerable sales commissions, financing, and other costs that contribute to the total amount.
The total cost to build a home in 2019 was an average of $485,128, according to the National Association of Homebuilders. That's based on an average finished living area of 2,594 square feet. Construction-only costs (excluding non-construction expenses, fees and commissions), totaled $296,652. That cost varies depending on finishes and material choices.
The pros and cons of building your own home
Pros
Cons

You get a custom layout that meets your family's specific needs.
All new mechanical systems and materials should last a while before repairs are needed.
Pay only for the features you want. Existing homes may come with amenities that don't matter to you.
Newly built homes are more energy-efficient than existing homes.
Should you buy or build a house? Decide in 7 steps.
Building a home is a major commitment. Once you start, there's a lot to lose financially if you change your mind or get in over your head. Research and weigh the pros and cons to help decide whether building your next home is right for you. Here's how:
Step 1:  Make a list
Make a list of everything you want and need in a home. Many people build a home because they can't find the features that want in existing homes, from the number of rooms down to features and materials.
Step 2: Explore the market
Before you go down the construction path, look at existing homes on the market — especially new construction. You might find a home with everything you want already built and move-in ready. Knowing the price of newly built homes can also give you a rough idea of what it might cost to build a similar one.
Step 3: Set your budget
Estimate the cost of building a house and decide on your budget. Talk with brokers, builders, and architects to get an idea of what you can build within your budget. Ask yourself if you can afford to build the house you want. If not, you'll need to compromise on your must-haves or consider an existing home instead.
Shop for a loan
Shop for a loan. Compare rates and terms for home construction loans from various lenders. Once you know what you can afford, you can apply for pre-approval.
Step 5: Decide where to build
Evaluate sites. If you own land already, inspect it to see if it is developable and what it would cost. To buy land, contact a real estate broker to show you the types of homesites available in the area you want to build.
Step 6: Think about timing
Building a home can take seven to 12 months on average. Ask yourself if you and/or your family can wait that long to move and consider where you would live while the home is being built.
Step 7: Make your decision
Decide to build or not. By now you should have a good idea of how much it will cost to build the home you want. Compare what you can build with existing homes available to buy. If building a home is within your means, apply for a home construction loan and nail down a contract with your chosen builder.
The bottom line
Building a house can be a dream-fulfilling experience. But it is a huge financial commitment and comes with unique risks. Before you proceed, carefully consider the pros and cons.
Frequently asked questions
Is it cheaper to buy or build a house? 
While costs vary by location and the features you include, building a home is generally more expensive than purchasing an existing home.
How much money do you need to build a house? 
According to the National Association of Home Builders, it costs, on average of $296,652 to construct a house — not including additional fees and commissions that may apply. On average, the total cost of building a home in 2019 was $485,128.
Is it a good idea to build a house? 
Building a house is a long-term commitment, but one that offers many benefits. If you want specific features and a custom layout more than anything else, building a home can be a smart choice. It's also helpful to have some related experience, perhaps as a realtor, contractor, architect, or builder. If not, know that it can be a steep learning curve building a house as a novice.