Welcome Home: You've Got Company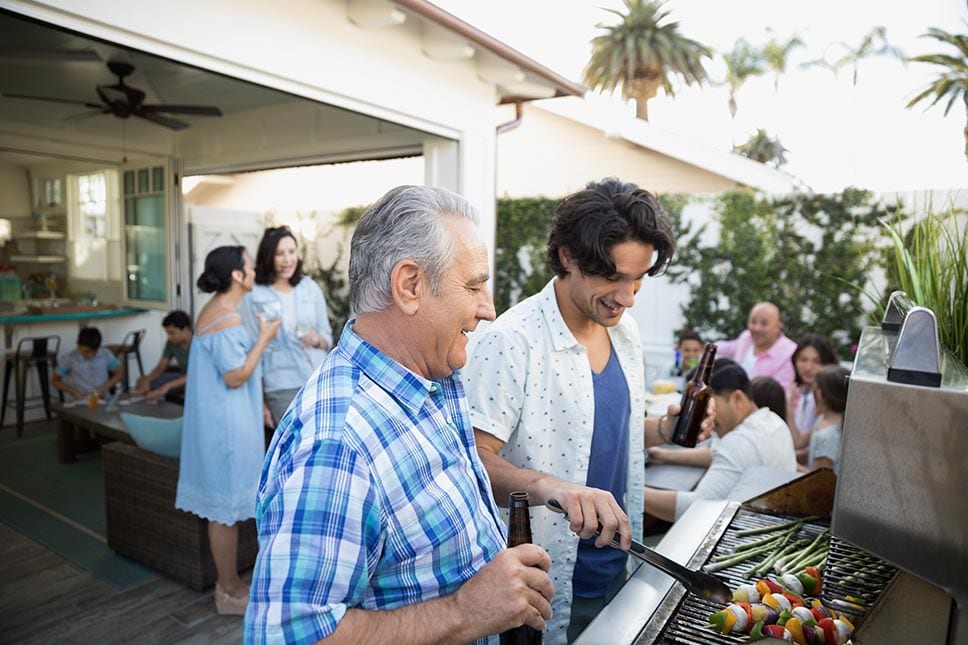 You've just delicately unpacked the last box of what's been a marathon move into your new home. As you're letting out that concluding sigh of relief, you get the phone call. The call that solidifies you'll be having company this weekend. Welcome home.
Whether it's your in-laws, best friend, distant cousin, or that blast-from-the-past acquaintance, the level of relaxation they experience in your home will inevitably impact yours.
Desire: A luxurious experience for guests. Obstacle: The actual luxury of time, money, and energy. There's no need to recreate the grandeur of a five-star hotel. However, a few subtle touches will help your company-and you-feel less frazzled and more relaxed once they arrive.
The Sweet Smell of a Victorious Entrance
The first impression — and we're talking smell here — can set your home's tone. Candles and fresh flowers create a welcoming ambiance, but if you're concerned about triggering allergies, opt for this natural trick:
Simmer a pot with water, rosemary sprigs, lemon slices and vanilla extract (known to mimic a William Sonoma aroma) or some orange slices and cinnamon sticks. Prefer ingredients with a longer shelf life? Try essential oils. They emit more than smell, they're said to decrease stress and anxiety while fostering serenity. You don't even need a diffuser for this instant nose-pleaser. Put a drop or two on some cotton balls and place around the house. First stop? Trash cans.
Space to Place Their Belongings and a Hook to Hang Their Troubles
It may seem like a given, but ensuring your guests' accommodations include space to lay a bag or suitcase (out of the way of foot traffic) is often overlooked. The absence of an identifiable space to place belongings can cause physical and mental disarray. A designated space will help keep their travel clutter — and your sanity — contained. While a clothing rack with hangers is a hospitable gesture, a simple wall hook can let them hang their hats, keys, purses, and troubles while they decompress.
The Three T's: Table, Tray, and Tissues
Guests may be accustomed to personal bedtime habits, which could include reading or having a cup of tea. Though a bedside table equipped with a lamp and enough space to place dishes is ideal, if you don't yet have a nightstand, use a tray instead. Decorative trays can offer a sophisticated impromptu surface to place a drink or phone. Tissues aren't something every guest uses regularly, but they're always there for you when you need them. Whether it's for sneezing, makeup removal or frantically wiping up a spill, a tissue box placed on a table or tray is another soft touch your guests will appreciate.
Keeping Up with Appearances and the World Outside Your Walls
Because bathroom time can be compromised for all parties involved, a mirror in the guest room can streamline the sharing schedule. It also invites elements of privacy and comfort. If you don't want to splurge, a small magnifying mirror will do. Have a clothing steamer or extra hair dryer lying around? Showcase them in the guest area.
Bonus: toiletries (such as dollar store toothbrushes or travel shampoos) with a "Be our guest" note.
Let's also talk about what guests really want: That Wi-Fi password. Jot it down, display it on a letterboard or frame a printed version. A quick Pinterest search yields dozens of free, printable Wi-Fi signs.
Don't Keep Extra Blankets and Air Flow Under Wraps
Clean sheets, towels, and blankets are another given, but guests are often unsure whether those still-have-the-tags-on-them towels are up for grabs or a forbidden "look but don't touch" display.
A blanket ladder lets you display fresh towels and blankets in a functional, aesthetically-pleasing way. Not your style? Tuck linens into a basket or stack a folded pile on the bed. For every guest that gets cold at night, there's another that's heated. If your guest room doesn't have a ceiling fan, purchase a standing fan. Making these items visible can help quell late-night discomfort and thermostat requests.
---
Everything for your move, all in one place
Curate your personalized moving checklist, set up TV & Internet, and more with a free MYMOVE account.
Save on your move and tackle upcoming to-dos with your free MYMOVE account.