The Things You're Forgetting to Pack on Moving Day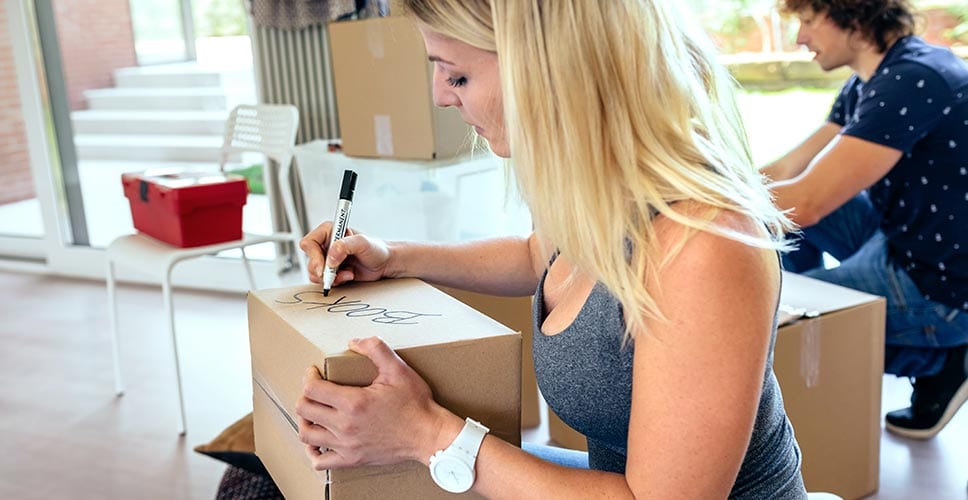 During the weeks before (or the night before!) moving day, your brain is working overtime on the myriad of details involved in your move, so it's not uncommon to leave some things behind. Here's a room-by-room cheat sheet to help ensure you don't miss a thing while packing.
Kitchen
Dishwasher
Dishes inside the dishwasher.
Oven
Baking pans, or pots and pans in the oven or broiler drawer.
Spices stored on the edge of the range top.
Cabinets
Items stored on the top of the kitchen cabinets. Use a step ladder to get a clear view of items with a thin profile that could be overlooked, such as appliance manuals or cookbooks.
Refrigerator
Drawers or compartments that aren't transparent, where eggs or butter may be stored.
Magnets and pictures on the front and sides of the fridge.
Items on top of the fridge.
Living Room
Phone and laptop chargers in the outlets are easily forgotten because you normally just leave them attached to the outlet.
Fireplace tools. Especially if you're moving in the warmer months when a fireplace isn't on your mind.
Bathroom
The shower curtain and bath mats that were used on the morning of the move.
Hanging shower caddy or suction shower wall caddy. Shampoos, soap, and razors. After a morning shower, it's an old habit to pull the curtain or close the shower door, but on moving day you could forget these things.
Bath towels behind the door are often overlooked on moving day.
Bathroom plunger, toilet brush kit, and cleaning solutions. You may not want to pack them but the new owner probably doesn't want to use yours.
Light bulbs, prescriptions, or other items on the top of the bathroom vanity cabinet.
Bedroom
Over-the-door hooks on bedroom or closet doors go unnoticed when you're looking at an empty room.
The highest shelf in the closet. Use a flashlight if necessary, and a step ladder to retrieve low-profile items.
Nightlights plugged into the wall. You don't think about them in the daylight on moving day, but your kids will when it's bedtime!
Attic and Basement
Items in deep storage located on high shelves, or near the eaves, may be missed when packing up.
Items stored under the staircase.
Rarely used items in utility closets.
A running dehumidifier. It's operating as usual so you may not think about packing it.
Laundry Room
Clothes from the last cycle. Check the washer for wet clothes that never made it to the dryer, and dry clothes in the dryer.
Laundry hamper. You may associate it with the washer and dryer that is staying and overlook it.
Outside
Potted plants or empty pots stored in the patio corner. Patio chairs that have been folded and propped up against a wall.
Lawn ornaments. Don't forget to take your garden gnome!
Garden hose still attached to the faucet. Lawn sprinkler in the yard.
Flag on the flagpole.
Garage
Items in the rafters or rarely used cabinets. In an unfinished garage, the areas between the studs, where a can of oil or random hammer ended up.
Miscellaneous
Mirrors hanging on the wall in the entryway. Also, mirrors hanging on the back of bedroom and closet doors.
Vacuum and brooms. One of the final chores before leaving is cleaning the floor. When you're done, you may put the vacuum or broom back in the closet out of habit.
Rugs: by the basement utility sink or at the bottom of the steps. The monogrammed one by the front door or the dirt trapping mat by the back door. You step on them every day and might not think about them on a busy moving day.
Wastebaskets under the sink.
Look under old-style radiators. They are notorious for hiding a favorite toy car, your pup's chew toy, or a lost diamond earring.
Curtains, blinds, valance, and hardware and decorative finials.
Suction cup decor stuck to the windows in kids rooms.
Knick-knacks, vases, etc. on the wide ledge window sills.
Out of Sight, Out of Mind
The old adage is true. When you're moving, you're thinking more about the big picture: the massive amounts of boxes in front of you. Nancy Haworth Professional Organizer and owner of On Task Organizing, LLC, has a few suggestions to help you avoid leaving things behind.
"Make a list before the busy and stressful moving day, and you'll be less likely to forget to pack things," Haworth says. "Remind yourself to check each room floor-to-ceiling, including windows, behind doors and behind any big items that are not moving with you, such as counters, cabinets, and toilets."
Finally, don't pack your step ladder or flashlight. Haworth says you'll need it to
"On your final walk through the home before moving out, you may want to bring a flashlight and step ladder along to check hard to reach spaces and dimly lit storage areas."
---
Everything for your move, all in one place
Curate your personalized moving checklist, set up TV & Internet, and more with a free MYMOVE account.
Save on your move and tackle upcoming to-dos with your free MYMOVE account.