Turkey on the Move: Thanksgiving Ideas for Autumn Movers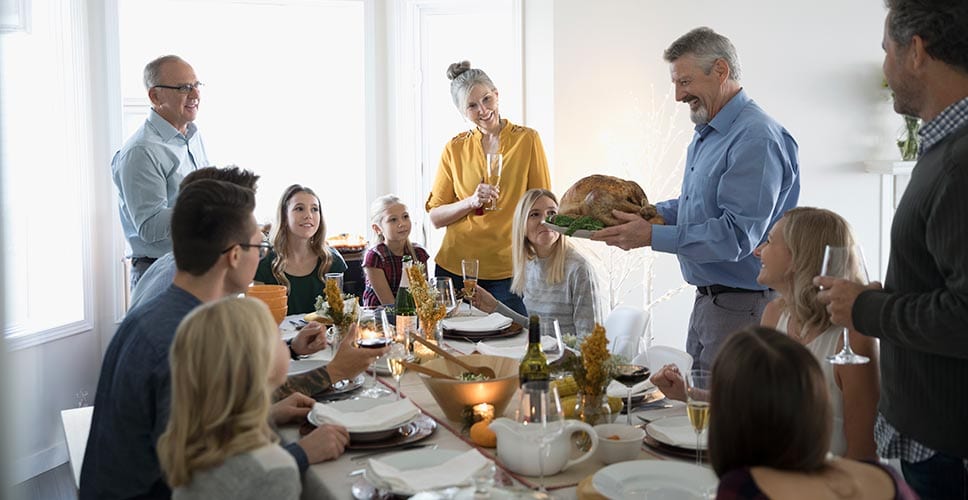 You've just moved into a new home, and already you have visions of turkey dancing in your head. Except the turkey is taunting you, since cooking a Thanksgiving feast in one Tupperware isn't happening.
If you're set on traditions, coming to terms with the fact that this isn't the year for a full-fledged formal Thanksgiving meal may take a minute. Go ahead and take that minute-then keep reading.
You don't have to have a painstakingly huge meal to properly commemorate this day with family, friends, food and spirits. In fact, the spontaneity of this year may grow on you.
Cue our 10 ideas for celebrating Thanksgiving-while kissing cooking and cleaning goodbye.
1. Escape the Chaos
Let's be honest: you may just need to get away from the scene of the moving crime. Not only your move give you a free pass to avoid cooking, but you can escape loved ones with 19 Places to Spend Thanksgiving (And Avoid Your Family). Kidding-you can invite them. Use Hipmunk's Top Holiday Travel Hacks to strategically score some holiday deals. Bon voyage, turkey.
2. Enjoy a Feast… in the Leaves?
While comedian Jim Gaffigan may poke fun at looking at the fall foliage, something about it embodies that quintessential Thanksgiving feeling. Ditch the indoor pandemonium and bring some all-in-one fun outdoors. Many sub shops have holiday subs stuffed with turkey, mashed potatoes and cranberry sauce. Pick some up and enjoy them on a blanket at a local park. Nothing's more beautiful than fall foliage-except for calling throwing away a sub wrapper "Thanksgiving dinner cleanup."
3. Have a Seat at an All-You-Can-Eat
If the move doesn't have you so worn out that you're still craving holiday food and festive holiday wear, get spruced up and head to an all-you-can-eat buffet at an upscale restaurant. You can gorge yourself to your heart's desire while basking in the beauty of a fixed price and someone else's cleanup. Make an early reservation so you can snag the freshest food that hasn't been sitting out-and have ample time for that tryptophan nap after.
4. Sprint Towards Brunch
If you want to earn those calories, lean into it by participating in a community run, such as the Turkey Trot. If you've relocated closer to friends or family, bring them along and make it a merry crowd. After you've broken a sweat, run straight towards brunch. Breakfast food will give you the same fuzzy feeling your traditional Thanksgiving meal does. Finish it off by sprinting into a daytime nap. You woke up early and worked out hard-you deserve it. No dreams of dancing turkeys necessary.
5. Serve up Some Selflessness
During a holiday predicated on thankfulness, lend your kind soul to helping others that aren't so fortunate. Serving holiday meals at a local food bank can warm your heart right up. You'll be surrounded by community, make new friends, and leave with instant appreciation for what you do have-including that new home you've recently moved into.
6. Soak up Cinematic Paradise
You don't have to inhale a full-fledged Thanksgiving meal to enjoy sitting. Head to the movie theater for a relaxing flick (or two). Pour some dried cranberries and nuts onto your movie popcorn for a holiday-inspired bucket of bliss. Action.
7. Skate Right Through Stress
Ice skating-especially if you don't live in a region with a cold climate that "feels" like Thanksgiving-can bring the magic of the holidays to the icy surface. Many cities boast temporary outdoor skating rinks, and others have year-round indoor rinks. Experience the free-spirited delight of gliding into a holiday that's void of traditional stress.
8. Score With a Game Day (or Night)
Does anybody else get Friends flashbacks thinking about a football game on Thanksgiving? Just us? An outdoor sports game is a great way to rally the neighborhood together for an event that trumps turkey. Or, if your athleticism is hibernating for winter, have an indoor board game night. Light an ambient fire, pour some hot cocoa and order pizza. The only finger you'll be lifting is the one moving that Monopoly piece. Score.
9. Take a Train Ride
Who says you need to go somewhere major to enjoy the essence of a train ride? Hopping on the train (even with nowhere particular to go) is a wonderful and inexpensive way to enjoy the-you guessed it-fall foliage. Enjoy a cup of coffee, hot tea, or glass of wine while you check off a common bucket list item that many don't get around to do doing. Probably because they're busy hovering around the oven waiting for that turkey to ding!
10. Do NOTHING
Come again? Sometimes the art of doing nothing can be quite cathartic and beneficial to your health, especially after a big fall move. Reading a book and catching up on Netflix might be what your holiday heart needs. A day away from "adulting" is something we can all be thankful for.
---
Everything for your move, all in one place
Curate your personalized moving checklist, set up TV & Internet, and more with a free MYMOVE account.
Save on your move and tackle upcoming to-dos with your free MYMOVE account.