6 Tips to Stay Comfortable in Your Current Place While Moving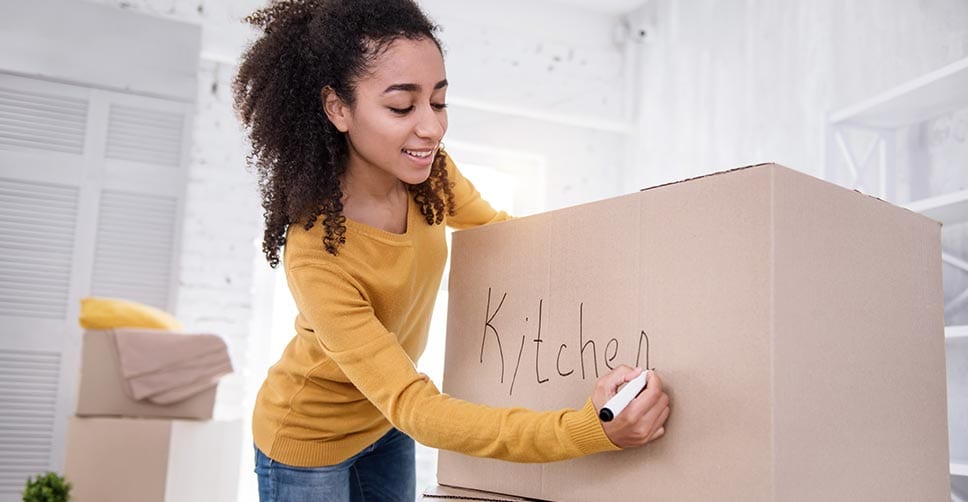 Getting some new digs? Then you're probably dreading the process of packing up everything you own, hauling it, and settling your belongings into a new space. Of course, you have start the moving process well ahead of moving day — and that includes getting your stuff into boxes. That means you'll have to learn to live with disorder for at least a couple of weeks before the bid day.
Fear not, though. Living while moving doesn't have to be such a pain! When you follow the following six tips to stay comfortable in your old place while preparing to transition to the new, it's actually a cinch.
Here are some suggestions for keeping comfy at home despite being in flux:
Pack by priority
Bravo! You're not putting packing off until the last minute. This will already save you stress and anxiety when the movers arrive. However, if the moving truck isn't coming for a couple of weeks but you want to get started packing now, you need to pack smart.
Ask yourself what you use every day, week, and month. Then, make a list of these items. It's probably OK to pack such belongings as holiday decorations and special occasion serving ware. Conversely, you'll most likely need towels, sheets, pots, silverware, and some electronics between now and moving day.
Remember, you'll have to turn off your refrigerator a couple of days in advance of the move, so scale back on food between now and moving day to make sure you use up your perishables.
Wait until the night before your move to pack up your daily essentials, so you don't have to go back through the boxes you so diligently boxed up in advance.
Label smartly
If by chance you pack something you need before moving, labels will save you. Try to group your stuff by weight, fragility, and where in the home it belongs. Then label it. Keeping like items together and labeling them will help you know what box holds what at a glance. Which means you can find stuff you forgot you need in a hurry.
Inventory
Professional movers should do an inventory for you, but it's always smart to have a backup of your own. When you're packing, have a friend or family member help you write down everything in each box. Assign numbers (starting from one), so it's easy to see if you're missing a box when you get to your new destination.
Allstate has a pretty handy printable inventory checklist — to save you the hassle of figuring out an organizational chart on your own. Moving is chaotic enough, so instead of driving yourself crazy trying to remember what's where, use your master list to find everything easily. This will also help when it's time to buy home insurance for your new house, regardless of which company you choose. You'll have a ready-made list of what needs to be insured.
Keep dust down
How long have you lived in your present home? If it's been months or years, you're probably going to stir up lots of dust when you move furniture and clutter. Since you'll still be living in your home until moving day, keep the air clean with the help of an air filter.
One like the AlenT500 is small enough to pack up when the movers arrive or throw in the trunk of your car. Keeping your air filter with you isn't a bad idea; you might want to purify your new home environment once you arrive.
A final thing about that dust: You're going to need to get your clean on, both in the old home and, frankly, before you start unpacking in the new one. Yeah, it's a pain, but you have to do it.
Maintain routines
Pets are extremely sensitive to change. When you start packing, they'll most likely become a bit nervous. Help your pets stay calm by sticking to their regular routines. If you normally feed them at 7 a.m. and 5 p.m., do that before, during, and after your move. Also, make sure your furry friends get plenty of exercise and reassurance, so they know they're coming with you (just not in a box)!
Even though they have two legs instead of four, the same advice holds for children. They also are more comfortable when you stick to a routine.
Keep valuables with you
Whether you're moving across town or across the country, theft happens. So does loss due to weather, accidents, or plain old negligence. Either choose a company such as PODS where you're the only one who has a key to your shipping container, or read lots of reviews to find a reputable mover.
While some things won't fit in a car, always keep valuables like jewelry and small heirlooms with you. Also, check to see if your homeowners or renters insurance policies cover theft or damage while on the road. A policy provision like that can help you recover stolen items, but you can't ever get back priceless heirlooms. Better keep those with you to be safe!
Changing where you live can — and should — be fun and refreshing. Just make sure your experience is healthy, safe, and as stress-free as possible by following these tips about how to live comfortably while in the process of moving.
---
Everything for your move, all in one place
Curate your personalized moving checklist, set up TV & Internet, and more with a free MYMOVE account.
Save on your move and tackle upcoming to-dos with your free MYMOVE account.