5 Easy Steps For Packing Your Garage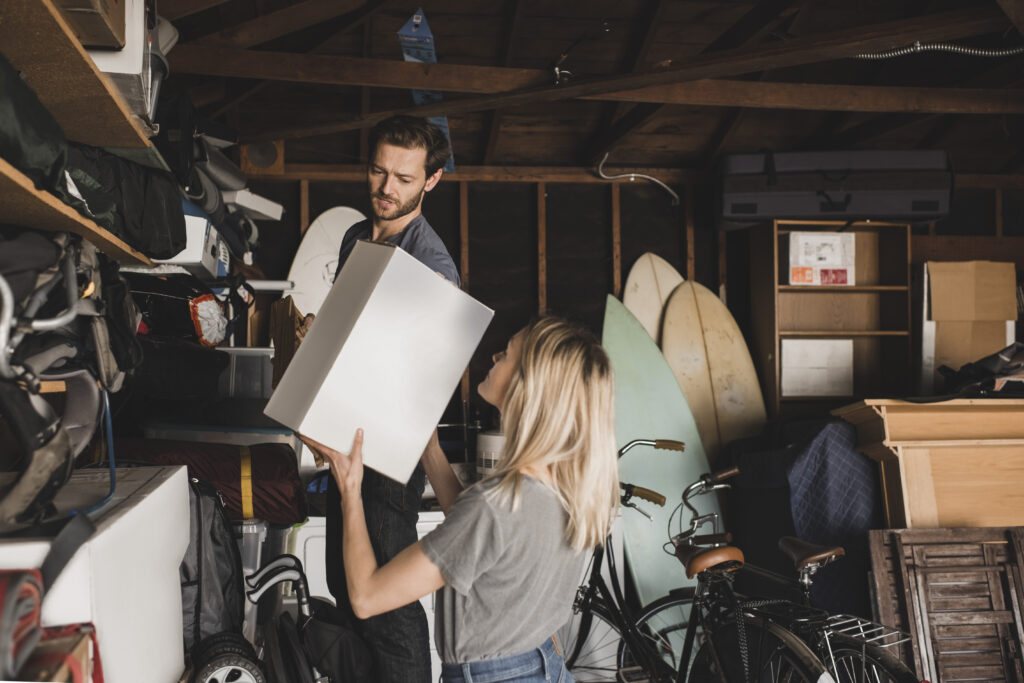 Whether pulling up stakes to move across town or across the country, packing can be strenuous and time-consuming. And figuring out how to pack a garage is probably the last thing on your packing to-do list, and who can blame you? It's full of things that can be pretty heavy and are hard to stuff into boxes.
Plus, how do you pack items like weed-whackers, paint cans, or car batteries?
No worries — we're here to help. We've put together a list of five simple steps to follow when packing a garage and talked to people who do this for a living. You'll have that space cleared out in no time!
How to pack your garage in 5 simple steps
Step 1: Purge stuff you don't need
About a month out from your moving day — or as soon as you start thinking about how to pack a garage — turbo-boost yourself into purge mode and get rid of stuff you know you won't use at your new place. It's also a good time to dispose of all those almost-empty paint cans.
But don't just toss those paint cans or other solvents in the garbage. According to Lowe's, latex paint can only be disposed of once it's dry. Add equal parts cat litter to the paint in the can and let it sit for at least an hour to harden. You can also buy a paint hardener if you don't want to mess with cat litter.
Oil-based paints are considered hazardous waste. They need to go to the recycling center. Consider giving your neighbor partial cans of motor oil, paint thinner, and other potentially hazardous items (that are still useful), as it's safer than moving them in a moving truck.
What you'll need for this step:
A good set or multiple sets of disposable gloves
Old boxes
A magic marker to label which boxes get thrown, which go to the recycling center and which go to your neighbor.
Paper towels for those messes that are sure to happen.
Step 2: Make a supply list
You don't want to be without the necessary supplies when garage packing day arrives. To prevent this from happening, make a list! Walk through your garage and determine how much stuff you'll take with you. Then, try to estimate the quantity of moving supplies (like boxes, tape, and bubble wrap) you'll need to get the job done.
What you'll need for this step:
Step 3: Gather your supplies
To pack your garage safely, you'll need packing tape, moving blankets, boxes (both small and large), and bubble wrap, which can be purchased from most moving companies or on Amazon. Buy a couple of boxes of resealable baggies for those small parts, like screws, nails, paintbrushes, etc. You'll also want a few magic markers to label your boxes once everything is packed neatly inside.
What you'll need for this step:
Step 4: Decide what can't be packed into a box
Some things, like sharp saws and shears, can't be backed into traditional moving boxes. Consider wrapping these items in old towels or blankets, so they don't jostle around in the back of your moving truck and break. To prepare these items for transport, bundle them together, cover them, and bind them with rope.
What you'll need for this step:
Step 5: Take photos prior to disassembling
Before you take apart tools or machinery, take a photo of it. This way, you can make sure you reassemble it correctly when you reach your new location. There's nothing more frustrating than arriving in your new home and having no idea how to put that motor back in your power washer.
What you'll need for this step:
Packing pro tips
Pro Tip #1: Remember that moving companies won't transport potentially hazardous materials.
"Federal law prohibits the transportation of propane, paint, car batteries, antifreeze, household cleaners, weed killer and ammunition," says Chris Bortnichak, training and development lead for Two Men and a Truck. This policy also extends to gasoline-filled engines or machines.
You can choose to move these items yourself (with extreme caution), or empty any machinery that might be filled with hazardous materials.
"This includes items such as lawnmowers, grills, tractors, and mopeds," Bortnichak says. "They must be completely empty in order to transport them."
Don't forget to ask your moving company these important questions.
Pro Tip #2: It's a beast to try and move heavy machinery. Make it easier on yourself by renting a dolly and a moving truck with a lift gate.
"Put [heavy items] on four-wheelers and wheel them onto the truck. Wrap them in blankets to keep them from getting and giving scratches, and be mindful of what gets loaded on top of them," says Mike Glanz, CEO of Hire A Helper.
Driving a moving truck for the first time? Check out these tips to help you get from point A to point B safely and stress-free.
Pro Tip #3: Need to pack up long tools, like rakes and shovels? Use a wardrobe box and keep the top open.
A tall wastebasket or garbage can works, too. The best place for these oddball items in the moving truck is the space between the top of your boxes and the roof of the truck, provided they don't scratch your other things or get them dirty.
The bottom line
Packing your garage will take time and a bit of pre-planning. But have no fear, if you follow the steps outlined above and listen to the pros, packing up that garage becomes a whole lot easier.
Frequently asked questions
How do you move tools?
The best way to make sure your tools make it to your new house is to pack them inside a toolbox. Things like wrenches, pliers, screwdrivers, and hammers can all fit into a cabinet or drawer for easy transport. Don't forget to wrap them separately in paper to avoid scratches and damage.
How do you pack a workshop for moving?
Larger workshop tools like drills, routers, and circular saws should be wrapped and boxed up. If you have the original box, that's best. But when you have really heavy tools (like miter saws and table saws), you may want to take them apart and put the parts in separate boxes. Don't forget to take photos so you can reassemble them once you reach your new destination and mark the boxes clearly, so parts don't go missing.
How do you pack rakes and shovels for moving?
Odd-shaped lawn tools like shovels and rakes are difficult to pack into a box unless you're using a wardrobe box. But even then, unless you add a lot of packing material or a few old blankets, those tools will bounce around during the move. Another option is to tie them together and wrap them in moving blankets or old blankets you no longer want or need.
Updated April 20, 2020. Lisa Marie Conklin contributed to this post.
---
Everything for your move, all in one place
Curate your personalized moving checklist, set up TV & Internet, and more with a free MYMOVE account.
Save on your move and tackle upcoming to-dos with your free MYMOVE account.