Is Your Moving Company Licensed and Insured? Here's How To Check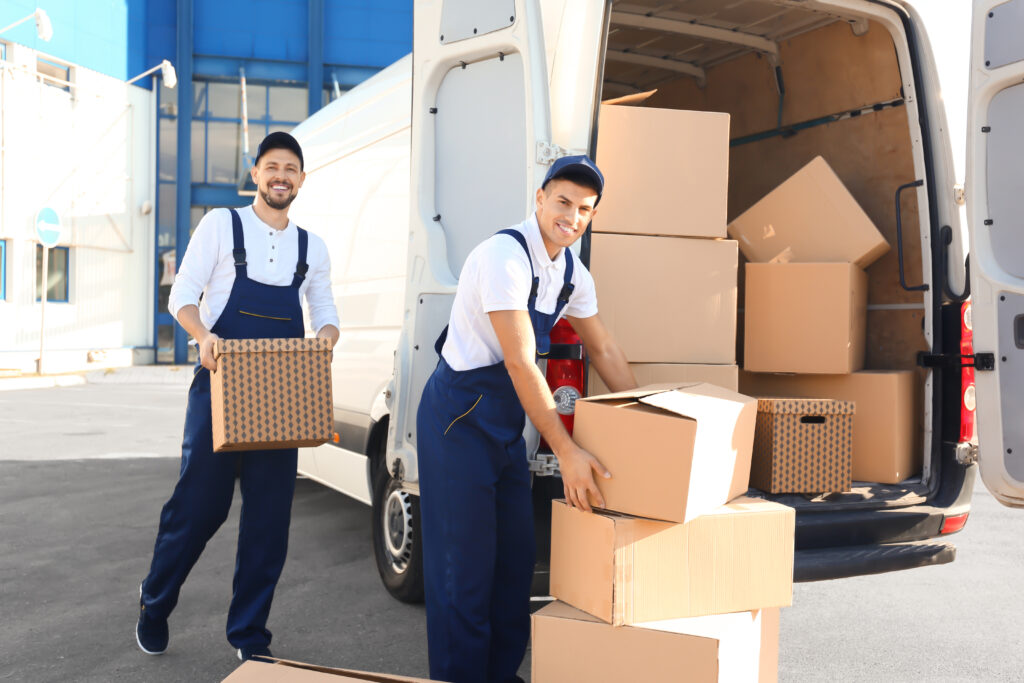 Africa Studio/ Shutterstock
A 2020 United States Census Mobility Data report estimated that nearly 30 million Americans moved homes last year. If you're planning on joining the trend and changing residences, an important part of your journey should be locating licensed moving companies to help with the transition. If you're relocating across state lines, the licensed movers you choose must meet all the rules and regulations set by the Federal Motor Carrier Safety Administration (FMCSA). One of the FMCSA rules says that the interstate mover must have federal licensure. It is against the law to use a mover that is not properly licensed and insured when moving across states.
Before a mover is licensed, they must meet specific requirements like insurance, financial responsibility, and safety measures. The regulations and requirements for licensing and insurance vary from state to state. In most states, it's mandatory for licensed moving companies to register with the state and offer no fewer than two insurance options. The general liability insurance will cover damages claimed by the renter while the commercial auto insurance covers the moving company's truck or fleet of trucks. Other states have additional requirements, such as licensing, insurance, mover agreements, and liability. Make sure the company you are engaging carries worker's compensation insurance and at least two liability options, including released value protection and full value protection.
How to check if a moving company is licensed and insured
1. Check using a USDOT number.
One of the FMCSA rules for licensed moving companies is the mandatory registration of a USDOT number. The USDOT number makes it easy for you to check relevant information on the professional moving company you intend to hire. An interstate USDOT number is a unique identifier that allows the government to monitor and access its compliance, inspections, audits, and crash investigations.
The number will also enable you to check whether the company is appropriately licensed and insured. You can also use the number to quickly review the safety information for that particular company's past operations. The USDOT number is usually located on the company's website. Reputable operations will also volunteer the number on request. Once you get the number, enter it on the FMCSA's website search tool. You will get all the updated details of the particular company, including its safety and insurance information, fleet size, compliance history, and licensing.
2. Check for online presence.
It's easy to obtain the USDOT number when the company has a website, and all reputable licensed moving companies have an extensive online presence. Insured movers should have a robust website and active social media platforms. If the specific moving company you intend to use has zero online presence, that should raise suspicion. The company could either be a scam or is not properly licensed and insured.
3. Check customer reviews.
Past customer reviews offer a glimpse into the reputation of the company you want to hire. You can access customer reviews through online sites like Yelp and Nextdoor. Professional licensed moving companies should have a solid track record and excellent customer reviews. A moving quotes tool like MYMOVE's has customer reviews for over 250 moving companies across the U.S. It also provides other company details like moving services offered, estimated cost, and whether the company is licensed and insured.
You can also ask neighbors, friends, and colleagues for their experience with any company you're considering. Then check resources like the Better Business Bureau to see if there have been complaints around conduct or operations.
4. Check business certifications.
Reputable licensed movers are certified by at least one industry association, like the American Moving and Storage Association (AMSA) or Better Business Bureau. AMSA provides reputable companies with a ProMover title. ProMover is a consumer certification and protection program that helps consumers to distinguish professional movers from scammers. Getting the ProMover certification is not a walk in the park; a company has to meet stringent industry requirements that include proper licensing and insurance coverage.
Movers also must undergo a thorough background check by AMSA. They are also screened and monitored by AMSA to make sure they are upholding the AMSA code of ethics, which includes licensing and insurance covers. When looking for an ideal licensed moving company, prioritize those that belong to professional associations.
All ProMovers must undergo a yearly review that guarantees the industry players are abiding by the industry requirements. By knowing which movers to stay away from, you significantly narrow your search to the most ideal moving companies that meet all insurance and licensing requirements.
5. Assess the company's professionalism.
When engaging a company, use common sense to determine if they uphold the industry code of ethics. A professional company always shows up on time. They also perform an in-person survey or video survey of your home and things before signing a contract with you. Other characteristics of a professional company include having a physical office, business cards or prominent contact information, and trucks labeled with its logos. They should also provide you with critical documents such as insurance stickers, licenses, and lading bills. A bill of lading is a document issued by a moving company to the renter. It contains the name, condition, and other essential information about the truck. Additionally, you can request the company to provide free, in-home estimates. The FMCSA requires that all licensed and insured movers offer free in-home estimates for their clients.
The bottom line
According to the Insurance Information Institute, getting the right insurance coverage for moving eases the stress of a move by ensuring your belongings are protected. It can be quite challenging to differentiate between genuine companies and rogue movers out to take advantage of your naivete. Rogue movers prey on families and individuals who don't carry out due diligence before signing a contract. They may pose as reputable companies and then ask for an up-front payment. Once you pay, they may hold your belongings hostage until you pay additional fees. They may also drive away and disappear with your valuables for good. If you are planning on moving, ensure the company you are using is properly licensed and insured. Use the tips we have provided to identify a reputable mover in your locality.
Frequently asked questions
Q:
What insurance do I need for a move?
Q:
Can I sue my moving company?
A:
Yes. You can sue a moving company if it breaches any part of the contract that you sign. For example, you can sue the company if it damages your property. You can also sue if your belongings are lost while in transit. If this happens, hire an attorney to give professional legal advice and explain your legal options.
Q:
Is there a registry of certified movers?
A:
Typically, interstate licensed moving companies are registered with the federal government. You can search for the details of a particular company using their USDOT number. Several reputable companies operating within the U.S. are also certified by industry associations like the American Moving and Storage Association (AMSA) or Better Business Bureau.
---
Bring on the savings
Unpack unbeatable deals
We can't sugarcoat it — moving can be expensive. That's why we team up with your favorite brands to help you save on everything you need (and want!) for your new home. The best part? You won't find these deals anywhere else.
VIEW YOUR DEALS