What To Do If You're Missing Mail After a Move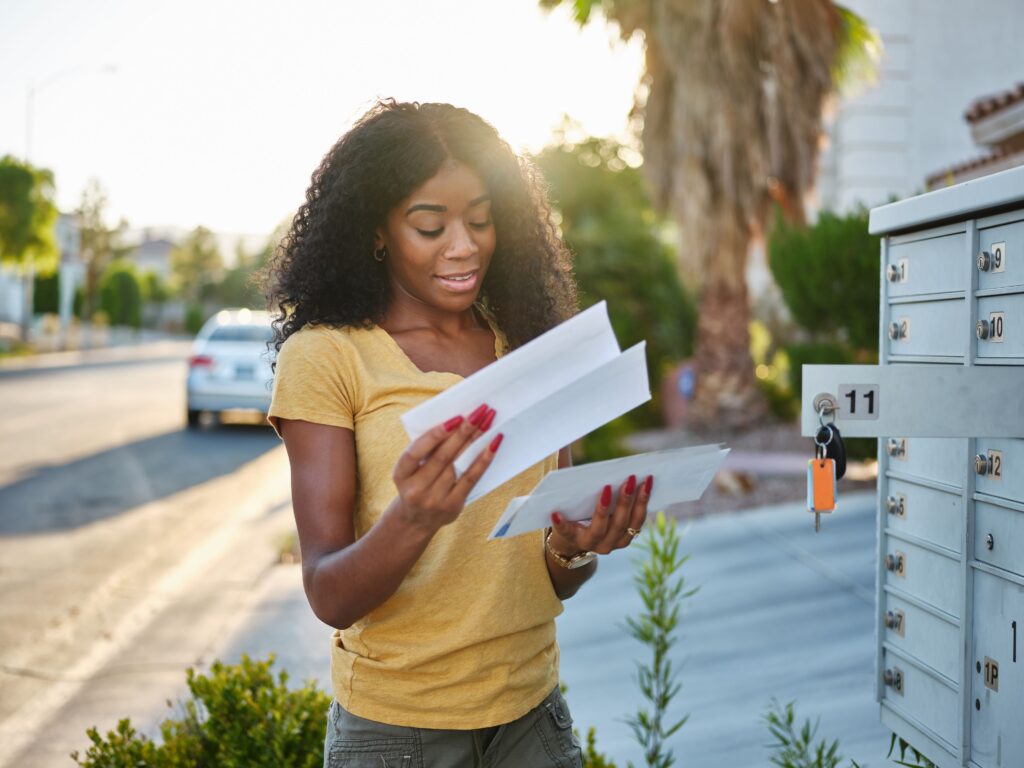 Your move is complete, and you've settled into your new home, but sadly, some of your mail didn't get the memo. On average, the USPS® processes a staggering 19.7 million mailpieces each hour, and your mail may go missing after a move. Whether it's one USPS lost package or multiple pieces, filing a missing mail report is necessary to begin the retrieval process.
​If you're online searching for "missing mail USPS," have no fear. The postal service (and us here at MYMOVE) have resources to help you recover important mail that's gone MIA.
What does the USPS® consider "missing mail?"
Any USPS missing package or mail that has not arrived by its anticipated date of delivery is considered "missing mail." Late, lost, or undelivered packages also fall under the missing mail category. The USPS prides itself on successful mail delivery, so if your mail is missing after a move, the postal service has a resource at the ready.
That mail you've been keeping your eye out for didn't move with you. Here's how to find it:
Step 1: Make sure you filed a USPS change-of-address
Filing your change of address is an important part of any move. The USPS offers an online change-of-address option making the process easy and secure. Note that the fee to change your address is $1.05. This identity verification fee is a safeguard against fraud. (Be wary of other online address change companies that charge more than $1.05 for this process.)
MYMOVE Tip: If you made a mistake on  your original change-of-address, you can update or cancel your request.
Step 2: Track your mail to check its status
Keep an eye on your mail's location with the convenient USPS lost package tracking program.
Step 3: If your mail has been missing for more than a week, fill out a USPS Help Request form:
Completing the USPS Help Request form will connect you with your local post office to work with you on locating your missing USPS lost packages and mail.
Step 4: Submit a missing mail request
If your local post office is unable to locate a USPS lost package or mail, submit a Missing Mail Search Request. This will begin the search within the USPS missing package and mail inventory.
Step 5: Track your missing mail status
Within the USPS Missing Mail Search, you can review the status of all lost mail submissions.
You'll need the following information to file a missing mail search request:
Locating lost mail requires a bit of detective work. When preparing to file a missing mail search, you'll need to provide several important details to the USPS, including the date the lost item was mailed along with both the mailer and mail recipient addresses.
Providing interior and exterior visual details also help identify lost mail items. You'll be asked to supply an itemized description of the contents, including the brand, model, size, and color of every item.
You'll also have to provide details of the mailpiece, including type, are required. For example, was it a bill, large or padded envelope, 5 x 7 box, or an oversized package? If you don't have all of the missing mail USPS claim details compiled, a draft request can be saved in the system for up to seven days.
MYMOVE Tip: The USPS® tracking number and photographs of the contents are helpful to make identification easier. Avoid needing a USPS lost tracking number by keeping your post office receipt, email confirmation, or shipping confirmation in a safe location.
When to file a missing mail search request
There's a certain window of time to file a missing mail search request. While you should file a request promptly, the maximum amount of time a missing mail search can be reported is 365 days after the original mailing date.
The soonest an application can be submitted varies based on how the item was mailed. You can submit a missing mail search request seven days after the original mailing date for both Priority and First-Class Mail. For USPS Retail Ground, Parcel Select, and Parcel Select Lightweight mail, you can submit a search request eight days after the original mailing date. For Domestic Registered mail, you are able to put in a missing mail search request 14 days after the original mailing date.
It's important to note that not all USPS lost packages are eligible for a missing mail search due to safety restrictions. Mail items that cannot be searched and returned include over-the-counter and prescription drugs, food (and other perishables), live ammunition, open cosmetics, and firearms.
How to track the status of your search request
Once you submit a USPS search request successfully, you can easily track the status in the USPS Missing Mail's Search History option. Within the Search History, you'll be able to review the status of all lost mail submissions. The USPS will also keep you up to date through email alerts.
When you check on the progress of your search request, you'll see a notification like "Accepted" (your missing mail search request has been received and is being processed by the USPS), "Rejected" (the request has been rejected by a clerk and followup is needed), and "Expired" (the missing mail search has expired and will no longer be in the USPS system). The ideal status update is "Mailpiece Found" (your lost mail has been located by the USPS).
If USPS finds your mail:
Once a USPS lost package or mailpiece is found, you will receive a confirmation email with a detailed status update. In addition to an email from the USPS, your missing mail tracking details will be updated to "Mailpiece Found."
A "Mailpiece Found" notification means the postal service found and retrieved your missing mail from the USPS lost mail inventory. Once retrieved, your found mailpiece(s) will be repackaged and mailed to the address you provided in the original missing mail search request.
If USPS doesn't find your mail:
Should you obtain new details on your lost mail, keep in mind that you can update item information or add and remove items from your request. However, despite your missing mail search request, there are instances when your lost mail cannot be located. Should this occur, the USPS will contact you through email with a notification that your request did not produce a match. Unsuccessful missing mail requests will also be changed to an" Expired" status.
MYMOVE Tip: You might be able to receive a refund for missing mail if your mail was covered by insurance or a money-back guarantee.
The bottom line
While changing your address and forwarding your mail as part of your moves helps safeguard against USPS lost packages and mail, mistakes can happen. It's important to keep track of what should be arriving at your new destination. If lost mail occurs, act quickly by submitting a USPS missing mail request.