Tips for Moving Into Military Housing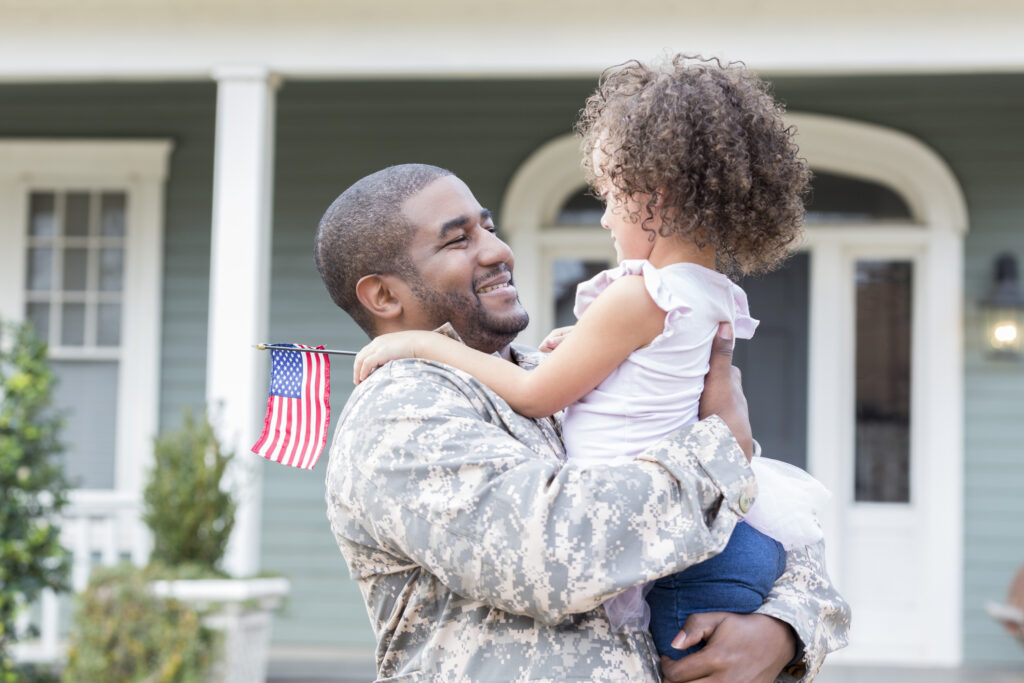 There's no underestimating the importance of "home" to our service members who need a safe place to lay their heads after a long day of protecting our nation — that's where military housing can play a crucial role. But understanding how it all works and deciding whether military housing off-base or on-base is the better option can be a confusing process.
When I interviewed several military members for this piece, I looked first to my own home and, more specifically, to my husband, Christopher Borrelli, a former Sergeant of the U.S. Army. Having spent the majority of his career in Army housing, he recalls how one of his biggest questions as a new soldier was to understand how military housing works.
"In my experience, it's always important to research and consider the types of housing available based on rank and marital or dependent status," he says.
According to my husband, your rank, whether or not you're married, and if you have children are the main factors that determine your eligibility for military base housing. Living on-base is one of the easiest and most cost-effective ways to find military family housing, but the rules aren't the same everywhere.
Atlanta author Carol Gee lived on a military base with her spouse for 17 out of her 20-year Air Force career.
"Living on base is often cheaper than living on the economy," Gee says. "This is especially true in areas like California, New York, and other areas where affordable houses and apartments are scarce or extremely expensive."
So, how does military housing work?
Naval Officer Brad Sturgis, who just recently moved out of military housing himself, is also the founder of Financial Sailor, a service dedicated to helping servicemen and women manage their finances. He explains how it all works.
"Military housing is government-owned and privately operated housing that is primarily reserved for service members with dependents," he explains.
He says depending on the space available at the base, single service members can also stay in military housing. But they are usually placed in the barracks, with other members of the military who are single and don't qualify for military family housing.
But on-base housing is far from your only option. You can use the Basic Allowance for Housing, or BAH, to help with expenses. This is a special allowance that's offered to servicemembers specifically for off-base housing, but the exact amount changes from person to person. BAH rates are calculated based on a number of factors such as your rank, where you live, and the number of dependents you have.
The Defense Travel Management Office can help you determine your exact benefits so you can decide whether living on-base or off is the right choice for you.
10 tips you absolutely must know before moving into military housing
Before you move, there are some things you should know to make your move into military housing run much more smoothly. These tips can make military family housing much easier for you and your family, regardless of whether you elect to live on-base or off.
Tip #1: Make sure you have a home.
When you receive your assignment, there's no guarantee that there will be military housing available for you. Military family housing is often prone to long waiting lists, so you need to confirm you have somewhere to lay your head. Check with the housing office for your base to learn more about the details of your home assignment, such as your neighborhood and your house size.
Sturgis recommends that you immediately check on your housing payments, too.
"Upon moving into military housing, the housing office will set up an automatic allotment to deduct the full or a portion of the housing allowance each month as rent payment," he says.
Tip #2: Work out the finances
The decision to live in military housing can have a serious impact on your wallet.
"Staying in military housing can mean giving up all of your housing allowance," Sturgis explains. "Finding a rental off-base that's less than your housing allowance can save you hundreds each month."
Drew Cheneler, founder of Simple Money Lyfe and an active duty service member, agrees.
"If you're stationed within the continental United States, then I recommend living off-base and taking advantage of the BAH," Cheneler advises. "If you do not use all of your BAH, then you can pocket the rest. The best part, this monthly stipend is non-taxed!"
Do the math to find out what makes the most financial sense for you and your family.
Tip #3: Consider international requirements.
For many military members, home does not always come with a U.S. address. The housing requirements vary significantly depending on the country where you're stationed.
"If you are stationed overseas, then ideally, you want to live on base since you cannot pocket overseas BAH," Cheneler says.
Tip #4: Pets may not be welcome.
Just because you're lucky enough to get military housing doesn't mean that your pets will be able to join you. One of the most heartbreaking parts of living on-base for some residents is the inability to bring their beloved pets with them to their new home.
Sturgis says he's seen it before.
"Most bases have pet policies that are stricter than civilian landlords," he says. "The size and breed of your dog could get your application denied."
Military branches, bases, or locations all have their own restrictions when it comes to pets. Make sure to check with your local military housing office to make sure that your furry friend can make the move with you.
Tip #5: Consider transportation
A major benefit of military housing is the ability to remain close to everything you need on base.
"If you are a one-car household, you can easily walk or bike to work," Sturgis says.
Many servicemen and women choose to live on base for sheer convenience. Living in military housing usually means close proximity to work, eliminating the need for a car or expensive taxis and Ubers.
Tip #6: Have realistic expectations.
The updates and renovations made on military base housing can vary greatly from base to base — and even from building to building.
"Be aware that most military housing is old," Cheneler warns. "While the infrastructure is improving, the buildings are old and fragile."
You'll need to keep this in mind when setting up and maintaining your home.
Tip #7: Keep up with your maintenance.
When planning any landscaping or improvements to your new home, you'll need to remain in line with any community standards.
Gee, the Atlanta author and former service member, says, "You must keep the house and yard super neat, as both are periodically inspected."
She recalls one time that an inspection resulted in her "being written up for grass growing in cracks in the sidewalk."
Tip #8: Be prepared to get creative.
One major rule for military housing is not to make permanent changes to your home. This includes updates, like carpeting and shelving.
"The house needs to be left exactly how it looked when you moved in as when you move out," Gee warns. "You cannot paint the walls or put too many holes in the walls if you hang pictures."
Tip #9: Check out the amenities.
Close proximity to work isn't the only amenity that you'll find on-base.
There are the commissary and the Exchange for discounted shopping. There are also fitness facilities, so you can cancel that pricey gym membership.
Tip #10: Maximize your military savings.
One of the benefits you receive as a member of the military is exclusive savings at retailers across the country. Today, it's hard to find a company that doesn't offer some sort of military discount, and taking advantage of these savings can save your family money.
Want to save money on Moving Day, too? We've put together this handy guide to military moving discounts that can help cut costs on your relocation.
Tip #11: Support the family.
In the hustle and bustle of your move, it's easy to forget that your family might not have the same camaraderie and familiarity that you experience on-base.
An important part of living in military family housing, whether it's Army housing or otherwise, is helping your family acclimate to a new community and a very different lifestyle.
Seek out resources to help your spouse settle in or find a new job. Research groups, activities, and clubs that can connect your children to friends.
Tip #12: Embrace the community.
When Gee's husband went away on assignment, military housing became the lifeline she never knew she would need.
"Remaining there, I felt safe living alone and also had other military families I knew and amenities close at hand," she says.
But Sturgis warns that you "might have to give up some privacy."
"Military bases are small, tight communities, and your neighbors will know more about you than you think," he says.
Should you move onto military base housing or live off-base? 
Pros of living on-base:
Cons of living on-base:

The military community is nearby to provide support and assistance.

Your family will enjoy access to exclusive amenities, like the PX and Commissary.

You can enjoy the security and peace of mind that comes with living in a like-minded community.

Long waiting lists mean a home may not always be available when you need one.

Housing assignments on-base are often based on rank and status, so you may not qualify for the kind of home that you want.

On-base housing can be more expensive than military housing off-base given the limited options.
The bottom line
Sturgis breaks it down simply for us, from his experience.
"If saving money is your goal, look off-base," he advises. "If you're looking for convenience, stay in military housing."
For Gee, it was all about community and security when her husband was away on assignment.
It's further proof that choosing to live in military housing on-base is a personal decision that depends on you and your lifestyle. For some, it's a matter of convenience and cost, while others value the feeling of the military community.
Regardless of why it works, there's no doubt that there are plenty of benefits that you can gain by choosing to live in military base housing.
Frequently asked questions
For your frequently asked questions about military housing, we turned to the experts themselves for exclusive advice in their words.
Does the military pay for housing?
Cheneler explains, "Depending on the rank and on-base housing limitations, the U.S. Military will pay for the service members' housing. This is known as Basic Allowance for Housing (BAH), and this monthly stipend will vary depending on your rank, if you are married, and if you have kids."
What does military housing include?
"The housing allowance is based on rank and is determined by the average housing costs for that area," Sturgis explains from experience. "For most communities, all utilities are covered with your rent payment."
Base housing only includes the structure, which is most often a single-family home or duplex. You will need to furnish and decorate it yourself.
Can girlfriends or boyfriends live on the military base?
According to Sturgis, "The rules can vary based on the military community. But, if space is available, single service members are allowed to stay in housing with their boyfriend or girlfriend. However, both will have to go through the application process and background check. If accepted, they will have to be added to the lease and be equally responsible for the rent."
Consult the housing management office for your base to find out the exact requirements for your military housing community.