How to Declutter Before Your Move: What to Keep, Toss, and Donate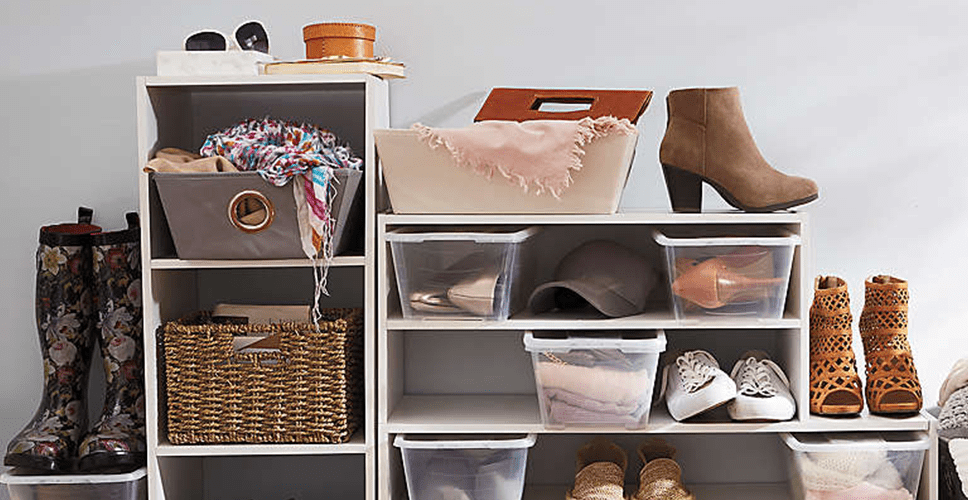 This post has been provided by Bed Bath & Beyond. MYMOVE may collect a share of sales from links featured on this page.
Moving? Whether you have days, weeks, or months to go, the time to declutter is now. Once you've done that, you'll have an easier time packing, moving, and unpacking in your new place. If you're using movers, less boxes means more savings.
To properly declutter, you'll need to create three categories: items you'll bring to the new place, items you'll throw away, and items you'll donate. Only you can make the final call on what goes in each category, but here are a few guidelines, courtesy of our moving experts.
What to Keep
Furniture: If you're planning to redecorate your new place, keep pieces that will complement the style you've chosen. As for those beloved furnishings you're holding onto, plan to decorate your new space around them.
Clothing: Now is the time to assess, organize, and update your closet. Start by taking everything (yes, everything) out of your closets and drawers. Pick up each piece of clothing, and if it's something that you love and wear often, put it back in its place. (We'll come back to what to do with the rest later.) If it's too overwhelming to go through everything all at once, tackle one section of your closet or drawer at a time.

Items with sentimental value: Hold on to family heirlooms and emotionally significant tchotchkes. If it's decor you currently use, find space for it. Otherwise, there are plenty of ways to store it. Use stylish bins and boxes that fit under the bed or at the top or bottom of your closets to hold photographs, books, and other items that you don't want to part with.

$13.99
IRIS® 58 qt.
Clear Storage Box
with Lid
Shop now

$7.99 – $12.99
Studio 3B™ Heavyweight
Grommet Tote in
Grey Stripe
Shop now

$7.99 – $9.99
Home Basics® Chevron
Under -the-Bed Storage
Box with Lid in Grey
Shop now
What to Toss
Towels, sheets, pillows: If your towels and sheets show signs of aging, it's time to replace them. Moving is a great time for a refresh! Unfortunately, most places won't accept these sorts of items as donations unless they're new; consider giving to animal shelters instead.
Expired products: Often, we put spices and condiments into the fridge or the pantry and let them linger way past their expiration dates. Before you pack, toss anything that's expired. With the move over, it's time to restock the spice rack. Oh, how much brighter that turmeric flavor is when it's fresh. The same goes for any expired medications. Be sure you dispose of them properly, according to their instructions (don't flush!).
Flawed clothing: If an item didn't make it back to your closet after your "What to Keep" round and is stained or damaged, you probably won't be able to sell or donate it. You'll also have to toss any undergarments you don't intend to keep.
Broken appliances, furniture, electronics: This is pretty self-explanatory, but if it doesn't work, it's going to be tough to donate it. You need to re-cycle old TVs, refrigerators, electronics, and computers. Research Terracycle® to find a local resource. Another one of our favorites is 1-800-GOT-JUNK. They make it easy!
We also love the Bagster®. Set it up outside your home, fill it up with things you don't want, and schedule a pickup. You can hang on to it as long as you need! Simple.

$38.99
Bagster® Dumpster
in a Bag® in Green
Shop now
Food: Give your unopened, nonperishable food items to Move For Hunger™. Simply book your move with one of their professional movers and set the items aside. They'll come pack them up and donate them to families in need.
Clothing in good condition: You loved how they looked in the store, but then you took them home and never wore them . . . like, ever? Those are great to donate. Clothing with the tags still on and items that are still wearable and presentable, like jeans that no longer fit, are perfect candidates for donating to places like Goodwill.
Dishes and kitchen gadgets: If you've got mismatched glasses and dishes, treat yourself to a new set for your next place. Don't feel bad about getting rid of them! If they're in good shape, donate them. The same goes for functioning kitchen gadgets you don't use much.
Furniture: If your furniture is in good condition, but you're not looking to keep it, donate it. There are many local organizations that do pickups. A great resource is freecycle.org, where you can list your items locally and keep them out of landfills.