Check Your Address Ahead of More Stimulus Checks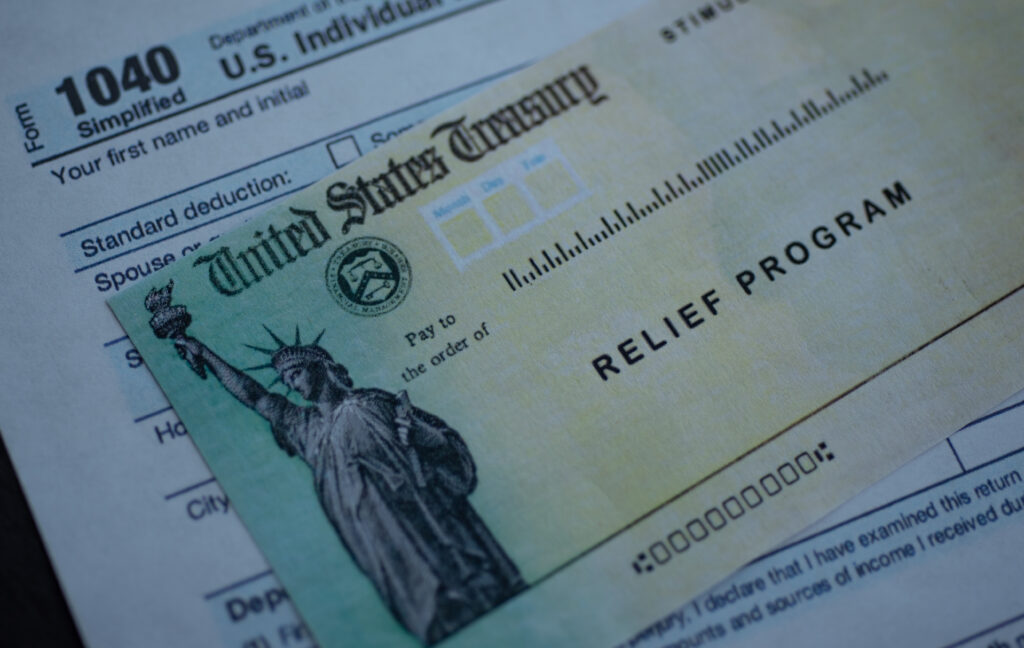 Evgenia Parajanian/ Shutterstock
President Biden's ambitious goal for his first 100 days in office centers around the American Rescue Plan — a $1.9 trillion coronavirus relief package. As part of the plan, you may get a third stimulus check of $1,400.
If you filed your taxes electronically, expect a direct deposit straight to your bank account. But if you're part of the roughly 14 million filers who mailed in a paper tax return, be prepared to wait for a check in the mail — unless you've recently moved and forgot to update your address.
Since the coronavirus began, there has been an exodus of Americans from big cities. If you're part of the migration, it's easy to assume your stimulus check will find you. After all, you notified the Postal Service of your move, right? The real question is, will USPS forward government checks? Not always. The IRS warns not all post offices will forward government checks — even if you filed a change-of-address.
Your best bet to ensure you get your stimulus check without delay is to know how to notify the IRS of your address change and file a USPS change of address.
Hire Professional Movers
Find trusted professionals to help lighten the load
Save yourself time, stress, and back pain by calling in the pros. Whether you're planning to DIY or just need help with the heavy lifting, we can help you find a solution that fits your move and your budget.
Moving Supplies

Packing & Unpacking

Loading & Unloading

Licensed & Insured

Storage & Containers
First, Change your address with MYMOVE and USPS®.
Updating your new address with the USPS is pretty straightforward. You can change your address quickly and securely online or fill out a change-of-address form in-person at your local post office.
An online change-of-address is much faster and convenient since you can do it from the comfort (and safety) of your home.
Here's how to file a USPS change-of-address online:
Enter your contact information, including email address and phone number.
Select whether the change is temporary or permanent.
Enter the mail forwarding start date.
Enter your old and new addresses.
Pay a fee of $1.10 using a debit or credit card.
Electronically sign the confirmation.
Once you complete the change, will USPS forward government checks? Unfortunately, it's not that straightforward. It's a good idea to understand how to notify the IRS of your address change and do that next.
IRS update address: How to tell the IRS that you moved
As mentioned, the IRS says that not all post offices forward government checks. Therefore, updating your address with the IRS before stimulus checks start rolling out is the best plan of action to make sure your check will be in the mail.
How do I change an address with the IRS?
The IRS gives you a few options to update them of any changes. You can update your address in five ways:
In-person by visiting a local IRS office.
By calling 1-800-829-1040 from 7 a.m. to 7 p.m. local time.
By filing Form 8822, Change of Address.
By using your new address on your next tax return.
By mailing a written statement to the location you'd normally file your tax return. The letter should include your: Name, old and new addresses, Social Security Number, and signature.
Can I change my address with the IRS online?
The IRS only allows an online change-of-address for a couple of reasons. Your check must have been returned for non-delivery, or you don't typically file a tax return but wish to register for a stimulus payment.
How to change my address with the IRS online:
If you don't typically file a tax return, you could register for Economic Impact Payments online. The tool is only available shortly before the government issues stimulus payments.
If your stimulus check was returned, you could also change your address online. You'll need to visit the Where's My Refund? page and enter your Social Security Number, the exact amount, and your filing status. If the check is confirmed as returned to the IRS, you will have to enter your new mailing address.
What to do if you haven't received your stimulus check:
There may be several reasons why you haven't received a stimulus check. The most important thing to remember is that not all individuals may qualify. It's too early to work out who will qualify for the third round, but if you base the next check on past ones, the IRS says, "Tax filers with adjusted gross income up to $75,000 for individuals and up to $150,000 for married couples filing joint returns will receive the full payment." You may receive a partial payment or nothing at all if you're above the income threshold.
Another critical part of the statement regarding who gets a stimulus check is "tax filers." If you don't typically file a return, you'll have to register for Economic Impact Payments first. There's a small window of time to register before the checks are issued, so keep an eye and ear open for the stimulus announcement.
If you receive benefits, the IRS will make payments based on the filed Form SSA-1099 or Form RRB-1099. This exception typically applies to Social Security recipients, seniors, and railroad retirees who wouldn't normally file taxes. You won't have to do anything else except make sure your mailing address is correct.
If you're still unsure if you're entitled to a check, visit the IRS Where's My Refund? page to find out. You'll need to enter your Social Security number, filing status, and the exact amount of the check (which, at this time, looks like $1,400) to find out if money is coming your way.
Remember, if your stimulus check was returned, you'd be able to see it through Where's My Refund? and update your address online.
How to make sure you get your next stimulus check
To make sure you get your next stimulus check:
File your tax returns on time or register for Economic Impact Payments.
Check the Where's My Refund? page for payment status.
If you file paper tax returns, ensure your mailing address is up to date (with the IRS and the postal service). If it's not, file a change-of-address with both.
The bottom line
A third stimulus check may be on its way soon to help millions of struggling Americans weather the COVID-19 pandemic. However, the stimulus needs approval from Congress first. Although 90% of tax filers send their forms electronically and will receive a direct deposit stimulus, millions of Americans file paper returns. Most qualifying individuals who filed a paper return will likely receive a stimulus check in the mail.
Make sure you're set up ahead of time to receive your stimulus check at your current address by filing a change of address with the USPS and IRS.
---
Bring on the savings
Unpack unbeatable deals
We can't sugarcoat it — moving can be expensive. That's why we team up with your favorite brands to help you save on everything you need (and want!) for your new home. The best part? You won't find these deals anywhere else.
VIEW YOUR DEALS