Wrap Your New Home in Hygge: The Art of Being Cozy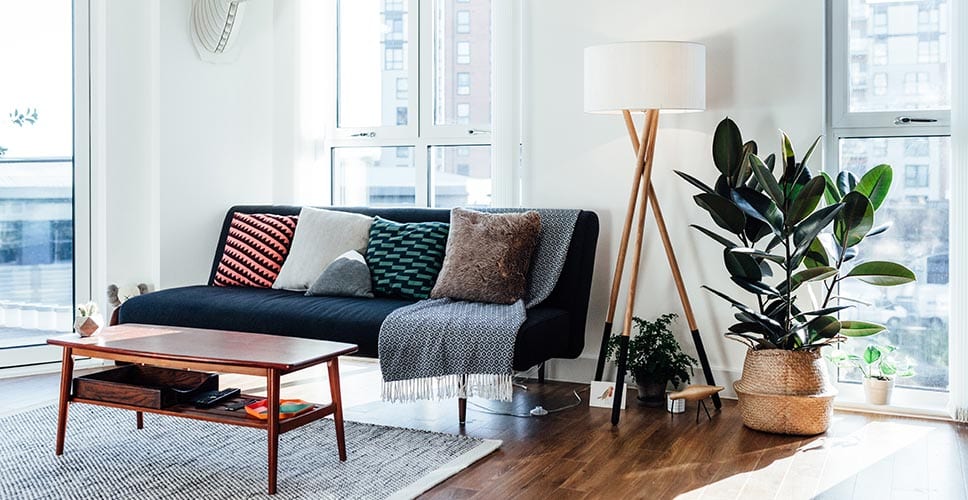 After you're all moved into your new home, it's time to start making it yours. Here's where the fun begins: thinking about designing each room and laying everything out to your liking. Your new home is a blank canvas of possibilities when it comes to settling in and making yourself cozy. Here's a suggestion: Why not make yourself cozy, literally?
What is "hygge" decor, exactly?
"Hygge" doesn't have an exact English translation. Pronounced "hoo-gah" the Danish word has been around for centuries, and it loosely translates to "getting snug," or "coziness."
In the context of home design, the practice of hygge is about creating a simple, yet beautiful, room design that fosters a sense of joy and coziness. The Danish art form only requires that you find joy and beauty in the uncomplicated (no special crystals or expensive elaborate furniture rearranging required).
Here are four simple hygge-inspired steps to getting cozy year-round:
1. Use a Pleasing Color Palette
Because hygge is about finding joy and a sense of peace in your daily life, spaces that embody the principle are often filled with neutral colors. That doesn't mean you can't get creative. You can pair shades of gray with light lavender, or go with crisp white paint complemented by a pale blue accent wall.
Just ask yourself: "What calms me?"
Your hygge-inspired home should be covered in colors that promote serenity. If you're looking for inspiration, think about what colors you might find in a spa or meditative space.
2. Choose Natural Materials
Hygge rooms are meant to be minimalist, but the Danes have figured out a pretty good workaround: texture. What a hygge space lacks in bold color, it often makes up for in soft, soothing blankets and the grooves of natural wood. In fact, hygge encourages materials like wood, glass, and natural fibers. Faux fur is also a common material in a home designed with hygge style.
What's cozier than sitting with a mug of your favorite drink while wrapped in super-soft warmth? Not much. You can also decorate with fresh flowers or hanging dried flowers, succulent arrangements, and charming twinkle lights.
3. Surround Yourself with Joy
In addition to celebrating calming color palettes and natural materials, hygge allows us to cut down our belongings to just the things that matter (and just after a move is a great time to do this!). Somewhat similar to how Marie Kondo asks us to hold an item and ask, "Does this spark joy?", hygge says we should surround ourselves with things that make us happy. The goal is to create a space that you'd be happy to share with family and friends.
Here are some ways infuse your new home with joy and finalize your hygge-inspired design:
Create a spa-like bathroom with crisp white accents, bowls of flowers, and a natural wood bathtub tray where you can place a cup of tea while you soak.
Use your fireplace with family and friends, or warm yourself while you read your favorite book.
Fill your home with pleasant scents by burning candles or oils and allowing in tons of fresh air.
Display photos of the people you love and add to the arrangements as you make more memories.
It doesn't take a lot to start bringing hygge home, and you won't regret it!