How to Furnish That Extra Bedroom You Wanted but Don't Have Money For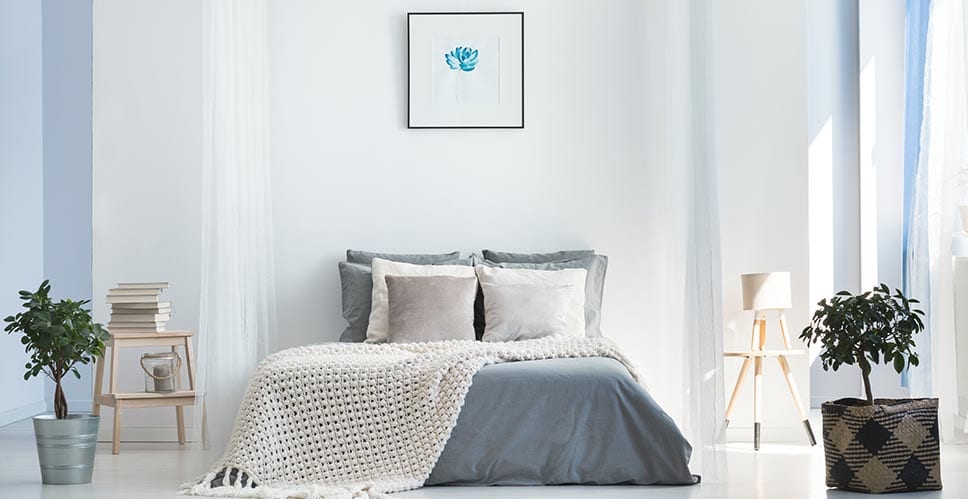 You've finally "moved on up" to that deluxe new home. It has everything you dreamed of, including that extra bedroom. At last — a guest room for all the visitors you plan to host. What will they be sleeping on though, especially considering your funds are significantly more scarce after that move?
Is that silence we're sensing? If you're stumped on how to fill up that guest room on a scant budget, not to worry. You don't need to pull the trigger on an expensive set from a furniture store. These tips will help you curate a guest room that's charming and economical.
Repurpose What's Right Under Your Nose
Before you do anything, take inventory of elements in your home that aren't being fully utilized. Could that ornate entryway mirror simply filling up wall space be converted into a headboard? Could that fragrant candle that just ran out of wax be an impromptu vase or jewelry holder?
Step back and envision the potential for furniture you've tucked away elsewhere because it's lackluster. For example, adding marble contact paper and metallic spray paint to a table can quickly and cheaply transform its facade. Embrace this open-mindedness for the next tips, too.
Scour Garage, Estate, and Local Sales Efficiently
Garage sales are nothing new, but what's the best way to nail finds on a dime? For starters, plan your Saturday ahead to spend time and money efficiently. Since most start at 8 a.m. and end just a few hours later, create a mental or physical map of where to strategically scour.
Prioritizing community and multi-family garage sales can help you kill two or more sales with one stop. Many church sales are based fully on donations, so you're less apt to overpay for an item that's been inflated because of emotional value. Search for big pieces like furniture, mirrors, and large frames, instead of getting distracted by smaller items that wouldn't cost much new.
When to rummage? Early rising can help you snag the most coveted finds, but swooping in late (when hosts are desperate to purge) will have you walking away with practically free items. If you can't live without it, grab it upfront. Contemplating? Circle back later and haggle away.
Estate sales are indoor sales that sell everything — a way of liquidating the belongings of a home due to downsizing, bankruptcy, divorce, or death. They're usually spearheaded by professional companies who accept credit cards. For these sales specifically, ask the company or sellers upfront if unsold items will go for 50% off on Sunday (like most). Yes? Sunday it is!
Local sales — such as through mobile apps like OfferUp and LetGo — offer more haggling prospects. In addition to checking apps for garage sales, monitor for nearby finds. Not equipped with a truck? Many sellers will deliver to you for an extra fee. Even better: Some are so time-crunched that they just need someone to take an item off their hands for free.
Browse Thrift and Consignment Stores Strategically
Use consignment stores to your advantage — both to get cash for items you can't seem to repurpose (add it towards the decorating budget) and to find gently used guest room treasures.
Consignment stores already heavily discount items, but many have clearance sections where they're marked down even more. Following local consignment shops on social media will help you keep a pulse on new items so you can snag finds as soon as they're priced and posted.
When it comes to well-known thrift stores, shopping on specific days can add to your savings. Though discounts vary based on local stores, Goodwill and Salvation Army typically have senior and military discounts ranging from 10% to 15% off daily, or on specific days of the week.
Salvation Army offers many overall discounts on specific days, such as an additional 50% off already discounted items. Though these typically exclude furniture, it's a great time to stock up on small decor pieces for next to nothing. Both national brands are known to offer huge sales (many times including furniture) on holidays such as Memorial Day and Labor Day.
While shopping at garage sales, thrift and consignment shops, remember the first tip. Looking at not what an item is now but what it can be with a little DIY or TLC makes all the difference. This empty room is a work in progress that will be full of furniture — and life — before you know it.
---
Everything for your move, all in one place
Curate your personalized moving checklist, set up TV & Internet, and more with a free MYMOVE account.
Save on your move and tackle upcoming to-dos with your free MYMOVE account.