5 Cool Tiny Houses (That Will Inspire You to Downsize)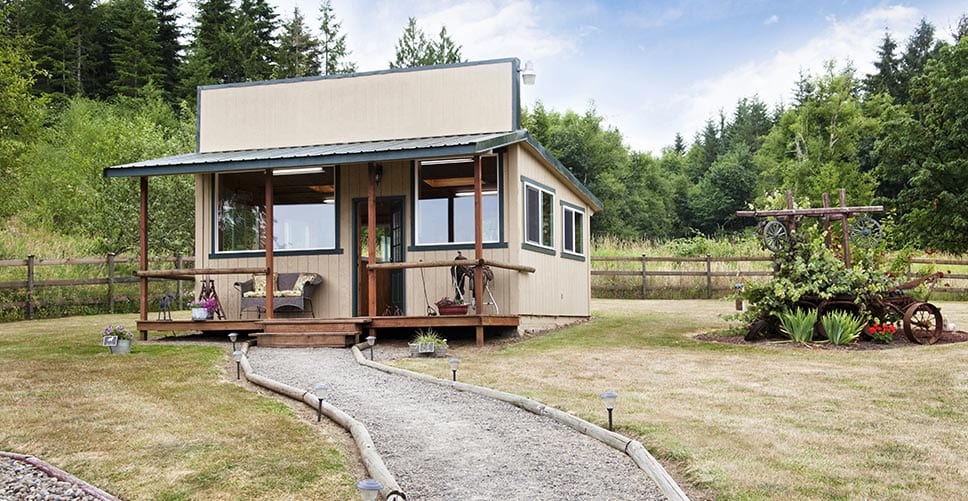 Have you been thinking about moving into a smaller place? Like, much smaller? Most of us scoff at the idea of living in 300 square feet, but plenty of people are joining the tiny house trend like gangbusters. Take a look at 5 of the coolest tiny houses of Instagram, and see if you don't start to daydream about moving into a more compact space. Minimalist living means a bigger budget for travel and savings, after all. Even if you don't go full tiny house, these spaces prove you can live a full life with less stuff.
1. Berkshires Tiny Cabin
This wooden tiny house in the Berkshires is the perfect place to curl up with your favorite book or podcast for two weeks. Before you know it, you haven't showered in three days and it's time to put on more hot tea. If living tiny means living so adorably, it's a lot more appealing, right?
2. Regal and Bright Mini Farm House
You can live in a trendy urban studio and in the middle of the woods at the same time with a regal, modern take on the farm home like this tiny house. There's plenty of clever storage (like the floor-level basket cubby near the door) and loading up on natural light means you won't miss your old sliding glass door.
3. Open Air One-Story Home
Talk about creating a natural draft. If you lived in this tiny home you could take open air to the next level. This home is currently in Sacramento, California, but you could put a compartment home with opening doors on any plot. If you love an easy breeze lifestyle, admit it, you're tempted to move into a little open-air tiny home like this one.
4. Floating Tiny House
This floating home was created by Serbian designers and it gives homeowners the ultimate freedom. Wouldn't you love to just float away from that nosy neighbor who comes over too often to ask you if you're still single? Park this tiny home on a serene river or bay, and you'll be sailing your way to the simple life in style.
5. Outdoor Enthusiast's Dream
Oh, what, you thought you had to give up balcony space to have a tiny house? This model is packed to the brim with camping gear and snowboarding stuff inside, and it manages to have a rooftop seating area with tons of room to stretch out. Tiny houses can have plenty of drawers, shelves, and even closets that pull out from under your staircase.
Do you think you could give up your apartment or home for tiny house living? Custom tiny houses let you decorate your home in any décor style from rustic to modern, and loft beds mean more living space than you might expect. If downsizing into a smaller space is up your alley, it might be time to consider tiny house living. And the best news: many custom models can be built for under $50,000!
---
Everything for your move, all in one place
Curate your personalized moving checklist, set up TV & Internet, and more with a free MYMOVE account.
Save on your move and tackle upcoming to-dos with your free MYMOVE account.