How to Compromise on Design Style Without Compromising Your Relationship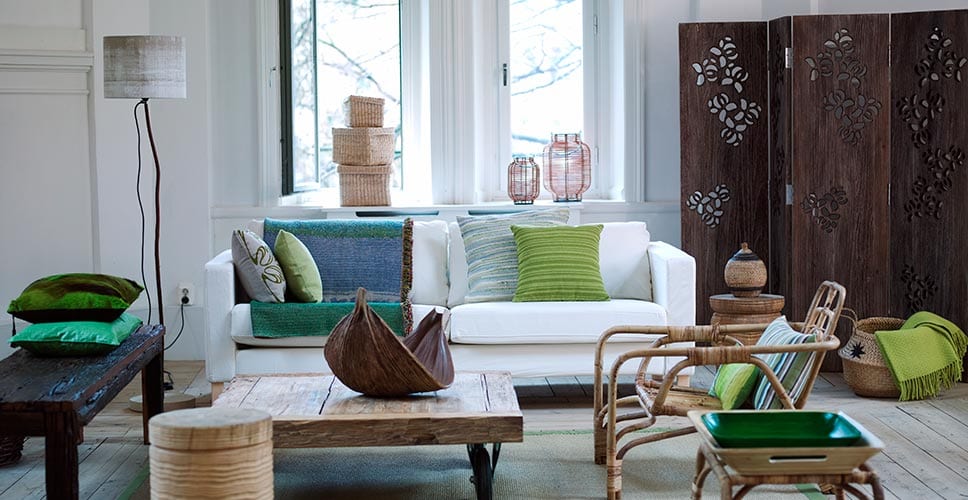 You just moved in with your significant other and you're cozily sipping coffee together in what's officially your first home. Despite its currently blank aesthetic, the fact it's yours is a mutually new, emotional, and inspiring feeling that can't be compromised. Or can it?
If you're both passionate about your opposing design styles — or just plain stubborn — that enthusiasm can quickly dissipate. Apparently, so much so that one-fourth of those surveyed by Houzz confirmed it. Biggest home project hurdle? Agreeing with their partner on style or design.
With design styles abounding, there's no right or wrong answer when it comes to your (or your partner's) preferred aesthetic. Translation: Nobody wins this argument. We'll dub this dilemma the design style standoff. It doesn't feel like anybody's budging. Anybody? No?
The Design Style Standoff
When it comes to the anatomy of your now shared space, how can you decorate it to harmonically tell the story of both your styles and lives? How do you compromise so your home looks organically blended, and not like it's having an identity crisis?
Like the complementary yin and yang of your relationship, your space can become a cohesively styled hybrid with the right amount of balance and communication.
Solution: The Strategic Style Mashup
By strategizing together, you can take a more thoughtful approach and avoid diving into design drama.
Let's explore some tips for creating a unique style mashup.
1. Agree to compromise, communicate and compromise some more.
Compromising upfront is a given, but it's fundamental to ensure both partners feel heard. Compromising was also the top advice from the Houzz survey of couples who had undergone a home project together. After you've defined each of your styles, agree to embrace the benefits the contrasting style can offer. For example, dramatic elements can add warmth, depth, and opulence, while more subdued touches can add light, whimsy, and vibrancy. Acknowledging what your partner's aesthetic brings to the table can help foster open-mindedness and creativity.
2. Eliminate these home design notions immediately.
A common misconception is that elements must meticulously match. Overwhelming amounts of matchy colors, prints, patterns, and styles can actually make a home feel too formal, inauthentic, or even tacky. A caveat, of course: There should be a balance — but not the ratio you'd expect. More on that in tip #3. Understanding this philosophy will prevent unnecessary purging or spending. Another thing to brace for is the inevitable desire to decorate at an unreasonable pace. Rushing to feel at home can cause angst, tension, and unwise spending. Agree to budget sensibly and enjoy the process together.
3. Apply the 80/20 rule to your overall decorative theme.
Interior designers often apply the 80/20 rule, meaning that if 80% of a space's elements are influenced by one style, there's 20% wiggle room to deviate. Not the split you were expecting? A 50/50 ratio can create an unhinged aesthetic (like that identity crisis we're trying to avoid). This is where compromise reemerges. If your style becomes the leading role, consider letting your partner's favorite accent serve as a dominant focal point. Even if it means that cringe-worthy heirloom. Now that's a compromise.
4. Choose (and compromise on) a complementary color palette.
Color, when executed correctly, can absolutely make the room. It can tie a space together, enhance moods and even alter a room's perceived size and temperature.
Choosing 3-5 complementary colors — a dominant, a secondary and an accent color — will help you establish a foundation, or palette, for your blended styles. If your palette prowess isn't professional level, browse trends like color combinations from House Beautiful. Many paint brands, like Sherwin Williams, feature palette collections. Glidden lets you explore paint colors online by perusing color families. Valspar even has a free virtual painter so you can view what your room would look like with specific paint colors.
5. Mix, match and merge.
Using the mix-and-match technique touched on in tip #2, you can continue to build your style hybrid with prints, patterns, and textures. Textures — which naturally add dimension — can be used haphazardly without looking cluttered. Score! This gives you both the opportunity to incorporate an abundance of personal elements for a feel that's cozy, high-end, and unique. Think marble, glass, wood, metallics, furs, linens, suedes, and more.
Prints and patterns can be used to add interest. A general design rule of thumb when mixing prints and patterns: Stay in the same color scheme lane but vary the print and pattern sizing.
With a little bit of patience and a lot of heart and soul, you can create a space that tells each of your stories — as well as the one you're embarking on together.