7 Design Ideas Renters Need to Know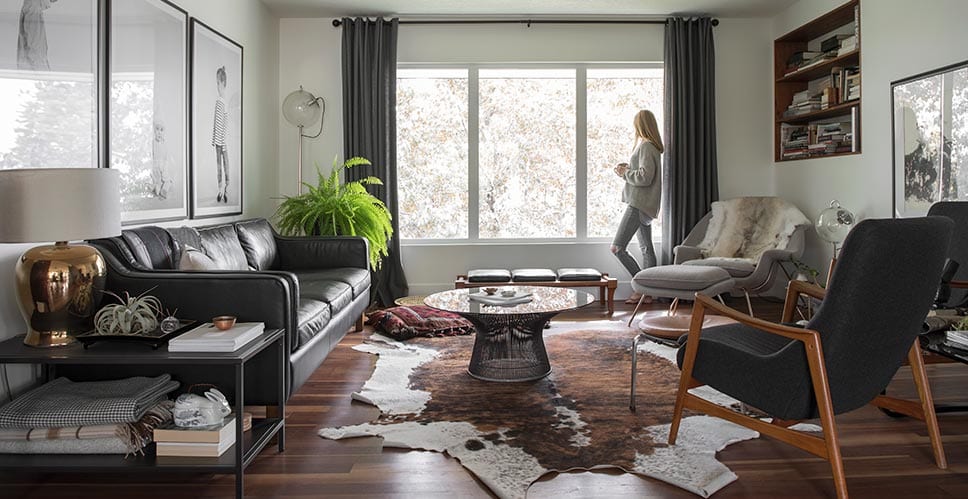 This post has been provided by: Modsy. MYMOVE may collect a share of sales from links featured on this page.
7 Design Ideas for Renters
No situation exasperates design commitment issues like moving into a rental. For starters, you've got the tricky task of covering 80% of your floors in carpet, and every piece of art you hang is just another hole you'll need to patch in a few years' time. Moving into an apartment? Let's not even talk about getting that sofa up three flights of stairs and down that narrow hallway.
Needless to say, the task of decorating a rental can be daunting, at the least. Luckily, we're privy to a few simple and affordable rental decorating ideas that can easily (and temporarily) make any place feel like yours. Whether you enjoy updating your home on the reg, or if you're just looking for a few temporary decor ideas to last you until your lease runs out, the trick is to find flexible design solutions that let you add and subtract to your heart's desire.
Here's seven rental decorating ideas that can help you create a home you love, without the commitment.
Start with Great Foundations
1. Invest in quality basics.
Spaces that are easy to update at any time generally rely on strong foundation pieces. This means furniture that is neutral, versatile, and goes wonderfully with anything.
Think of these as basics that you can build on, like a leather sofa, a quality dining set, or a classic wood storage piece. If you're looking for pieces that can move with you, make sure they're high-quality and can work with a range of styles over time.
Not sure how much to spend on a sofa? This handy guide can help.
2. Opt for a natural fiber rug.
Just like your foundation furniture, a natural-fiber rug makes for a great neutral base that you can easily design on top of. Not only does it go with any decor, a natural-fiber rug is extremely durable. It can last years, which means you can continuously swap out your smaller decor pieces, such as brightly-colored pillows, graphic black-and-white art, or a traditional leather armchair, around it.
Want help finding the perfect natural-fiber rug for your home? Check out this guide.
3. Consider modular designs.
One of our favorite rental decorating ideas are easy-to-assemble (and disassemble) modular pieces. Flexible by nature, these are great foundation pieces that you can tailor to fit your current space, as well as your next one. If you're all about rearranging parts and pieces frequently in one room, a modular sofa or sectional can be a great option that lets you take apart the seat and put it back together as needed.
Our Modular Pick: Sofa by Burrow, which ships in a box and can be easily expanded from a loveseat to a sofa to a sectional.
Rethink Versatile Designs
4. Try the "one piece, any room" approach.
For designs that are easy to swap in and out of rooms, aim for pieces that can live in multiple spaces in your home. Think about pairings that can travel from the living room to the bedroom, or the family room to the office.
Accents such as plants, ottomans and benches, art, and extremely versatile rugs are perfect pieces to rotate from room to room. It's an easy way to give your spaces a completely new look and feel-no money spent.
5. Swap your pillow covers.
Swapping out pillows might be the quickest way to switch up the look in any room. Buy one set of inserts and rotate covers seasonally. You can cycle through neutral options, bright colors, and patterns for a fresh look.
6. Add a fresh coat of paint.
A fresh coat of paint is one of the easiest (and least expensive) rental decorating ideas. Another option is peel-and-stick wallpaper, which is easy to apply and adds major visual impact. Opt for a bright solid color or go with a patterned one to add a whimsical look that you can switch out at any time.
7. Try it (virtually) before you buy it.
No matter if you just signed a new lease or have lived in your home for decades, imagining how new furniture and decor will look in your space can be a major struggle. Luckily, there are new design services that can help! Just snap a few photos of your room and Modsy will turn them into an exact 3D model of your room. Then they'll design it with real furniture and decor so you can see how that sofa looks and fits before you buy it.
Get started now!
---
Everything for your move, all in one place
Curate your personalized moving checklist, set up TV & Internet, and more with a free MYMOVE account.
Save on your move and tackle upcoming to-dos with your free MYMOVE account.