Read This Before You Paint: How Color Can Affect Your Home and Psyche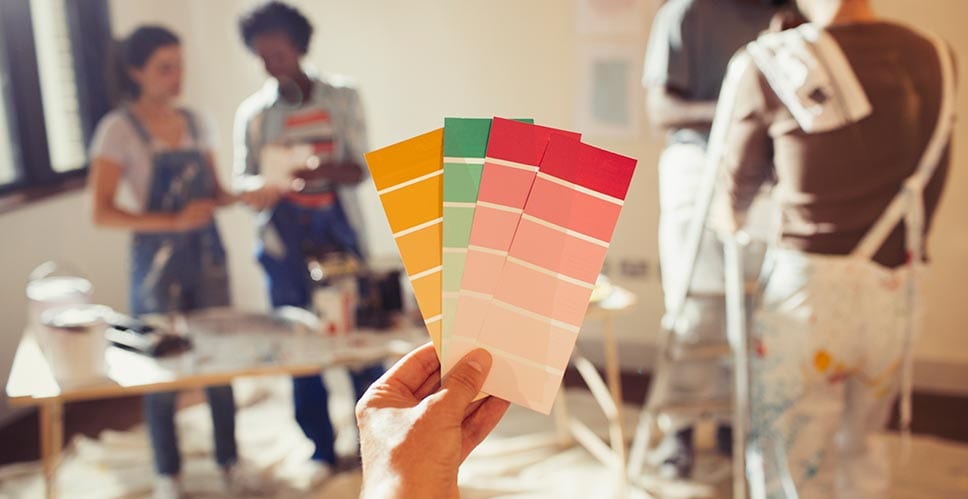 Ever since your first walk-through, you've been mentally swiping through paint swatches, putting together color combos for your new home. We get it. Colors have influenced marketing, branding, art and design since Isaac Newton first uncovered the rainbow. Whether we realize it or not, they're said to be impactful on moods and behaviors.
"Feeling blue," "green with envy," or "seeing red" ring a bell? Color psychology explores hues as causes of perceptions and actions. Read this before diving into a miscellany of paint swatches.
Purple
Let's start with what Pantone's Color of the Year, ultra violet, falls within. A combination of calm blue and energetic red, purple is dynamic, ranging from soft and sweet to vibrant and dramatic. It represents creativity, luxury, royalty, wealth, grandeur and magic. Lavender, lilac and pale irises can add softness, restfulness and femininity, while lively violets and amethysts can modernize. Eggplant, plum and dusty grape shades exude sophistication. Because of purple's versatility, its shades-like the blend in this bedroom-can be seamlessly combined.
Red
Roll out the red carpet. Defined by romance, passion and power, red isn't for the faint of heart. It's the most attention-grabbing on the color wheel, and a strong influencer of behaviors and emotions. Known to stimulate conversations and appetites, it's a popular restaurant go-to. It's even said to increase blood pressure and heart rate. Red's drama is best in high-energy rooms (foyers, dining and living rooms) and less so in those striving for serenity (bedrooms). Either way, statement-makers are sure to find a shade, like crimson, that speaks their language.
Blue
Contrarily, blue is said to decrease heart rate and blood pressure-likely why this calming color is a universal favorite. Representing tranquility, harmony and relaxation, it's no surprise it envelopes many spa walls. Because it's reminiscent of open spaces like the sky and sea, it can evoke spirituality, nostalgia and freedom. Light blues can foster openness in a room, while dark, brilliant and royal blues can make a room feel intimate and regal. However, the darker the blue, the more authoritative-and the more peacefulness is sacrificed. Pale blues make great bedroom backdrops, while dramatic blues complement dining rooms, foyers and bathrooms.
Green
Green has been associated with envy, but it's also known to signify health, joy, wisdom, endurance and sincerity. Shades of green confirm life, growth and renewal, as present in plants. This translates indoors. Green has been known to symbolize fertility and youthfulness. Because of its abundance in nature, it's said to promote tranquility-so much so that studies suggest it can reduce stress and even prevent nightmares. Considering that green tops the list of colors to surround yourself with for long periods of timeand it fosters focus, it's the perfect home office color.
Pink
The term "tickled pink" says it all. This color is known to express a variety of positive associations, such as love, care, optimism, sensitivity and sweetness (think bubble gum, cotton candy and flowers). In fact, the color's reputation for decreasing aggression has dubbed it a strategic wall color in some visiting team locker rooms to induce passivity in opponents before a game. Pink is said to be refreshing, charming and euphoric-but it should be used thoughtfully to avoid an immature vibe. When painting with pink, consider this: subdued pinks, such as blush, convey femininity. Darker pinks, such as raspberry, project romance and vibrance.
Yellow
Yellow represents cheerfulness, friendliness and fun (McDonald's, anyone?). As the brightest and most noticeable to the human eye, it's no shock this sunny color is used to brighten rooms. Because of the energy yellow incites, it's a popular paint choice for kitchens and hallways. However, like the "too much of a good thing" saying goes, yellow has its limits. In excess, it's said to provoke anxiety, and has actually been shown in studies to be the color that babies cry around most. While not recommended for nurseries or large rooms, soft, buttery shades-when used sparingly-can achieve the happiness factor. Here are 10 yellow rooms to ponder.
Orange
People seem to love it or hate it. Like its red relative, orange demands attention-hence why it's frequently used in advertising and road signs. It's simultaneously warm and refreshing, considering it's the color of sunsets, citrus, and heat. Orange evokes the three E's: excitement, enthusiasm and energy. This makes orange a good color for a workout room or an artsy feature wall, but less of a favorite for more prominent rooms where it could be overwhelming and impulsive.