How to Change Your Voter Registration After You Move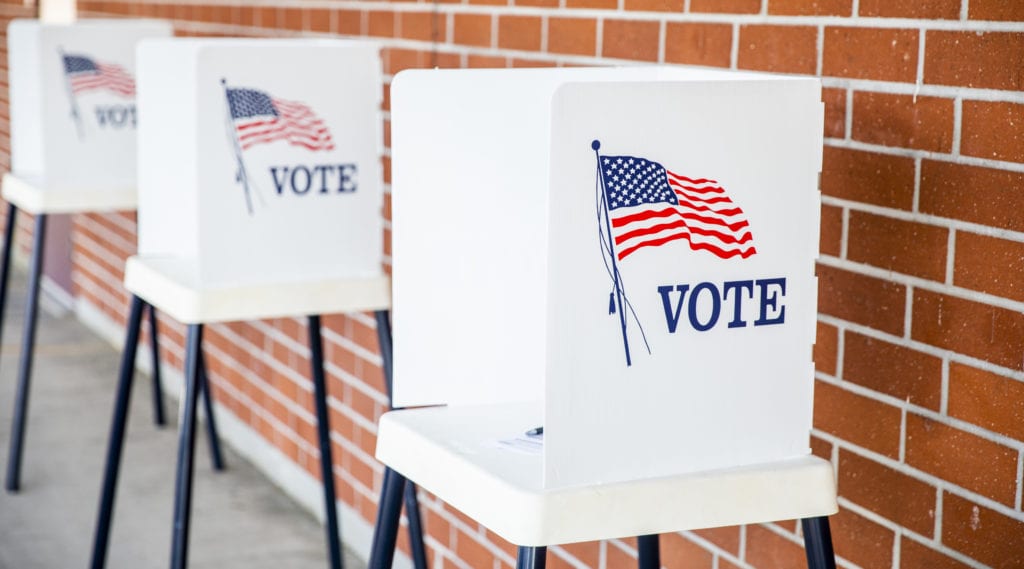 This year, three states — Louisiana, Mississippi, and Kentucky — are gearing up to elect their next governor. On the municipal level, over 400 cities are preparing for local elections over the next several months. As a nation, we're all getting ready for the next U.S. presidential election in 2020.
But if you've recently moved, listen up — your voter registration becomes invalid after you move states. If you were previously registered to vote in California but moved to Utah, you'll need to re-register in order to be eligible to vote in the next state or federal election. Many people don't know that state governments, not the federal government, log your voter registration. And if you move towns within the same state, you'll have to update your voter registration to reflect your new address. Your updated address will determine key factors, like your voting district and assigned polling location.
Why You Need to Update Your Voter Registration
The main reason why you need to update your voter registration when you move is that state governments track all voters based on their address. Around election time, they organize voters into precincts and districts based on where they live. This is why you have to vote at an assigned polling place in your neighborhood.
If your address is outdated or is in a different state, you won't be cataloged in a precinct or district. Your name won't be on the voting roll at your nearest polling place and you may have to cast a provisional ballot. Provisional ballots ensure that people aren't excluded from the voting process if they don't show up on the precinct's roster due to small errors like an address or name change.
Provisional ballots are kept separate from the ballot count until after the election when their validity can be examined. How states handle provisional ballots can vary.
To avoid having to cast a provisional ballot, take the time to update your voter registration immediately after you move. You're better safe than sorry.
When You Need to Complete Your Voter Registration
You should update your voter registration immediately after you move. Amid the chaos and stress of moving, it's easy to forget little time-sensitive tasks like changing your voter registration.
Every state has a different deadline for voter registration, but in most places, it's somewhere between 15 to 30 days before an election.
But as of this year, there are a total of 21 states, including Washington D.C., that allow voters to register at their polling place on the actual day of an election, as a way to increase voter turnout. North Carolina offers a similar "one-stop" voting process that allows same-day registration during the early voting period.
New policies that make it convenient to register or update your registration are gaining traction throughout the country, but they're not universally available. Whether or not your state offers same-day registration, it's smart to update and verify your information on your registration after you move and well before an upcoming election.
To make sure you stay ahead of schedule, check your state's voter registration deadline. 
How to Register to Vote
There are several ways to complete your voter registration — in-person, online, and by mail.
Currently, 37 states have an online voter registration process. To change your registration online, check to make sure your state allows it, then complete the digital form and submit it electronically.
In order to change your registration by mail, you'll need to download the registration form. You will have to fill it out and send a hard copy back to your local board of elections. To make your voting registration process even easier, use MYMOVE to make sure you don't miss a step.
Registering to vote in-person is slightly more time consuming, but there are multiple ways to do it. You can visit your local election office for an application, or register at some participating facilities, including the Department of Motor Vehicles (DMV), Armed Forces recruitment centers, and public assistance offices, like SNAP and WIC.
Check Your Voter Registration Status
If you've recently registered to vote in another state, you should periodically check back to make sure it's approved. From the time you register, it usually takes several weeks for the application to get approved.
Some states issue a voter registration card that you have to show at your polling place. Your county board of elections usually mails that card to you within five to seven weeks after you register.
It's always a good idea to call your local election office a few weeks before an election to make sure your registration is up-to-date.
Frequently Asked Questions
Can I register to vote if I just moved out of the U.S.? 
If you are a U.S. citizen traveling or living abroad, you're still eligible to vote in U.S. elections. Request an absentee ballot, which you'll fill out in your home and mail back to a designated polling location in the U.S.
Can I be registered to vote in more than one state? 
The laws around being registered to vote in two different states are a little blurry. It's not federally illegal to be registered in more than one state. However, it is a felony to vote more than once in the same election. As long as you cast one vote in the state that you live in, you don't have to worry about being registered elsewhere.
How long does it take for my voter registration to go through? 
County election boards, on average, approve voter registration applications several weeks after submission. If you submit an application right before an election, the high volume of applicants may delay the approval process. That's why you should update your voter registration as soon as you can after moving states.
How do I know where my polling place is?
After the county elections board approves your registration application, you'll get a notice in the mail. That notice includes your designated polling place and the hours that you can vote. If you misplace that notice, you can look up your polling location on your county board of elections website. Most websites have a voter information page that allows you to input your home address to look up your polling location.
Remember that you have to vote at your assigned polling place. If you try to vote somewhere else, your name will not be on the roster and you may have to cast a provisional ballot. If you need to change your polling location, contact a member of your local elections board well before election day.
---
Everything for your move, all in one place
Curate your personalized moving checklist, set up TV & Internet, and more with a free MYMOVE account.
Save on your move and tackle upcoming to-dos with your free MYMOVE account.