11 Creative Housewarming Gifts for New Homeowners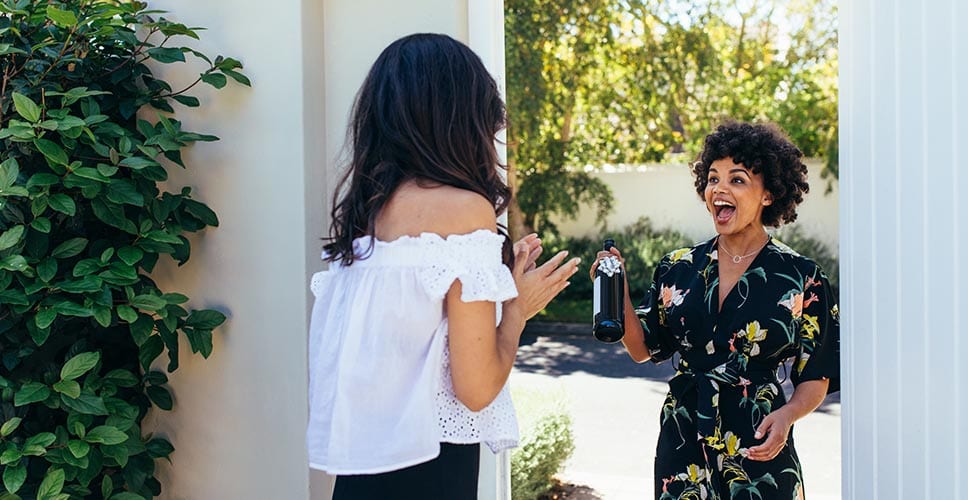 There's nothing quite like helping loved ones break in a brand new home. When everyone gathers together, they give thanks for the new space and the countless memories it will help create in the years to come. As a way to commemorate such a momentous occasion, it's customary to bring gifts for housewarming that will help the new homeowners turn four walls and a roof into a home. New home gifts are a kind gesture but sometimes, choosing the right item to give can be a bit nerve-wracking.
To keep things simple, there are two types of gifts you can give that the new homeowners are sure to love. If you want to play it safe, you can go with traditional housewarming gifts. If you want to spice things up, you can wow them with an out-of-the-box idea.
Below is our list of the 11 best housewarming gifts you could give. Some take a modern spin on the tried-and-true, while others could forge new traditions of their own. But go to your next housewarming party with one of these gifts in hand, and it's sure to be a hit!
Housewarming gift ideas that put a twist on tradition
Traditionally, salt, bread, and brooms have been popular housewarming gift options for people wanting to wish their friends well. Salt keeps life flavorful, bread ensures the new homeowners don't go hungry, and the broom "sweeps troubles away." All three traditions are sure to make your loved ones smile but if you really want to impress, try these modern twists:
1. For the gourmet chef: Sea salt sampler
What better way to bring some flavor into the new homeowner's life than with six different kinds of sea salt. These flavored salts from regions around the world offer incredible diversity and limitless cooking options. The tins that they come in are also reusable, adding an eco-friendly bonus to an already great gift.
Get this gift here.
2. For the baker: Digital bread maker
Give a man a fish, and he'll eat for a day. Teach a man to fish, and he'll eat for a lifetime. Rather than giving a freshly baked loaf of bread as a housewarming gift, teach your loved ones to make their own with a bread maker. Throw in a few bread-making ingredients to get their baking journey started, and you may even score a few brownie points.
Get this gift here.
3. For the clean friend: iRobot Roomba
Cleaning isn't always the most fun activity. Get your friends excited about keeping their home tidy with a device that makes it easy. With a self-charging mechanism, Wi-Fi connectivity, and the versatility to take on pet hairs and hardwood floors, this device is sure to sweep unwanted messes — and troubles — away.
Get this gift here.
Gifts for new homeowners that go beyond tradition
If you're looking to go the extra mile, there are some housewarming gift ideas that your friends may never see coming. By taking the time to consider what sorts of things your loved ones may truly need, you'll have no trouble thinking of great gifts for new homeowners.
4. For the wine lover: Wine aerator
With so many other guests bound to bring over bottles of wine, why not gift your friend an accessory that they can use for those bottles? With a device that helps give any wine a smoother finish, you might make a sommelier out of your friend.
Get this gift here.
5. For the friend with a green thumb: House-friendly plants
Help your friends add a bit of style and nature to their new space with a bit of plant life. Golden pothos is revered for its ability to brighten up any space while controlling the indoor climate to keep your friends comfy year-round.
Get this gift here.
6. For the friend who loves their kitchen: Microfiber dish towels
They may not make for the flashiest gifts, but they're sure to be among the most-used. These ultra-soft towels are non-abrasive, meaning that they'll never scratch a plate or glassware when you use them to dry.
Get this gift here.
7. For the DIYer: Home improvement store gift card
As your friends take baby steps to make their house into a home, they may want to take on a few DIY projects. To help get them on their way, set them up with a gift card to a home improvement store that will outfit them with everything they need to spruce up their new home.
Get this gift here.
8. For the everyday cook: Unique kitchen aprons
It's no secret that first-time homeowners may not always be the most accomplished cooks. One way to get them into the kitchen is with the proper attire that's sure to get a giggle. With funny slogans, high-quality fabric, and whimsical colors, you can't go wrong with this gift.
Get this gift here.
9. For the entertainer: Elegant coasters
With any luck, this housewarming won't be the last time your friends entertain at their new digs. Gift them a set of coasters that are as handy as they are eye-catching, and they'll have a great conversation-starter any time they have company over.
Get this gift here.
10. For the homebody: Scented candles set
There are few ways to make a home feel cozier than with scented candles. Candles make great new home gifts because they fill spaces with aromas that conjure fond memories. With 8 soy candles in beautifully-decorated tins, this gift set is sure to be a winner.
Get this gift here.
11. For the sarcastic friend: Funny door mats
Sometimes, your friends need time to themselves. An honest doormat that keeps things light — and politely asks their loved ones to "leave" — is a great way to let them express their sense of humor while also protecting the sanctity of their own private space.
Get this gift here.
Frequently Asked Questions
Do I need to give a housewarming gift?
It's generally polite to give a housewarming gift when you're invited to someone's house. The person that invited you wants you to help them christen their new abode, and one way of doing that is by bringing a gift that makes their house feel like a home.
How much should I spend on housewarming gifts?
That's up to you. Spending more on a gift doesn't make the gift any more heartfelt than one that's a bit more affordable. What matters most is that you put thought into whatever housewarming gift you decide to give.
Can I bring guests with me to the housewarming?
If you're going to bring a plus one, or more, it's best to first check with the people who invited you. For all you know, they may want their soiree to be small and intimate. Letting too many people they don't know crash might kill that vibe.
Should I leave the price tag or include the receipt for the housewarming gift?
Letting your friends know how much you spent on their gift is generally said to be in bad taste. But if you want your friends to have the ability to return your gift, you can black out the price on the tag and attach a gift receipt.
---
Everything for your move, all in one place
Curate your personalized moving checklist, set up TV & Internet, and more with a free MYMOVE account.
Save on your move and tackle upcoming to-dos with your free MYMOVE account.