5 Realistic DIY Bathroom Upgrades You Can Do in One Weekend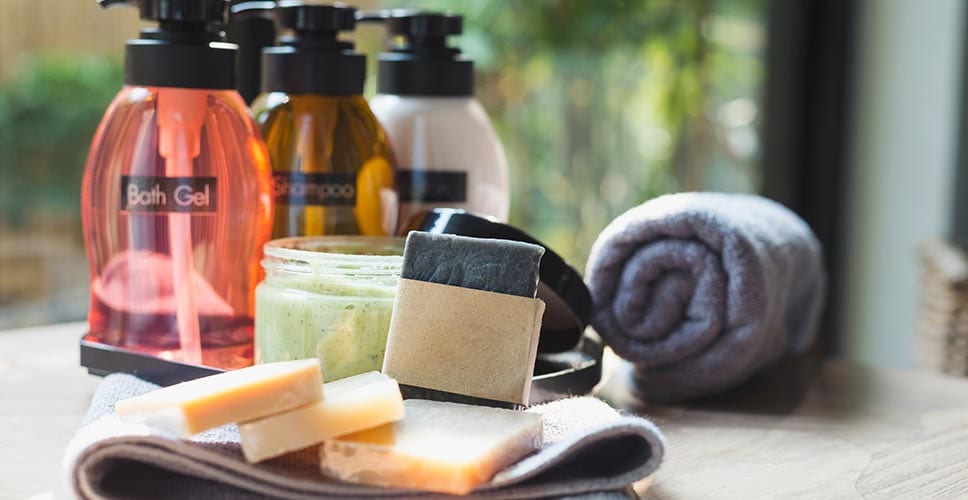 Upon settling into your new home, you're brimming with pride. Everything is practically perfect. Except for … that bathroom. The room you spend the least amount of time in doesn't need to replicate a five-star hotel spa. But can we admit it needs a little attention? Maybe a few bathroom upgrades?
If you're uttering an undeniable yes — while shuddering at your barren baño — you're not alone. You're also not alone if the mere thought of renovating it intimidates you. Understandably so, considering the 2018 average cost to renovate a bathroom is $10,000+. Shuddering now?
Wait — who said you had to renovate it? With a little bit of confidence and some DIY bathroom upgrades that won't break the bank, you can give this room a facelift inspired by that five-star spa.
1. Start Seeing Double… Shower Curtains?
One of the easiest ways to up your bathroom vibe is to double up your shower curtains. Two duplicate panels — one on each side of the shower — creates a welcoming, spa-like feel. Leaving an opening in the middle, you can tie them back or let them pool luxuriously onto the floor. Since you'll be drawing more attention to the curtains as they're drawn back for a bath, choosing a striking design and texture can make them even more deluxe. Talk about showering your bathroom with indulgence.
2. Customize Your Cabinet Color
If you weren't blessed with updated bathroom cabinets, or if you don't like the original color, you can drastically change them with paint — even if coated with a gloss.
It's best to consult a paint or home improvement store for your specific cabinets, but general steps are as follows: Wash surfaces with trisodium phosphate (TSP) and a scrubbing sponge to remove possible gloss. Sand surfaces before priming them with a latex, shellac-based, or oil-based primer (contingent on cabinets) before painting.
While you're at it, consider painting your bathroom walls. Need color advice? A Zillow analysis found light powder blues and periwinkles were linked to an increase in home value of more than $5,000!
3. Replace Outdated Fixtures
Outdated fixtures are so last year. Wincing at your dated faucet or cabinet handles? Replacing them with modern fixtures will yield instant (and practically painless) value. Cabinet painting is the perfect time to replace handles since you'll have to remove them before painting anyway.
Drawer pulls typically range from $2 to $20, but in a room with only a few cabinets, costs typically remain low. If you like the hardware on your cabinets but want to up the glamour, spray paint them silver or gold. Metallic foil spray paint produces a chrome-like finish. While you're taking inventory of fixtures to upgrade, consider new lighting, or even a chandelier.
Last on the fix-the-fixture list: Showerhead. A large rainfall-like replacement is a small cost that goes a long way in raising your relaxation factor.
4. Frame That Mirror on Your Wall
If you've started avoiding looking in the mirror simply to avoid acknowledging the mirror's appearance, it may be begging for a little TLC. If it happens to be easily removable, replace it with a large decorative hanging mirror that complements your style.
However, because many large wall-to-wall bathroom mirrors are not realistically safe to remove yourself, framing the one you already have with crown molding can greatly enhance it. It's not as daunting as it sounds! By following a few steps from a tutorial (like this one), you can produce a builder-grade-worthy frame with just a few materials.
Don't fret if your toolbox is a little empty-no need to own or wield a miter saw to achieve the perfect fit. Many home improvement stores will cut the molding for you. With the hard part handled, you'll just be left to position, glue, and paint your beautiful custom mirror frame.
5. Make Your Toiletries Top Shelf
Wall shelves aren't a new concept, but have you considered them for the bathroom? They can set the stage for organized necessities disguised as a beautiful vignette. Yet another affordable upgrade that'll exude a custom feel. Once installed, use them to showcase towels, flowers, soaps, perfumes, candles, or cotton balls organized in glass jars — whatever you need handy, but can double as eye candy. Floating shelves create a simplistic illusion, while heavier pieces like this all white display make a statement.
With these ideas, a small budget and one weekend, your once-shunned bathroom space can become a stunner that's refreshed and ready to impress. You've got this!
Want to continue flexing your DIY muscles? Try these three weekend projects to upgrade your outdoor spaces.
---
Everything for your move, all in one place
Curate your personalized moving checklist, set up TV & Internet, and more with a free MYMOVE account.
Save on your move and tackle upcoming to-dos with your free MYMOVE account.