Mover Stories: Everything We Learned From Buying Our First House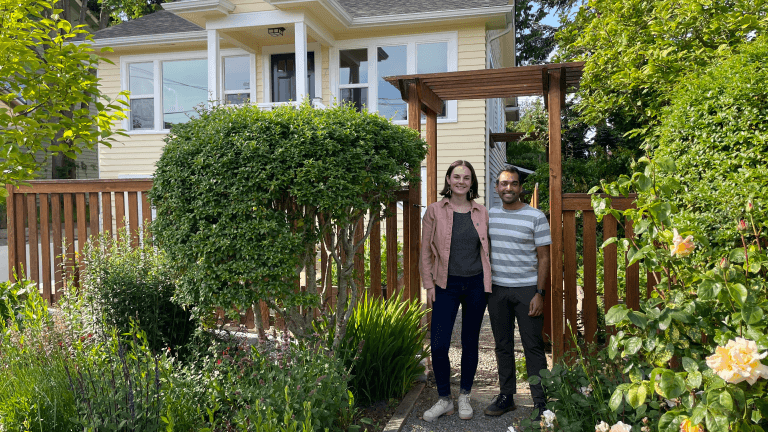 Moving is stressful enough on its own — now think about adding the most expensive purchase of your life on top of it. But even though two in three Americans live in a home they own, buying that first one still feels like venturing into uncharted territory.
To help clear up some of that mystery, we wanted to help real people telling their real moving stories. For this one, we spoke with Kira and Daniel, who recently bought their first home in Seattle. Below is a lightly edited transcript of our conversation over breakfast in their new dining room.
Mover details:
Moved 0.6 miles in Seattle
Two bedroom house to three bedroom house
Packed themselves with professional movers
Mid-June move
One cat
No kids
Diving into the housing market
We'd been thinking about buying a house for a while and we thought we'd just start casually looking at houses and getting a sense of what they cost. Daniel had a friend who really liked their real estate agent, so we had a whole intro interview with them and then started actually looking. We started spending weekends going to open houses and just checking places out.
We thought we probably should look with the real estate agents so they could tell us about old houses and stuff to look out for, and so they could get a better sense of what we wanted. 
The open house phase
So we sent them a shortlist of ones we wanted to see. The first weekend we went and looked at houses we saw one we fell in love with immediately. We were sending it to our parents, saying, "Oh, we think we want to get this." I was having this very stressful conversation with the realtor because we didn't really understand what we would need to put in an offer.
How much cash do you need to have on hand to wire to someone immediately? What is earnest money? I was thinking, oh my God, we need to put an offer on it now. We were just wavering for 24 hours. Our real estate agent suggested sending this much earnest money, this much down payment, all these things.
And pulling our money out of our accounts was challenging. It was all a bit of a whirlwind. By the time we pulled everything together, our offer wasn't really early anymore on that house. We found out the next day that someone else had put in an offer that went 25% higher than ours.
Learning what to look for
We probably saw about 20 houses with our real estate agent and then 15 more by ourselves. We'd go on weekends or evenings with the real estate agents and learn what to look for in old Seattle houses. Is there a crack in the foundation? Are there roots creeping into the side sewer line? Is there an oil tank buried in the yard that could leak and become a problem?
Every time we'd go see houses, we'd review the inspection report and look for all that information before we went so we'd know what we were walking into. Personally, I was afraid of falling in love with a house and then finding out later that it had a bunch of problems and I made a huge mistake.
Navigating an uncertain market
It was really stressful. It gets really emotional really quickly. Initially, I think you're drawn to really different things. I was feeling more like I'm willing to sacrifice so many things just to get something because I was resolved to the fact that there was no way we were going to be able to get what we really wanted in this market.
We'd see a crazy fixer upper with a weird fisherman-themed bathroom in the basement, and say, "Oh, it's actually kind of charming!" And stuff from your childhood comes up, too. I grew up in an old quirky craftsman, so I was drawn to those quirky, weird things, where Daniel could more easily say, "This is going to be a problem and it's only charming right now."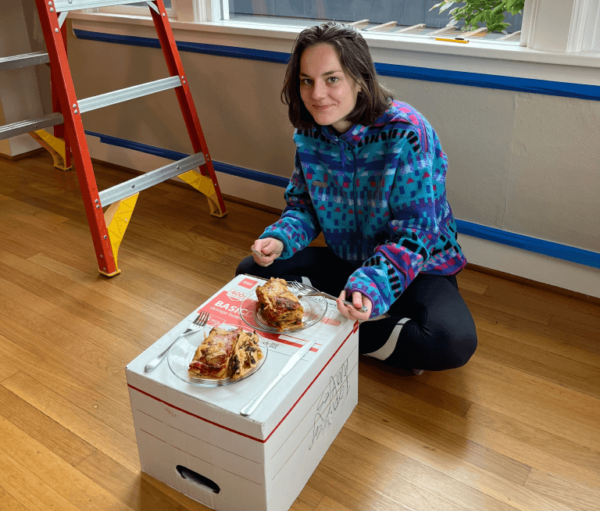 When you go to these open houses you also see the other people that could enjoy this home, and when it's a family with young kids that clearly has a timeline, it makes you feel kind of different about what you're looking for and the context in which you're looking. It can feel very competitive and stressful.
There was another couple that kind of looked and felt similar to us — like mid-twenties — and there was definitely a tense dynamic. They were seeing the house right before us and as they were leaving, we were looking at each other. You can tell we both wanted the house. It's really weird to be sizing up like, how much money do we think they can put down and would they enjoy the house more?
I was also thinking about that, especially with families. You want the house for yourself, but you're also like, Okay, I'm at the stage of my life where I don't have kids that need a bedroom. It's just a different set of considerations. 
Finding the one
I don't think we really thought it was anything special before we walked in. But there was just so much great light, and we loved the yard — I think the yard probably sold us. After we bought the house our realtor was like, "Yeah, yards sell houses."
It all happened pretty fast — maybe two months. I don't think we expected that. We wanted to find a place within a year. And then after we made an offer the first week, we thought, wow, this can happen — like in two weeks this can happen.
Getting to know the seller
There's something, too, about trying to understand who the sellers are. The first house we bid on, we probably spent five hours writing our personal letter, trying to explain who we were and why we wanted the house. And that was another weird learning moment where I thought, we should be telling you about who we are because that's going to help them understand how we would treat the house and whether we're the right people for the house.
Daniel was more like, "Let's just tell them about aspects of the house that we really like. Let's make it more complimentary of them." Some sellers maybe would just be looking for someone to flatter them. We ended up marrying the two into something that was both. Because you want them to know about who you are, but you also want them to know what you appreciated about the house when you saw it.
With the house we eventually bought, I think it was really clear that the people who lived here were very thoughtful, and spent a lot of time outside and cared really diligently for their space. It was just clear that they really cared. 
The way she maintained the garden was all organic everything, they had this tremendous irrigation system, and they just maintained old charming pieces of the house really, really thoughtfully. You could feel like, this is a seller who we would trust wouldn't be hiding anything and who we think would trust us to take great care of this great home. 
After they accepted our offer, we did a walkthrough with them and they were just really lovely people. Some sellers clearly don't care who's buying their house. They probably don't even read the personal letters — they just go with the highest bidder. But with these guys, it seemed like it actually really mattered. I think part of it is that this is a super old house and every owner who's had it has been taking really good care of it. So there's something about carrying that care forward and making sure the house stays in good hands. 
Putting in an offer
We made an early offer on this house because if you wait til the offer date, the offers escalate incrementally. The risk of that is if your max is lower than someone else's, it can escalate really high and you could still not get it. So that's why we did the early offer.
So we put in the early offer and the sellers apparently wanted to take it, but their real estate agent said no, you should sleep on it. There's a lot of back-channeling that the agents do with each other, which is not something we really understood at all. They almost have their own language of how they communicate — there's a lot of reading between the lines that they have to do with each other. That's one of the skills that you notice in your own real estate agent.
So our real estate put an expiration on our offer prior to the open house. So I think we'd gotten a sense from the fact that the sellers seriously considered our offer early and wanted to take it that they weren't just looking for money. Otherwise they would have just said, well, they can put an offer on the regular date with everyone else.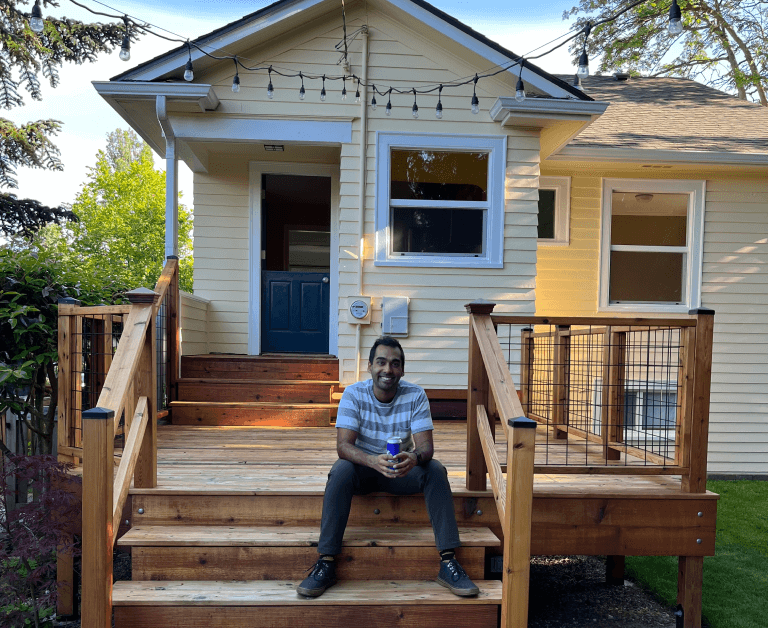 They ended up calling our agent like five minutes after the expiration and accepted our offer. So she called me and told me and I was walking home from somewhere and I just remember it being this moment of like, "Wow, we are actually about to own a house." It was a really weird feeling. It sort of hits you but also doesn't hit you at the same time — you feel like, oh my god, it happened. But also, nothing has changed in this one moment right now.
Handling the finances
Arguably the most important step was getting approved with multiple lenders ahead of time. Getting fully underwritten with them was really important in a tight market like this. Our real estate agent put a really tight closing deadline and we didn't really understand that. We thought, we send you the money and we get a house, right? But there's all these things that go into the process after you've had your offer accepted.
So we got our offer accepted, and then we were like, ok, now we're going to talk to a couple of different lenders. And our real estate agent basically said, "No, you don't have time." Thankfully we had gotten pre-approved from two different lenders. One was a referral from the agent, and one was through my credit union. My credit union ended up having way better rates.
Our real estate agent was nervous about working with a new person, but she talked with him and felt comfortable after that. His rates were amazing — really, really good rates. So, thankfully, we had him pre-approved because I don't think we would have been able to go with him otherwise. The whole process of getting lender approval was really key.
Making the move
We knew what day we were going to officially get the keys, so we kind of worked back from that. We wanted to start moving as many boxes as we could on our own and try to leave only big pieces of furniture for the movers. Even though we were only moving less than a mile, with the furniture we had, we knew it would probably take them a minimum of three hours, and it gets expensive quickly.
So we reached out to maybe three to five local moving companies, and most of them didn't even have availability. I went on some big aggregator website, and they gave a price that had this huge stack of fees, and a weird minimum and deposit and all these things.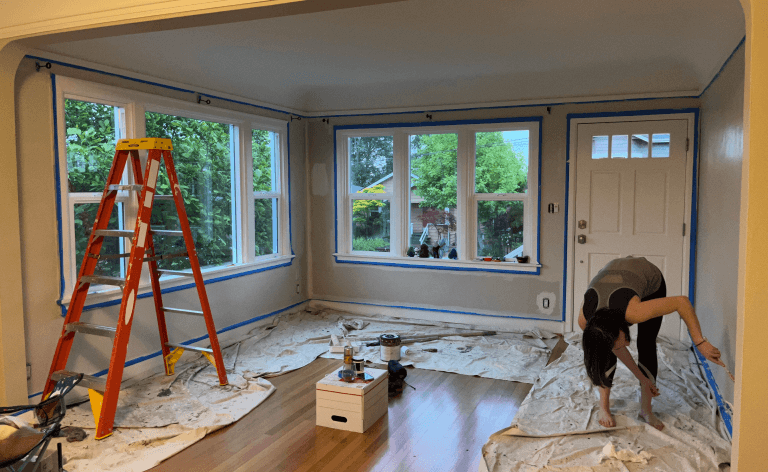 Once we settled on movers, it was just about, how do we tee everything up for Moving Day? So we organized, borrowed some moving blankets from my parents, and started packing everything into boxes. We got the furniture into a few rooms. It was pretty smooth and they were super fast. I'm always amazed at how strong and fast they are. I've never had an experience with a mover where I thought, "Wow, they're really taking their sweet time."
And they were pretty thoughtful. Any time they were carrying something out of the truck, they would ask where it was going. We had a sofa bed thing that they literally disassembled and reassembled.
Advice from the new homeowners
When you're moving, it's like a Santa Claus naughty or nice list — like a scroll that just keeps unrolling and dragging behind you. And I'm pretty good at folding up the rest of the list and saying, "Just look at these five items." But Daniel's pulling the list behind, looking back and being like, "But look at everything we have to do!"
Set the internet up early
I feel like one of the hardest parts is the order of operations. So if we were smart, we would have figured out, we're moving into the house on this day, so we should set up the internet so that it's done by the time we move.
We needed to move over our service with XFINITY. I had renewed my contract six months ago or something and they have all these cancellation fees. It's this big zoo of fees to get out of it. So we just wanted to move the service. For some reason, it wasn't easy. They had to have someone literally come out.
Eventually he ended up spending a few hours in the house and was able to set up a box outside. So it was possible, but we were without internet for our first few days here. Also, the appointment windows for this stuff! It's like a dang handyman. You need to be available for five hours so they can come for 10 minutes. So we could have planned that a little better.
Introduce yourselves to the neighbors
I would tell people that part of the reason that you want to buy a house is so you're more connected to your community. You're committed to the area that you're in, right? People complain like, "Oh, renters are just in and out and they don't give back to the community." Well, how different is it if you buy a house and move in and don't meet the people around you?" We're still figuring it out. But hopefully we'll do a barbecue soon or something.
What we learned:
Be patient
Get to know the sellers
Yards sell houses
Set the internet up early — especially if you work from home
Take an active role in your community