How Much Does a PO Box Cost?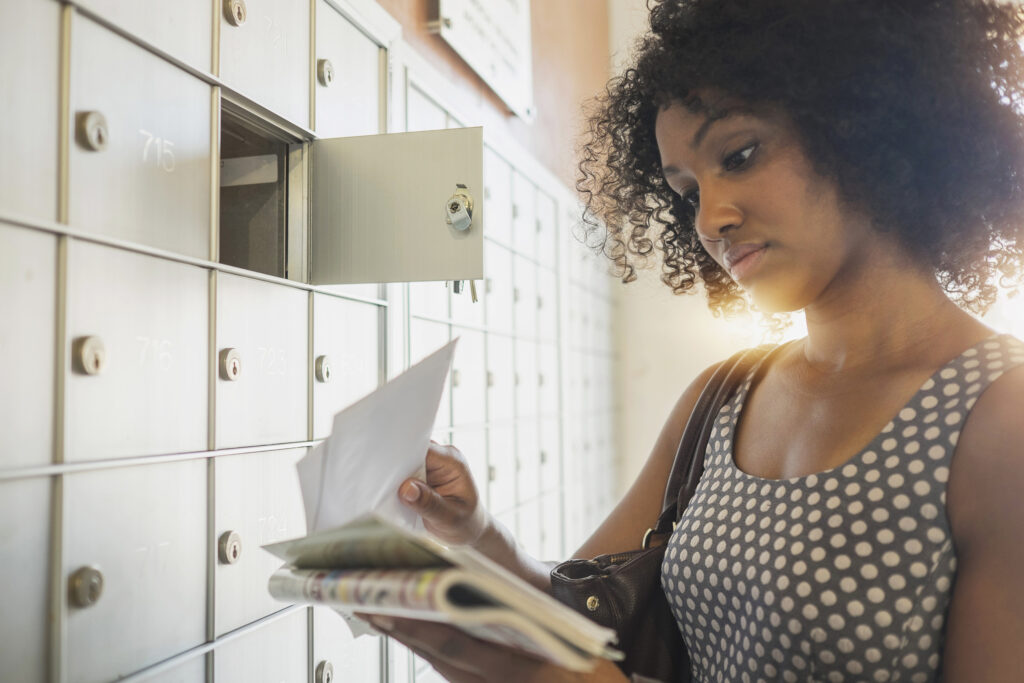 Getting a USPS® PO Box™ when you move is an excellent way of ensuring your mail doesn't get lost or stolen. If you're moving to a new area or looking for a secure way to receive mail, you could be wondering, "how much does a PO Box cost?" While PO Box prices are consistent across every post office in the United States, the fees vary according to location, box size, and the rental term you choose.
What is a PO Box, and why should I get one?
A USPS PO Box is a lockable mailbox that you can reserve at the nearest Post Office™. It's a fee-based premium service that you typically use when you can't receive mail directly at your home. You typically access PO Boxes with a lock and key, but some post offices have combination locks.
You can rent Post Office Boxes for three, six, and 12-month terms. These boxes are typically available in the post office's lobby, and some have 24-hour access seven days a week. These boxes are an excellent option if you're looking for a secure place to receive mail.
How much does a USPS PO Box typically cost?
It depends on the location:
PO Box prices vary by location. There are two fee structures for locations, which the post office identifies as Competitive and Market Dominant. This means that a PO Box in a bigger city, like New York or Boston, will probably be more expensive than boxes in a rural area.
To give you an idea of costs, an extra-small PO Box in Salisbury, NC, costs $26 for a three-month rental. If you want to rent that same sized box for the same amount of time in Boston, MA, it will cost you $43.
Want to know what PO Boxes in your area cost? Input your zip code to find out.
It depends on the size of the box:
In addition to varying by location, USPS PO Box prices also vary by size. The following sizes are available:
| | | |
| --- | --- | --- |
| Size | Dimensions | Can Hold: |
| Extra-small | 3″ x 5.5″ | 10-15 letters or 2 rolled magazines |
| Small | 5″ x 5.5″ | 10-15 letters or 5 rolled-up magazines |
| Medium | 5.5″ x 11″ | A stack of  large envelopes and magazines flat |
| Large | 11″ x 11″ | 10-15 letters and two shoebox-size boxes |
| Extra-large | 12″ x 22.5″ | Multiple parcels and flat rate boxes |
It depends on how long you're planning on renting it:
PO box prices also vary depending on the rental term you select. For example, some can cost as little as $13 to rent an extra-small box for three months. You might also see fees as high as $625 (for a six-month extra-large box rental in a big city).
You'll also have some additional fees:
Additional rental fees and services include:
Key deposits: $4 per key issued (There is no fee for the first two keys at Competitive locations.)
After the first two keys, duplication or replacement: $8 for each key
Late payment or lock replacement fee: $23
How do I pay for a PO Box?
You have several options for paying for your USPS PO Box rental. You can pay online, at a self-service kiosk, by mail, or in person. Acceptable credit cards include American Express, Discover, MasterCard, and Visa if you're making an online payment. You can also use the "Click to Pay" option, which is a digital wallet service that is identifiable by an icon.
How can I get a PO Box?
Go online
If you would like to apply online, visit PO Boxes online to enter your zip code and search for an available box. After finding your location, select a box size and rental term. On Step 2 of the process, fill out PS Form 1093 and enter your payment details. Once the system verifies your information, and you agree to all the terms, you can hit "submit."
You have 30 days to activate your PO Box and pick up the keys. To activate your box, print the PS Form 1093 and take it to the post office with two forms of acceptable U.S. identification.
Go in person
Applying in person involves going to your local post office and filling out a PS Form 1093. There's a printable version of this application form that you can fill out ahead of time. You must present that form along with two acceptable forms of I.D.
Can I get a PO Box refund?
Renting a USPS PO Box involves selecting three, six, and 12-month service periods. If you elect to close your box within that term, you might qualify for a refund. However, you must meet certain criteria. For example, if you applied for a PO Box but never activated it or picked up your keys, you're eligible for an automatic refund. Those refunds occur after 30 consecutive days of inactivity.
If you rent a box for six to 12 months, there are specific stipulations that qualify you for a refund. For example, if you request a refund within the first three months of a six-month rental, you might get 50% back. If you request a refund within the first three months of a 12-month rental, you could get 75% back. If you have a 12-month rental, you can receive a 25% refund during months seven through nine.
The following are situations when you cannot receive a refund:
Three-month rentals do not qualify for refunds after activations
Six-month rentals are not eligible after the fourth month of the rental
12-month rentals are not eligible for refunds after the 10th month
The bottom line
If you want a convenient and secure way to receive mail, consider getting a USPS PO Box. If you're operating a home business, you could also benefit from a PO Box that you can list as your professional address. Rental fees vary according to location, box size, and length of time.
Other frequently asked questions
Is a PO Box free? 
They can be, but there are stipulations. Your residence must be in an area where there is no mail delivery to qualify for a free PO box.
How much is a PO Box per month? 
PO Box prices vary by size, rental period, and the location of the post office. Some boxes are as low as $13 for an extra-small box or as high as $625 for an extra-large box.
Do you have to have a physical address to get a PO Box? 
Yes, you must have a physical address to rent a PO Box because, on the list of acceptable secondary forms of ID, your physical address must be listed.