Graduating During Coronavirus? Tips for Moving, Job Hunting in a Pandemic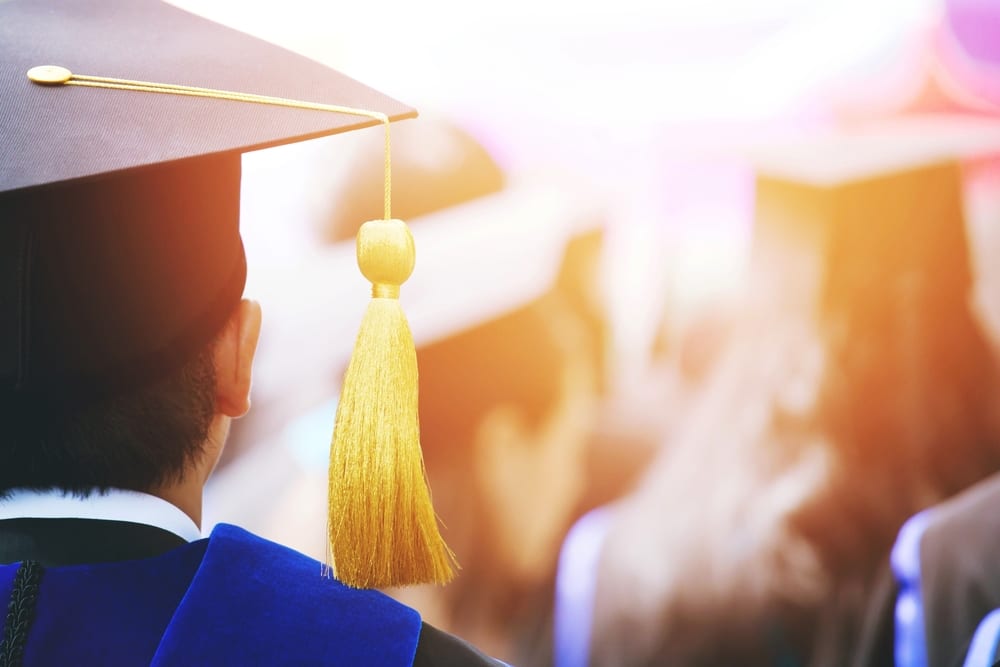 With drive-bys and festive neighborhood parades, the class of 2020 is getting creative with its graduation celebrations. It's an unusual end to an unusual school year, and as these graduates clasp their shiny, new diplomas, they can't help but wonder if there's a job market left for them.
For new college grads, there's a lot to consider. You have to find a job, and then you have to prepare to relocate to that job, which means moving during coronavirus – all of which were hard enough without a pandemic closing everything down.
According to a recent study by financial provider Affirm, 80% of graduates have rescheduled their post-graduation travel, most shifting their plans to 2021 instead. Additionally, 70% of graduates postponed or canceled their upcoming move in order to stay closer to home. Only half of the graduates are beginning their jobs and internships according to schedule, while the other half have experienced postponed or canceled opportunities altogether.
What does that mean for a post-coronavirus job market? Are there even any jobs left for America's new college graduates?
Olga Zakharchuk, founder and CEO of Baby Schooling, thinks so. Every day, she works closely with families large and small, and despite the nerves that are running rampant, she says she's confident in the post-collegiate job market.
"College graduates can absolutely find remote jobs right now and they have the skills and the tools they need to find them and excel at them, which is the silver lining of this situation!" Zaharchuk says. "College graduates can also easily network with their classmates to find new opportunities."
If you're worried about what to do if you're graduating during COVID-19, the answer might be as simple as start applying to jobs. We know that you're graduating during unprecedented times, which can be nerve-wracking and stressful. But in spite of the coronavirus, know that you can still start your career and make the move as a new college grad.
Here are some job-hunting and moving tips to help get you started on your search.
10 tips for graduating and job hunting during the coronavirus
Tip #1: Do your research
Cynthia Orduña, a professional career coach and recruiter, can't stress enough the importance of being well informed about the impact of the coronavirus on jobs you might be interested in or cities you may want to move to.
"Before applying anywhere, it's important to do research on the impact the pandemic has had on certain industries," Orduña says. Ask yourself, what specific industries are suffering? What industries are thriving? Tons of companies have posted live updates of companies that are hiring and how to track job market trends."
Some companies are still hiring, while others have been forced to file bankruptcy. A quick search on Google and LinkedIn can help you find the latest details on whose doors are still open to new graduates.
Tip #2: Be proactive
If you already have a job, check in with your employer to make sure that the offer still stands.
It's especially important to follow up if you secured that job using the help of a third party, such as a previous internship, an employer, or an on-campus recruiting service. Compose a tactful inquiry that doesn't pressure the company but rather asks how they're doing and how you can help amid this pandemic.
Even if you don't gain employment right away, you'll still have an answer and can move on to other opportunities.
Tip #3: Be strategic
"Once you understand which industries are hiring, you want to target the companies that have a large demand for their service," advises Orduña.
It could be a waste of your time to pursue opportunities with a company that just hired someone for your role, or worse, is not hiring at all. Moving during coronavirus for a job that might disappear if the pandemic persists isn't the best strategy, so do some research into the industries most likely to come out on the other side. Some companies have suffered tremendous losses during COVID-19, while others, like Amazon, UPS, and Microsoft, have all thrived.
Even though you may have always dreamed of working for a particular kind of business, consider the benefits and security that these thriving businesses could give you for the same or a similar job position.
Tip #4: Flexibility is key
At the beginning of the year, the job market was stronger than ever, and just six months later, it became an entirely different story. With limited job availability, you may need to adjust your expectations for your next job.
Many college grads leave campus with a specific idea of what they want to do and who they want to become. They may even have a detailed plan to get there, but the coronavirus continues to change the job force on a daily basis, and the jobs you thought you would have available may not exist anymore.
Try to keep an open mind when searching for jobs. Even though you prefer a full-time job, a part-time job could be a way to get a foot in the door, so you can be in line for new and better opportunities later. Some grads are also considering internships and fellowships to buy more time until the virus subsides.
Tip #5: Don't underestimate the power of networking 
A survey from LinkedIn shows that a whopping 85% of jobs are filled via networking.
"It's all about relationships," Orduña says simply. "Reach out to people in your network, professors, friends, and alumni to develop your relationships and eventually get a referral to interview at the company you're interested in."
From the comfort of your home, you can easily set up a virtual coffee date to get their take on the current job market and see what advice they may have to give you.
Tip #6: Get creative
The coronavirus has sent the global workforce into a tailspin, but there are still jobs to be had. It's just a smaller pool than it was before.
"New grads can still land a job, but there will be less opportunities and more competition," explains Orduña, who works with job seekers all over the world. "They will need to go the extra mile to stand out from the crowd."
Be sure to do your research and brainstorm a creative pitch for hiring managers and recruiters. Everyone has something different to offer, and it's important that potential employers understand what you bring to the table.
Tip #7: Update online profiles
Use this time to review your online presence. If there's anything inappropriate or questionable, remove it immediately.
You should also develop professional online profiles on popular job platforms such as Indeed, LinkedIn, Glassdoor, and ZipRecruiter. Not only can you follow companies and receive regular daily job alerts, but you can also post your resume for employers to find and benefit from extra resources for your job search.
Tip #8: Prepare for interviews
It's highly unlikely that there will be in-person interviews during the coronavirus, so you should prepare for either a phone or video interview from home. Be sure to secure a quiet, tidy space that's free from any distractions.
Be sure to check your setup before the interview, testing your phone and camera to make sure you can be heard clearly, and there are no connection issues.
Tip #8: Prepare for remote work
Today, nearly all jobs are hiring within a remote capacity. As companies continue to adapt, it's likely that this new style of work will continue long after the virus has gone.
Like your interview prep, you'll need to find a clean, private space where you can work uninterrupted. You also should invest in additional equipment, such as a camera, monitor, and headset. This will make working from home a lot easier.
Tip #9: Seek additional training
With the workplace in flux, many graduates are looking to school to fill the time while they wait for more jobs to open up.
You can use your post-graduate time to pursue things like online certifications and professional development training to expand your skillset and make you more desirable to employers. However, this can also come at an additional expense, so be sure that you can afford it before you dig yourself deeper into debt.
Tip #10: Stay optimistic
These are difficult times for everyone, so it is important to keep your chin up and remain optimistic about your job search.
Don't forget to call on help when you need it. Carve out time to virtually hang out with friends or set up phone calls with mentors.
"There has never been a time where more people are willing to help out and hop on a call," says Orduña.
Try to approach your job search with patience, because while it may take time and some rejection, eventually, you'll find the right job that works for you.
How to (safely) move during COVID-19
Moving during coronavirus is less than ideal, but it can still be done. Many moving companies have instituted specific policies and procedures to keep their products disinfected and their employees safe.
You can move safely during COVID-19 with the help of these top three tips.
Tip #1: Carefully vet movers
Most moving companies have been very transparent about their coronavirus moving precautions, like United Van Lines, which posts regular updates, and Two Men and a Truck, which offers a ton of resources.
Before you inquire about an estimate for your upcoming move, check the company's website. See what moving and storage companies are doing to protect you during your move. If you don't see the information provided, ask them directly.
These are some questions you can ask: 
What extra safety measures is your company taking in consideration of COVID-19?
What extra safety precautions are you taking to protect my move?
How are you protecting your employees?
 What is the procedure when an employee tests positive for coronavirus?
Are there any specific coronavirus requirements or tips that you can share?
Tip #2: Maintain social distancing
It may seem hard to imagine, but it is possible to enforce social distancing during your move. Instead of an in-person estimate, most companies offer a virtual estimate that simply uses the video on your smartphone.
When it comes time for your move, be sure to avoid direct contact. Instead of shaking hands, keep the six-foot distance, and offer a friendly smile or wave.
If there are any other adults, children, or pets in your home, move them to a separate area so your movers can still maintain the proper distance throughout your moving process.
Tip #3: Clean, disinfect, and clean again
Disinfecting your things is going to be one of the most important parts of your move, so be sure to have plenty on-hand. The CDC has a list of recommended cleaning and disinfection tips that you can use to clean your home before, during, and after your move.
Be sure to continuously sanitize all moving supplies and boxes to help prevent the spread of coronavirus during your move.
The bottom line
The novel coronavirus continues to change the world with each passing day. But at the height of change, some things in America have still stayed the same. The economy is still pumping, though slower than before. And while some companies have fallen to COVID-19 losses, other companies have soared.
New college graduates can still find a job during coronavirus, but it may take some time, patience, and a lot of creativity.
Frequently asked questions
Are colleges holding graduations? 
While they may be a bit different than what you are used to, many colleges are still holding in-person graduations that fall in line with CDC guidelines for social distancing. Some colleges are also holding virtual graduations, and students are planning their own makeshift celebrations.
Is it safe to move during coronavirus?
It's possible to move safely during coronavirus, but you will want to remain vigilant about regular cleaning and disinfecting. You also want to practice safe social distancing. Many moving companies have instituted new safety policies and procedures in light of the coronavirus.
Will I be able to find a job during COVID-19?
Despite the economic hardships COVID-19, there are still many companies that are healthy and stronger than ever. Do your research about what industries are thriving and expanding — those companies may have open remote job postings. So, be patient and follow our job hunting and moving tips above. That job is out there, you may just have to work hard to find it.