Should You Buy a House with A Pool?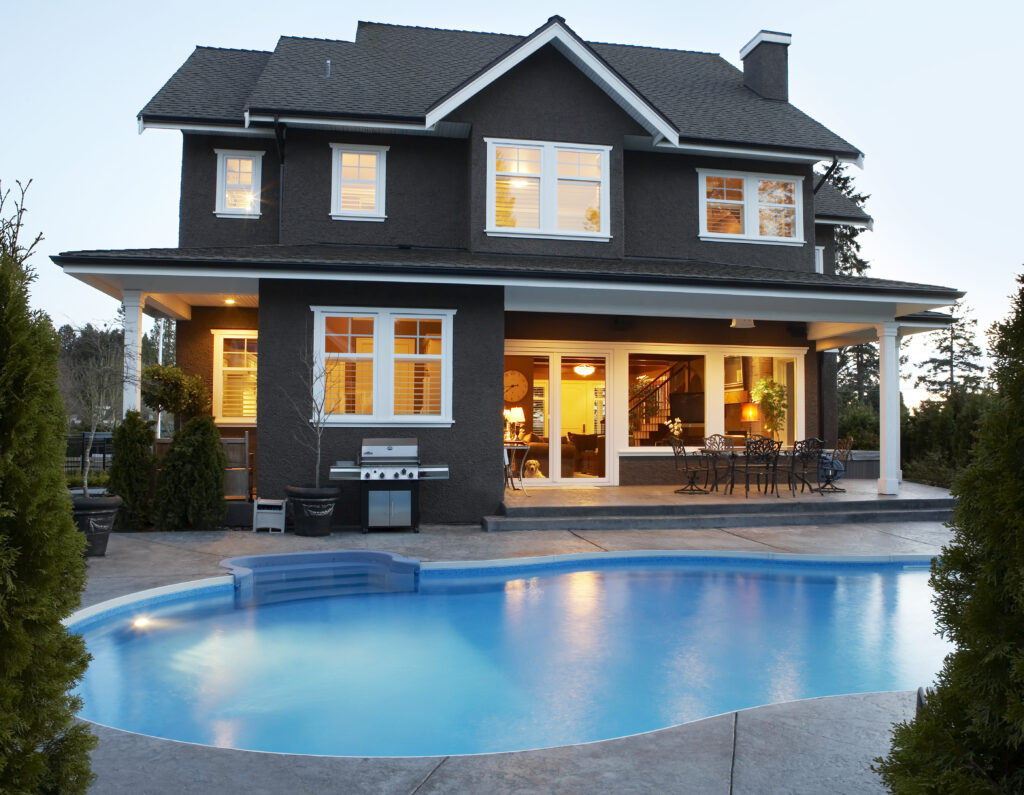 As you shop for your dream home, do you envision a backyard oasis complete with a pool? If you're thinking about buying a house with pool installation already completed, check out our must-read guide on the advantages and disadvantages of buying a house with a pool. A pool is not just a feature of your home; it's truly a lifestyle choice.
How badly do you want a pool?
Do you need a pool in your backyard or do you have access to one nearby? Think about why you want a house with a pool and create an in-depth list of pros and cons. Break down major factors that will influence your final decision. Do you have enough time to properly care for your pool (no one wants to swim in green, murky water)? Can you afford the cost to maintain a pool, and the insurance costs? Will a private backyard pool enhance your social life with family and friends?
Perks of buying a house with a pool
Entertaining will certainly be kicked up a notch in your house with swimming pool parties as the new norm. Family and friends will love the option to cool off and play during your picnics and other gatherings. There's nothing like a night swim to close out a Friday evening with your neighbors. Owning a pool can be like having a permanent vacation right in your own backyard, and can help you make friends in your new neighborhood.
Pools can benefit your mental and physical health as well. Swimming is a low-impact exercise that relieves stress and burns more calories than jogging. Being able to step out into your backyard and get a much-needed dose of Vitamin D while improving your cardiovascular health is an excellent self-care option.
If you have school-age children, keeping them occupied during the summer months can be challenging. There are only so many arts and crafts to do before boredom sets in. A house pool is a fantastic place for kids of all ages to play. Your house will most likely become hangout central for your teen and their friends. They'll be (hopefully) off their phones and busy playing pool volleyball and chilling out.
Concerns when buying a house with a pool
While it would be fantastic if buying a pool was 100% fun and games, there are downsides.
Keeping your pool's water crystal clear takes dedicated upkeep. This includes vacuuming, removing surface debris such as leaves, and adding chemicals to keep the pH balance correct and dreaded algae at bay. Regular pool maintenance, along with annual servicing and repairs, is expensive. According to Fixr.com, the average cost to maintain a pool is between $475 – $800 each year. Some homeowners choose to DIY their pool care, while others hire a pool service. Pool maintenance professionals charge between $50 and $120 per month. If your house with pool included is an above ground or saltwater pool, the maintenance costs will be slightly decreased.
The cost to operate a pool is another factor to consider. Running the pool pump and filter uses additional electricity, resulting in higher utility costs. Your monthly increase will depend on the overall size of your pool, the filter type, and if you're using a heat pump. Homeowners paid between $50 and $300 just to run electricity to their pool. Pools with heaters cost an extra $30 to $150 per month of electricity. Your water expenses will also rise as you fill your pool and maintain the necessary water level.
Just as you insure your home, you'll need to insure your pool. According to Allstate Insurance, the type of pool you own will determine the type of homeowner's insurance needed for protection against both damage and liability of injury. The liability portion of pool coverage is to protect against medical or legal expenses should someone be injured in your pool. The Insurance Information Institute (III) recommends increasing liability coverage to at least $300,000 to $500,000. These higher coverage options will in turn increase your homeowner's insurance costs annually.
Sadly, the CDC reports "Among children ages 1 to 4, most drownings occur in home swimming pools." This can be due to insufficient swimming skills, inadequate fencing or enclosures around the pool, or lack of adult supervision. Buying a house with a pool may not be the best choice for families with very young or non-water safe children or pets.
There are laws and regulations linked to both above and in-ground pools. This may include necessary fencing or a barrier surrounding the pool, location of the pool within the property (for example, no pools may be installed in front or side yards), and the distance of the pool from property lines. Before buying a home with a pool or installing one after your purchase, it's vital to ensure the pool falls under the proper township, county, and state codes.
The bottom line
Ready to take the plunge? Owning a house with pool access can be fantastic for you, your family, and friends. It's the ultimate retreat right in your own backyard. But buying a home with a pool involves added costs, extra time, and potential safety risks. If you're not ready to purchase a home with a pool already installed, consider shopping for homes with enough yard space to build a house pool in the future.
Frequently asked questions
Is it cheaper to buy a house with a pool or put one in yourself? 
When you buy a house with a pool already installed, the cost of the pool is rolled into the overall home purchase. Putting in a pool yourself will come at an additional cost. A turnkey fiberglass pool where the contractor handles everything from permits and prep work to installation can cost between $45,000 and $85,000.
Do I need to insure my pool?
 Yes, you will need to insure your pool under your homeowner's insurance policy. This includes a higher liability limit to protect against medical or legal costs due to the potential of a pool injury. Contact your insurance company to obtain a quote.
What does it cost to fill a pool with water?
The cost to fill your pool depends on the shape of your pool and how many gallons your pool holds. If you have city water, contact your local utility for a quote on the cost to fill the pool. Another option is to hire a pool filling delivery service to have the water tanked in.
---