Home Sellers: These 7 Outdated Design Trends Could Hurt Your Chances of Finding a Buyer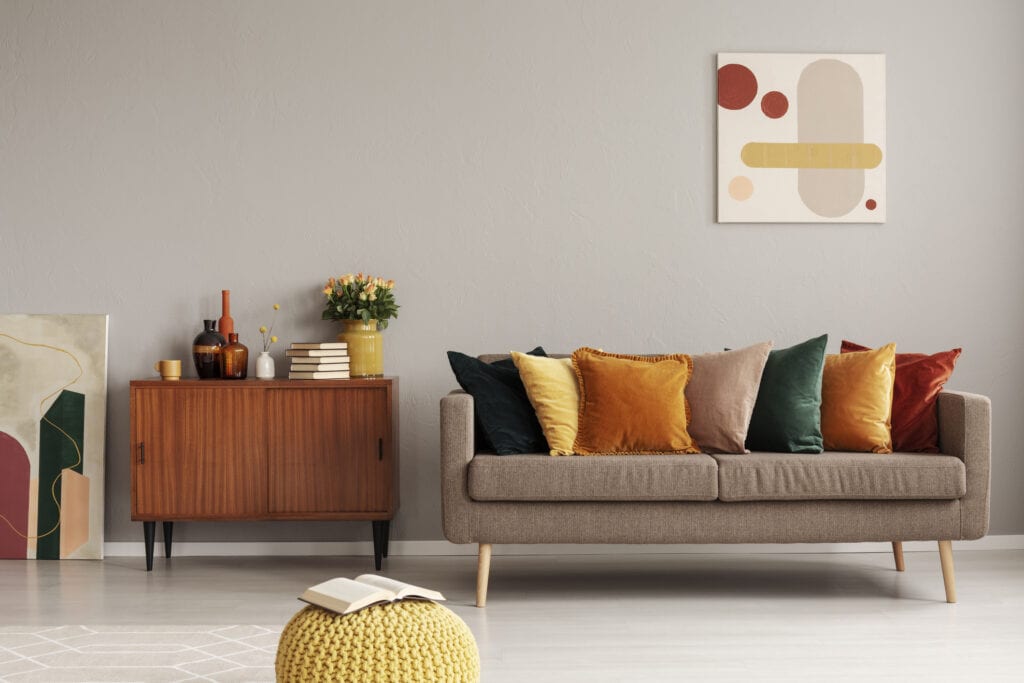 Shop These Products Now: Counter Chairs – Pendant Lamps
We hate to say it, but trends do come and go. What was hot a few years ago may not be popular now and some long-scorned fads are making their way back into the public consciousness. (We're looking at you, wallpaper!) For sellers, this cycle can leave some sellers stuck with outdated design trends when they put their home on the market. Worst of all, they might not even know it. If you're getting ready to sell, you don't want to miss this post. We asked the pros which out-of-date looks are most likely to send buyers running. In most cases, all it takes is a few small changes to open your home to a much wider pool of buyers.
Shop These Products Now: Sectional Sofa – Ottoman Table
Paneling on the walls
"One couple I worked with loved a home until we stepped into the basement. The floor to ceiling wood paneling made the space dark and unappealing. The wife stopped immediately and said, 'Sorry, Jeff, this house has to be a no for me. I feel like I'm standing in a dungeon.' " — Jeff Miller, co-founder of AE Home Group in Baltimore. If you still have paneling in your basement, it's time to take the plunge. Even if you're not up for a complete redesign, replacing the paneling with some simply painted drywall will allow potential buyers to see a wealth of possibilities for how they may be able to use the space.
Shop These Products Now: Coffee Table
Overdone archways
"Archways inside living areas have a very dated look. A client of mine recently opened up a curved archway between the family room and kitchen by squaring it off with a contractor's help. It was as if the same space increased in square footage by 30%. That's what buyers are looking for." — David Meek, broker at The Arizona Report in Phoenix. Open concept spaces and contemporary lines are in. While this may be a bigger ask than some of the other items on this list, if you have some wiggle-room in your budget, it may be worth the investment.
Shop These Products Now: Glass Coffee Table – Throw Pillow Covers
Overly personalized décor
In 2016, I worked with a client who loved Western décor and wouldn't budge on transitioning to something more modern and neutral. At first, we left the décor and just replaced some paint and carpeting, but two months later, the home still had not sold, which is not typical for that neighborhood (or the sale price). I suggested changing out some of the décor again and, as soon as we did, the house was sold." — John Linden, designer at MirrorCoop in Los Angeles.Staging your home is all about helping it appeal to as many buyers as possible. For this reason, depersonalization is often the first step when you're ready to put your home on the market. Your best bet is to start by packing up family photographs and other personal items. Then, progress to switching out any overly personalized design elements for more neutral options.
Shop These Products Now: Curtains – Blanket
Feeling too staged
"The trend of making a home look exactly like the showroom of one particular store is a turn-off for buyers. Rather, they want to feel the home is cozy and curated, with pieces chosen specifically for the space. Rooms need to be cohesive, but should not have the same line of fixtures in every room. People want to feel they have something special and are willing to pay a higher price for it." — Victoria Massengale, estate director at Compass in Beverly Hills, CA. Even homes that are being sold need to have a little personality. In this case, its all about sprinkling a few accessories throughout each room. Opt for relatively innocuous pieces that incorporate plenty of texture. This will help the give the room plenty of visual interest without delving too much into personal style.
Shop These Products Now: Ottoman Stool – Area Rug
Formal living spaces
"Aesthetic trends have become more casual overall. These days, ease of life and comfort are the new definition of luxury. People no longer want to tip-toe around their homes in fear of breaking or staining something." — Alison Bernstein, founder and president of Suburban Jungle, which has locations nationwide.Transitioning a formal living space into a cozy atmosphere doesn't have to include an entire design overhaul. In this case, it's all about the accessories. Switch out some of your more out-of-date options for more current options. You could also add some textiles — new blankets, throw pillows, and area rugs — to drive home that cozy feel.
Shop These Products Now: Small Towel – Modern Faucet
Dated bathroom fixtures
"Gold or shiny brass bathroom fixtures from the 1980s and 1990s instantly date houses. Although they're coming back into style now, they're not the ones from back then! Changing the fixtures to more modern ones will make a big difference." — Bill Golden, an independent real estate agent with RE/Max Metro Atlanta Cityside. Updating fixtures is a great compromise if you're trying to update your home to suit more modern tastes because it's relatively inexpensive and easy to do. We recommend going with a chrome or brushed nickel fixture because that will appeal to the largest number of buyers.
Shop These Products Now: Counter Stool
Marble countertops
"Marble is classy and stylish, but it gets stained easily. This is why many homeowners are starting to choose quartz or soapstone over the marble. They are simply easier to care for, which will save you a lot of time and energy in the long run. History has taught us that omnipresent materials can't stay trendy forever and marble is running out of time." — Harriet Jones, supervisor of End of Tenancy Cleaning, Go Cleaners – London. Sad, but true. Granite is on its way out. If you're still wondering where you fall on the quartz vs granite debate, know that quartz is more environmentally friendly, offers more color options than granite and requires less maintenance overall.
Popular design trends don't last forever, which can put you at a disadvantage if you put your home on the market after your aesthetic falls out of vogue. We had a chance to ask the pros what's hot and what's not. They told us which outdated design trends buyers hate. If you're thinking of selling soon, heed this advice. You never know what small touch may bring in an offer. Which outdated design trends do you think have to go? Is there anything on this list that you disagree with?