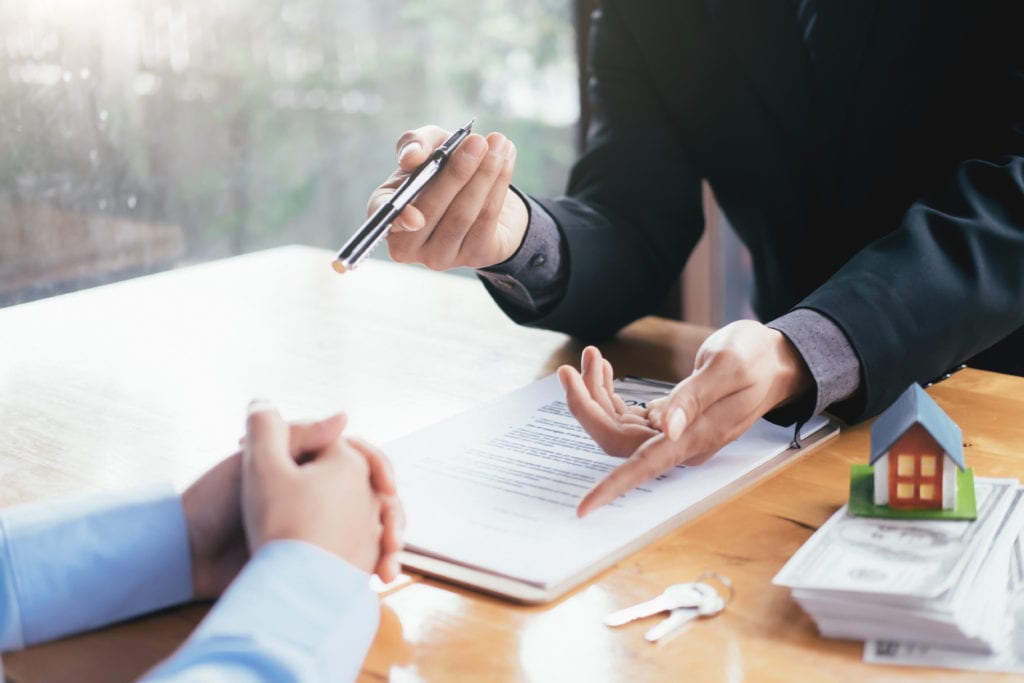 When you find a house that you want to make your home, there are quite a few steps before you get to closing. Enter: mortgages. It's important that you understand the types of mortgage loans (and your options) before you begin packing.
From USDA home loans to FHA and VA home loan rates, we're laying out everything you need to know. Sift through these types of loans to find the one that fits your lifestyle.
Conventional mortgage loans
A conventional home loan is a home buyer's loan guaranteed by a private lender. Borrowers make larger down payments, and in return, these homeowners receive a smaller house payment each month. Thanks to the established rules for these loans, it's easy to know if you will qualify and for how much money.
Conforming loans
Standardized pricing, features, and eligibility are a few features of a conforming loan. Lower interest rates are a nice perk, but you will need to meet specific guidelines. (Think: Is your credit score going to be satisfactory?) These regular loans make it simple to see how you measure up if you use a mortgage calculator.
Non-conforming loans
Non-conforming loans play by their own rules. If the government won't back a property, private lenders will. Private lenders set their own terms (like more paperwork). You'll likely need to track down years' worth of tax returns and pay stubs to prove your financial stability, and you'll need a good savings account and a bigger down payment than you would with a conforming loan.
Fixed-rate mortgages vs. adjustable-rate mortgages
Pay the same rate as long as you have the loan with a fixed-rate mortgage. An adjustable-rate mortgage fluctuates up or down as interest rates change.
Fixed-rate mortgages
With a fixed-rate mortgage, you won't have to stress about rising interest rates because your rate won't change. On the flip side, if rates drop, your payment will stay where it is.  You can have a 15-year fixed mortgage rate, or one that lasts for 20, or 30 years. The longer your term, the shorter your monthly payments, but the more you will pay in interest on your home in the end.
Adjustable-rate mortgages
An adjustable-rate mortgage does have a fixed rate for a set period of time — anywhere from one month to ten years. Once that period is over, the loan will reset, and the new rate will mimic the current market. When interest rates rise or lower, your monthly payment changes. With an adjustable-rate mortgage, you won't have the security of a static monthly payment, but you could save money if rates drop.
Unconventional mortgage loans
Worried about bad credit or a low income? An unconventional loan could be the answer. Your loan limit will be lower compared to other loan types, and these types of mortgage loans are government-backed or available through private lenders.
Government-insured mortgage loans
Unlike a conventional loan, a government-insured mortgage loan guarantees the private loan. After a private lender approves a loan, the government backs the loan to protect the lender against loss.
Types of government-insured mortgage loans
There are three kinds of government-back mortgages. Choose among the Federal Housing Administration (FHA) mortgage insurance program, the Department of Veterans Affairs (VA) home loan program, and the United States Department of Agriculture (USDA) home loan program.
FHA loan: Of all the government-insured mortgage loans, the FHA loan wins the popularity contest thanks to low down payments. Loan approval is easier than that of a regular (conventional) home loan. But, this loan is only available for qualifying properties (including a fixer-upper).
​VA Loans: Active military or veterans can apply for a home loan with no money down. There's more wiggle room when it comes to your debt-to-income ratio and the state of your credit.
USDA Loans: Moving to a rural area? Then this type of loan may be the one for you. Just know, USDA loans have plenty of rules. The house must be your main home and you need to fit within income guidelines for approval. There are many requirements but if you are eligible, USDA home loans don't need a down payment.
Reverse mortgages
One day, you may need extra cash to help a kid pay for college or supplement your retirement income. That's where a reverse mortgage comes in. This loan can help anyone 62 or older gain needed cash by taking the financial equity out of your home. As long as you live in the home, you won't need to pay it back. There are three types of reverse mortgages:
Fixed-rate reverse mortgages
Get the cash you need in a hefty lump sum. There aren't any other options.
Adjustable-rate reverse mortgages
Go with an adjustable-rate reverse mortgage and you'll have five payment options. You can set payments for a fixed period (term) or set payments for as long as you are in the home (tenure). Opt for a modified tenure or modified term, or set a line of credit until your funds run dry.
Mortgage term options
The amount of time you have to pay off your loan will vary. You could have 15 or 30 years to whittle down your house payment. Here are the different type of mortgage terms:
30-year mortgage terms
A 30-year mortgage extends the period of time you'll pay for your new home. These payments run less and help you afford more home or enjoy a better cushion in case your circumstances change.
15-year mortgage terms
Although gaining in popularity, a 15-year mortgage isn't as common. Typically offering lower interest rates, your monthly mortgages costs more. Both FHA and USDA home loans offer a 15-year fixed mortgage rate.
Other mortgage terms
Some financial institutions provide 10- or even 40-year mortgage terms. These types of mortgage loans aren't available everywhere. Your monthly payments or the amount you pay in interest rates will rise or lower depending on your term.
Frequently Asked Questions
What is the most common type of mortgage?
A 30-year mortgage is the most popular home loan whether you close with VA home loan rates or look into USDA loans. Payments are more affordable when stretched out over a few decades. Although you'll pay more in interest, your month-to-month payments will cost less.
What type of mortgage loan is best?
You won't find a "one size fits all" approach when it comes to a home loan. Understand the differences between mortgage loans, know your credit score, and save money for a down payment. Consider all of your circumstances, then shop around to snag the best deal.