The MYMOVE Comprehensive Home Buying Guide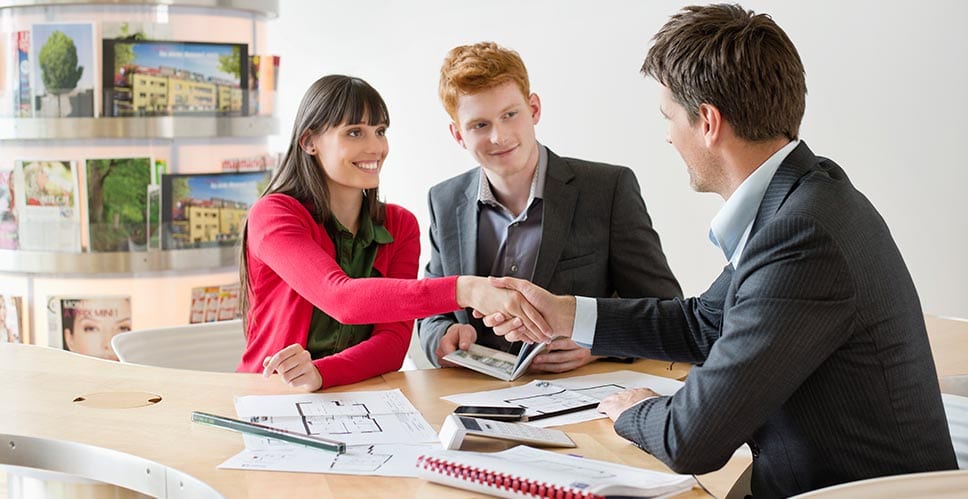 Many people consider buying a home the biggest purchase they will make in a lifetime. Not only is it a major financial investment, but the process is also deeply emotional as you consider a lasting future in your new home.
There's no denying the truth: Purchasing a home is complex and can be overwhelming, especially for first-time buyers. You can simplify the process and ensure smooth sailing by doing a ton of research. MYMOVE's home buying guide details the entire process, from the first step of deciding if it is the right time for you to buy all the way through the finishing touches of closing on your home.
Are You Ready?
Before you decide on anything like a real estate agent, neighborhood, or an actual house, you have to make the biggest decision of all — committing to starting the home buying process. It is important to be honest with yourself about whether you are truly ready for this undertaking. Consider a variety of factors, including the following:
Financial considerations
Did you just start considering buying a home very recently — maybe even on a whim? Time to slow down. One of the best things you can do, especially if you are a novice buyer, is to start preparing early. It may seem far in advance, but a safe home buying timeline should actually start up to five years in advance as you consider factors like building your credit score and saving up for your down payment.
Your credit score (also referred to as your credit rating or FICO score) will be the deciding factor that determines the interest rate your lender offers you on your mortgage. To put it simply, a higher credit score = a lower interest rate. FICO scores range from 350 to 850, with about 720 being the median credit score in the US. Anything above 750 is considered excellent credit; 700-749 is considered a good score and will likely get you good mortgage interest rates. The minimum credit score that many lenders will consider is about 630.
Keep these numbers in mind as you decide to start the home buying process. If you need to improve your score to get a better interest rate, take the time to do so before jumping into purchasing.
Upfront costs
In addition to your credit score, your actual savings are another important financial consideration. You may be unsure how much you really need in the bank to buy a home. Many people falsely believe the down payment is all they have to pay upfront, which is not the case. You will need:
Earnest money deposit: You may have heard of this as a "good faith deposit" or escrow. This money is a small percentage of your down payment that will be held in escrow — in an account controlled by an impartial third party — to show that you are serious about buying. Technically, this is not an extra cost, as it will be credited toward your down payment if all goes well, but you do need this money early in the process.
Home inspection cost: Getting your potential property inspected is a must and can cost anywhere from $200 to $500.
Down payment: A cash payment that is a percentage of the total price of your home that you will pay upon purchasing, usually required by your mortgage. Down payments vary depending on loan type but commonly range from 3.5% to 20% or higher. In some rare cases (such as VA loans for veterans or certain USDA rural housing loans), no down payment is required. The more money you put down, the lower your monthly mortgage payments will be, and quite possibly, the better interest rate you are likely to get. Larger down payments also can mean you won't be required to purchase private mortgage insurance.
Closing costs: These are miscellaneous fees that are required at the completion of the purchase, and usually add up to 2% to 5% of the purchase price. You also will need to have home insurance in place before you can close, and monthly premiums generally must be paid in advance.
Clearly, there are a number of upfront costs that go into home buying, and they add up fast. Before deciding to start the homeownership journey, take a good look at your savings and make sure you have the amount you need for a home you will be comfortable in.
Monthly costs
After your initial purchase, you will still need to pay for your mortgage each month, and you will also want to have money left over for the new monthly costs that come with homeownership — utilities, repairs, etc. Some lenders factor real-estate taxes and insurance costs into your monthly payments.
So, how can you determine if you have enough? Calculate your debt-to-income ratio to see how much you can afford to spend on your mortgage each month.
Debt-to-income ratio
Your debt-to-income ratio is a ratio of your monthly debt payments (including future mortgage) against your total monthly income (pre-taxes).
Get your own ratio by dividing your total debt figure by your total income, or simply use an online tool to do so. Be sure to include the predicted cost of your future mortgage with all other debts, such as student loans, credit card bills, car payments, and any other monthly dues.
Industry experts vary in their opinion on an ideal debt-to-income ratio; below 36% is considered ideal, but you will likely be OK with anything below 43%. If your ratio is higher, you may need to pay off existing debts or increase your income before you are ready to buy a home.
Other factors
Even if your finances check out, do a gut check to ensure this is the right time in your life to buy. Consider lifestyle factors, such as your current employment situation, if you can see yourself living in the area for at least five years, and when your current lease expires. It is also wise to do some research on the housing market in the area where you're planning to purchase the property — it's risky to buy a home in a declining market.
Financing
Once you have decided you are definitely ready to purchase a home, you will need to start by determining how you're going to pay for it. By now, you've determined how much you can afford for a down payment and your mortgage. Now, you'll need to work on actually getting that loan.
Choosing a lender
In the world of home buying, the term "lender" simply refers to whoever gives you the loan to purchase the property — your mortgage. You own your property itself, but it is collateral for the loan. This means if you don't pay your loan back, the lender can foreclose on your home.
You may immediately think "a bank," and that's definitely an option. Banks are an example of a direct lender, meaning they review your application themselves and provide your loan directly. Banks are often considered reliable lenders, as they are regulated by state and federal agencies. Another type of direct lender is a nonbank lender, which works the same way as a bank, but is often smaller and may cater to buyers with worse credit scores.
Today, there are many alternative lender options besides going directly through a bank. Mortgage brokers or online mortgage marketplaces offer a way for consumers to quickly shop around a number of different lenders at once.
Whether you go with a direct lender or mortgage broker, it is a good idea to connect with a number of different lenders before making a decision. Consider what element of the mortgage is most important to you, as there are a ton of factors that make up your loan, from interest rate to your actual monthly payment. Finally, be sure to check on a lender's credentials using resources such as the Better Business Bureau.
Getting pre-qualified and pre-approved
A very early step in the mortgage process is getting pre-qualified. This is not to be confused with getting pre-approved, which is similar but more involved. Both are types of qualifications, but don't the two confused! Only getting pre-approved gets you an actual commitment in writing from a lender.
Home-buying expert Ryan Cox, a Charlotte, North Carolina-based Realtor, says of pre-approval and pre-qualification, "Either one is highly recommended when purchasing a home in today's market."
By getting pre-qualified and/or pre-approved, you can have a much better idea of the price of the home you should be looking for. Additionally, a seller is much more likely to favor a buyer who has been pre-approved, particularly in a competitive market.
"When there are multiple offers, a seller will most likely not entertain an offer unless a pre-qualification or pre-approval letter is attached with the offer," Cox says.
Getting pre-qualified is a simple way to confirm the type and amount of mortgage you will be able to get from a lender. Your own knowledge of your savings and calculation of debt-to-income ratio may have given you a good basic idea of the home you can afford, but getting pre-qualified with an actual lender will ensure you've predicted correctly and can help you start to understand your mortgage options.
You can get pre-qualified over the phone or online, and the process should be free. To get pre-qualified, you will discuss your credit history, income, and assets with a lender, who will then give you a general idea of the mortgage type and amount you will likely qualify for.
Since this is only based on what you say your financial situation is and the lender does not run your credit or verify your income and assets, pre-qualification is not a guarantee.
Therefore, it could hold less weight with a seller than an actual pre-approval.
On the other hand, getting pre-approved for a mortgage loan means receiving a written commitment from a lender for a specific loan. Since a pre-approval is an actual commitment, the lender will definitely run your credit and verify your income and assets. You will need to fill out a mortgage application and provide a number of financial documents, and once your lender decides the mortgage amount you qualify for, you will receive a pre-approval letter listing this figure. Pre-approval letters are only valid for a certain period — generally 60-90 days — so this step is done when you are further along in the house-hunting process.
Types of mortgages
There are many different types of mortgages, and determining which is best for you may seem overwhelming. Here is a brief overview of four broader mortgage types, each of which covers a number of specific loan programs.
Fixed-rate mortgage: Your interest rate is "fixed", or set, for a number of years and will not change. Most commonly the terms are for 15 or 30 years but can be 10, 20, 25, 40, or 50 years.
Adjustable-rate mortgage (ARM): Your interest rate will change over time, usually every year, after being fixed for a set initial period of time. There are a number of types of ARM mortgages — options include various lengths of time for the initial period of a fixed rate.
Conventional loans: These loans are not backed by the government. Conventional loans meet the guidelines set by "Fannie Mae and Freddie Mac" — the Federal National Mortgage Association (FNMA) and Federal Loan Mortgage Corporation (FHLMC), respectively. However, this does include "jumbo loans," which do exceed the FNMA and FHLMC maximum loan limits.
Government-insured loans: These loans are backed by the government. They include FHA loans (loans insured by the Federal Housing Administration, offering low down payments), VA loans (for veterans), and USDA loans (the Department of Agriculture's loan program for rural homebuyers).
Do not feel like you must memorize every detail of each loan type; when you decide on a lender, you will work closely with it to see which mortgage fits your needs. The best mortgage for you will be based on your financial situation and your goals for your future home, particularly how long you plan to live there.
House Hunting
Now, it's time for the fun part — searching for your new home! You have tons of decisions to make, from the right neighborhood to the type of property you want. This isn't something you have to go alone; it makes sense to work with a real estate agent or broker so you have an expert on your side for the whole process.
Finding a professional
First things first: what do all these titles mean? A real estate agent is someone who works with buyers or sellers to help them buy or sell their homes. They are licensed by state agencies. Real estate brokers also are licensed by the state to assist with the purchase or sale of a home, and they have a higher-level license that enables them to oversee the actual negotiations of a purchase. An agent must work under the supervision of a broker.
There's also another title: A Realtor® can be a broker or an agent. This specific title means they are certified by the National Association of Realtors and are bound by its code of ethics.
The most important factor is that you feel comfortable with the person and, above all, trust him or her. Word of mouth is the top way to learn of agents in your area, so ask friends or family members who have recently purchased homes if they had a positive experience.
"I would highly recommend interviewing more than one agent before choosing your Realtor," says industry-expert Cox.
A major factor to consider, particularly in a competitive home buying market, is the flexibility of your agent's schedule.
"[This is important] in case a client wants to view a new property that just hit the market," Cox explains. "I have had a listing go under contract within 2 hours of going [to see it]."
Touring properties
With a great professional by your side, it's time to go house hunting! The first decision to make is narrowing down the type of property you're interested in. Options include: A single-family detached home (a traditional house, on its own plot of land); a condominium (a single unit you will wholly own that is part of a building or complex that you will own a share in); or a townhouse (a home that is individually owned but shares a wall with one or more units).
When deciding what is best for you, consider factors such as square footage, upkeep and maintenance, time and cost, HOA (homeowners' association) fees, and resale value.
Another decision to make is whether you are looking for new construction or an older property. Obviously, your budget will be a major factor here, but there are pros and cons to each. You may find that older homes have more character or unique touches, have already had any problems discovered and fixed, and may even be a historic property. An older home may be priced low enough that you have room for a generous renovation budget, thus allowing for some more modern updates.
That being said, when looking at older homes, keep in mind that you may be dealing with older appliances, dated design, and out-of-date systems that are less energy efficient, which could result in higher utility costs. New construction will likely mean modern appliances and contemporary design, and some people may love knowing no one else has ever lived there.
On the other hand, new construction can have negatives too. With no previous owners, you don't know about any existing problems, and some homebuyers may find new construction to be plagued by the "cookie-cutter" design.
Whether you focus on new homes or older properties, there are a number of things to be on the lookout for each time you tour. Here are some to remember:
Neighborhood: Traffic, school district, the neighbors
Privacy: Proximity to nearby properties
Exterior: "Curb appeal"
Layout: Overall floor plan, the "flow" of rooms, number of bedrooms and bathrooms
Details: Appliances, closet space, etc.
Light: Is there good natural light?
Yard: Is there one? What is the landscaping like?
The "Ew" Factor: Smells, stains, or anything else that makes you cringe
The Big Purchase
If you've toured many properties and finally found your dream home, it is time to make the big purchase. Here, you can and should really rely on your real estate professional as an excellent resource for your questions and negotiator on your behalf.
Making an offer
To determine a fair offer for the property you've fallen in love with, have your real estate agent provide a comparative market analysis (CMA). This CMA will detail information about the home you are interested in buying alongside the same information about comparable properties in the area. By comparing the list prices and sold prices of each similar property (or pending sale prices if applicable) and factoring in pluses or minuses of the specific home you're looking at, you and your professional can determine a good starting offer.
Other factors to consider include the amount of time the property has been on the market, whether it is a "buyers market" or "seller's market" (meaning, who has the advantage), and if there are certain special amenities that you value highly.
Actually making an offer on a property does not just mean throwing a price out there. Your purchase offer is an official document, and some states require an attorney to prepare the contract. Even if this is not the case in your state, it is worth considering having your own attorney review the contract, as the purchase offer document is usually complex and detailed.
The document itself will detail your offer, how long the offer stands for (anywhere from a few hours to two days), and your offer terms. The offer terms include information about how you plan to pay for the home (your mortgage information), details of a home inspection and what to do about its findings, and any other conditions you and your real estate agent have determined.
The next step is presenting the offer to the seller — your agent will handle this with the seller's agent. You will also present the "earnest money" check at this time, which will be held in an escrow account.
Now, comes the waiting game — you just have to wait to hear back from the seller. (Technically, your real estate agent will wait to hear back from the seller's agent.)
If your initial offer isn't accepted, you may receive a counteroffer, at which point it is time to negotiate. Cox says his biggest piece of advice is to stay composed.
"Do not let emotions take over the negotiation process," he says. "The last thing you want to do is overpay for a home."
Closing Time
Officially, "closing" on a home means the moment the deed is recorded and the title passes from the seller to the buyer. However, when you hear the term closing, it generally refers to a number of processes that all are part of the final steps of home buying, and can take four to six weeks.
Once you and the seller reach an agreement and both sign the final contract, it is time to get the home inspected and insured. At this point, you will also have your lender begin processing your mortgage, which will require having it appraised. This all will need to be done before the closing date stated in your contract.
A few days before the official agreed-upon closing date, it is important to do a final walk-through of the property to ensure all of your offer terms were fulfilled, especially if there were repairs required. If things are not completed as stated in the contract, your real estate agent can handle any concerns with the seller's agent. This may delay the closing or hold the money in the escrow account from going to the seller until issues are corrected.
At the actual closing, who you meet with will vary depending on the state in which you are purchasing your home. Often, a third party closing agent (or "escrow agent") will handle all documents involved in this final step of the sale. In addition to this closing agent, you will likely want your own real estate agent and/or your personal attorney to be present as well.
The entire process may seem overwhelming — you could be signing 20 or more multi-page documents! No matter what, do not feel intimidated or afraid to ask questions. You should be completely comfortable with everything you sign. These are extremely important, and legally binding, contracts.
You will need to bring a cashier's check to the closing to pay the down payment, plus any additional closing costs. (You will have been notified this amount at least one day in advance). You will also need proof of your new homeowner's insurance, photo ID, and any other paperwork you have received throughout the home buying process in case you need to double check any past details.
The escrow agent will complete the recording process-officially registering the mortgage and deed, now updated with your name, with the county recorder, after which it will be given to your lender. Meanwhile, the escrow agent will take your cashier's check and also will receive your loan funds from your lender. At this point, the escrow agent will release the funds to the seller, and you, the buyer, only are responsible for paying your lender going forward. At this point, the deal is closed. You are officially a homeowner!
Buying a home can be a complicated and lengthy process, but putting in the time, research, and care to make the purchase go smoothly is completely worth it. After all, the few months it may take to purchase your dream home is nothing compared to the decades you will spend enjoying it!
---
Everything for your move, all in one place
Curate your personalized moving checklist, set up TV & Internet, and more with a free MYMOVE account.