What You Need to Know as a First-Time Homebuyer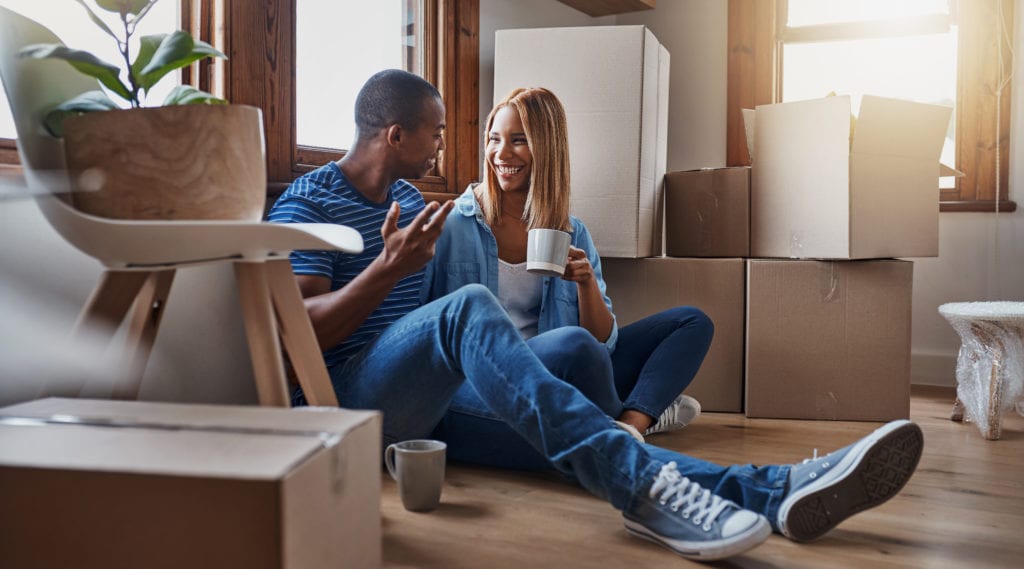 The fact that you're reading this means that you're thinking about buying your first home. Congratulations potential first-time homebuyer!
We know you've probably heard lots of high-stress stories that are making you question if you're even ready for this major life decision. Well, MYMOVE is here to tell you that with the right research, planning, and our first-time homebuyer tips, shopping for and purchasing your first home can be an awesome and smooth experience. So, let's make it one why don't we?
Here are some important things you need to know as a first-time homebuyer.
You should start saving for your down payment early.
Although there are some mortgage options that require no down payment, most mortgages do require one. But what is a down payment, really? A down payment is an amount of money you must pay in a lump sum to the seller of the home.
The standard conventional loan down payment is 20% of the home value. That means if the home costs $150,000 you will need $30,000 to pay as a downpayment. Sounds like a lot of money, huh? We get it.
But, don't let that scare you away because according to a 2017 study by the National Association of Realtors, 81% of first-time homebuyers make a down payment of less than 20%. There are other loan options, like the conventional 97% that require 3% down or an FHA loan that requires 3.5%. That means if you are buying a home for $150,000, you'll need anywhere from $4,500 to $5,250 as a down payment. That may seem much more doable to a first-time homebuyer.
If you aren't ready to pay a down payment without totally draining your savings, we recommend creating a budget and savings plan before you even start looking for a home. Once you've achieved that savings goal, you can proceed with your home search.
An important reminder: On most loans where the down payment is less than 20%, you will be required to pay Private Mortgage Insurance (PMI) in addition to your monthly payment until you've paid the loan down to 80% of the home value. 
Ask yourself, "How much house can I afford?" 
This is one of the most important questions that all first-time homebuyers will have to answer. When home shopping, it's critical to know what home prices you should be searching for — before you start house hunting. You don't want to fall in love with that $500,000 dream home when you can only afford $150,000.
So, how can you determine what you can afford?
Start by creating your own balance sheet that outlines what you earn vs. what you pay:
First, make a list of all sources of income you earn monthly. Next, make a list of all the things you owe monthly, excluding your current rent — think, credit card payments, student loans, auto loans, etc. — and then add to that list anything else you must pay monthly regardless of where you live. Those payments might include gas, groceries, utilities, a cell phone bill, a gym membership, auto insurance, health insurance, etc.
Utilize a resource like this house affordability calculator to plug in the numbers. You'll notice there is a section for "new home info" which allows you to test different home values with your personal affordability.
Once you've got an idea of a monthly payment you can afford, use a mortgage calculator to determine an estimated monthly payment on certain home prices. For consistency, we typed in a purchase price of $150,000 and got an estimated monthly payment of $785 — including the required homeowner's insurance and property taxes.
Finally, plug that $785 back into your original list of monthly expenses and how much money you'd have left for other expected costs each month. It's important to have leftover money (disposable income) each month for other expenses associated with homeownership, like home maintenance and repairs, or other non-homeownership emergency expenses. In other words, don't overextend your wallet with no preparation for unexpected costs.
You could qualify for first-time homebuyer grants, programs, and loans. 
Now that you've got a good idea of what you can afford, it's time to look at your loan options. We recommend getting referrals for loan officers and then utilizing their knowledge to help determine what federal assistance programs for first-time homebuyers or first-time homebuyer grants may be available to you.
Here are a few popular programs, grants, and loans available to first-time homebuyers:
National Homebuyers Fund: This is a location-specific grant program providing downpayment assistance to qualifying first-time homebuyers. This grant does not have to be repaid, and offers up to 5% of the loan amount to help with closing and other associated costs.
VA loans: For veterans or active duty military, VA loans typically offer 0% downpayment loans. The VA also offers grants to disabled veterans to assist with the purchase of their home.
USDA loans: USDA loan programs are specifically for those who wish to live in rural areas but do not have the income available for a downpayment.
FHA loans: These loans are available to people who cannot afford a 20% downpayment and may not have high credit scores. Depending on your credit score, FHA sets a down payment option as low as 3.5%.
HUD Good Neighbor Next Door loans: This program isn't limited to just first-time homebuyers, but it is only available to firefighters, police officers, teachers, or emergency medical technicians and is location-specific. With the proper commitment, this program can save a homebuyer up to 50% off the list price of the home.
Local first-time homebuyer grants: There may be first-time homebuyer grants available to you that are specific to your state or county. Ask potential lenders for details on the grants available in your area.
Get pre-approved for a loan before you start looking for houses. 
Getting pre-approved for a loan before you even begin looking for houses can give you an advantage with potential sellers. This tells them that you are a serious home-shopper and gives them the assurance that your loan would likely be approved if you go under contract on their home.
Here's how you get pre-approved for a loan: 
Choose a lender to seek pre-approval with. Keep in mind that you are under no obligation to proceed with a loan with a vendor just because they pre-approved you.
Once you've contacted the lender, they will ask you to complete a pre-approval application including the loan amount. It will ask for basic information, plus much of the information you listed out earlier in your balance sheet, like your income and expenses.
As your application is processed, the lender will also do a hard inquiry on your credit report. While your financial health is a top priority during pre-approval, so is your credit score (which is also a measure of financial health). Don't neglect your credit score until it's time to buy your first home.
The lender will then contact you to tell you if you're pre-approved or declined. You can provide your pre-approval status to sellers when you make an offer on their home.
House shop with an open mind.
It's normal to go into the home-buying process with many hopes and dreams for your first home. However, be sure to go into the process with an open mind that is willing to shift and move based on your affordability and availability of homes.
Things to consider when shopping for your first home:
Make a "must-haves" list: What are some non-negotiables you have for your first home? Perhaps you have a dog and must have a fenced-in yard, but don't want to drain your savings on getting one installed. Perhaps you must have at least two bedrooms. Does the home need to be within a certain proximity of your job due to gas costs? Does the home need to be turn-key ready to move in?
Make a "would love to have" list: These are things you want, but are not deal-breakers. This might include things like an open floor plan, big bathrooms, hardwood floors, particular paint colors, etc.
Be willing to expand your search location: Five minutes in one direction or another can make a big difference in home prices. Just don't forget to consider added fuel costs if you expand your search very far from your job location.
Consider DIY options: With a tremendous amount of resources now available online for DIY'ers, don't rule out home options with small issues that you might be able to easily and cheaply fix yourself. If you're a visionary and know your way around home renovations, maybe consider a fixer upper!
Don't forget about closing costs
In addition to the purchase price of your new home, you will want to be prepared to pay closing costs to your lender. Most closing costs range from 2% to 5% of the loan amount.
Closing costs are the costs associated with the loan process and might include:
Appraisal fee
Title search fee
Origination fee
Inspection fee
Escrow funding
Homeowners association fee
Closing fee
Also, watch out for potential fees — some of which might even totally surprise you (like credit report fees, pest inspection fees, loan discount points, and even underwriting fees). There are also other costs you may not think of, so be sure to do your research!
When shopping for a loan, make sure to ask your lender for a written breakdown of all associated fees. Ask important questions like, "Are these fees included in my loan or do I need to pay these out of pocket?"
It is also okay and quite common to ask the seller to pay all or part of your closing costs. It doesn't hurt to ask and use that as a negotiation tool in making your offer.
It's alright to slow down the process
Once you've found the perfect first home for your needs, it's normal to want things to move quickly so you can get the keys and officially make it your own. It's also possible that you may feel rushed by the sellers or even by your real estate agent.
Just remember, a home purchase is one of the biggest debts most people will ever have and it is important not to rush. Instead, take your time and be sure you understand and feel comfortable with the big commitment you're about to make.
The bottom line for first-time homebuyers
Buying your first home is an exciting step. Just because it's a big step doesn't mean that it has to be stressful.
Write down and follow these tips for a smooth move into your new home:
Plan ahead for your down payment
Determine how much of a home you can afford
Check into loan programs, grants, and other discounts that may be available
Get loan pre-approval
Define your needs and wants in a home with an open mind
Understand the closing costs you'll be responsible for
Take it slow and be sure you are fully comfortable with each step of the process
Finally, pat yourself on the back for achieving a big life goal and get excited for the memories you're sure to make in your new space!