Bed Sizes: Everything You Need to Know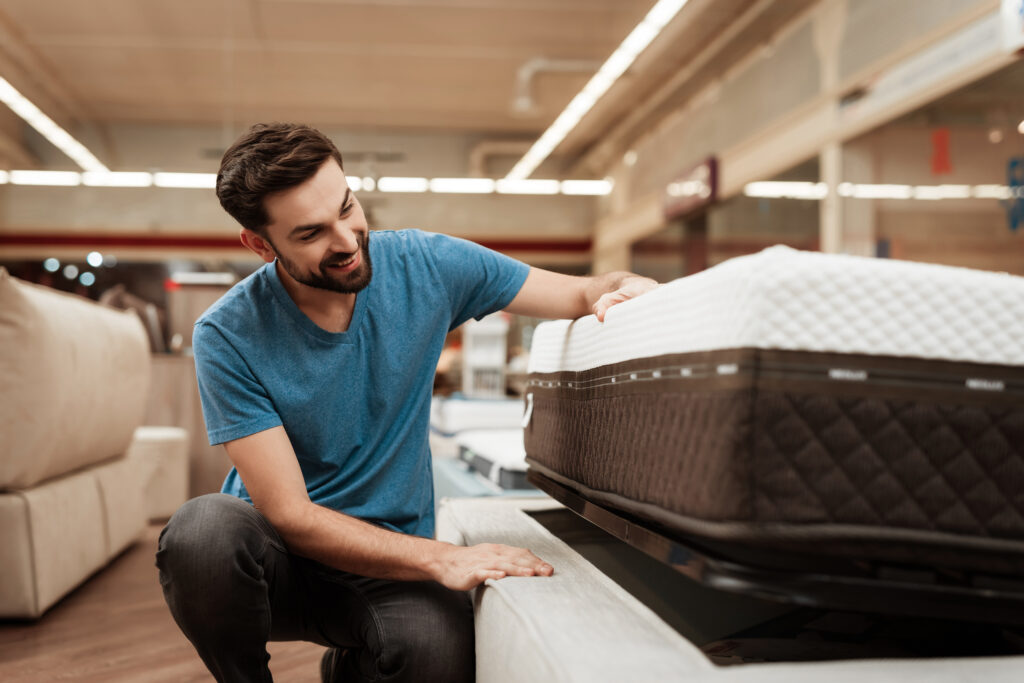 Freeograph/ Shutterstock
Are you confused about mattress sizes? We're here to guide you in selecting the right fit for your room and your lifestyle. After all, we spend one-third of our lives sleeping, so it's essential to invest in a quality night's sleep.
Bed size chart: Understanding bed dimensions
| Bed Size | Dimensions | Best For: |
| --- | --- | --- |
| Small Single | 30" x 75" | Infants or toddlers sleeping in a crib or toddler bed. |
| Twin | 38" x 75" | Toddlers transitioning to a larger bed. Single adults with limited space. |
| Twin XL | 38" x 80" | Teenagers and adults who are too tall for a standard twin. |
| Full | 54" x 75" | A child, teenager, or a single adult with pets. |
| Full XL | 54" x 80" | Tall teenagers and adults. Narrow rooms that can not fit a queen |
| Queen | 60" x 80" | Couples that do not require a large amount of legroom or have smaller bedrooms. |
| Olympic Queen | 66" x 80" | Couples who need extra width but don't have the bedroom size for a king bed. |
| King | 76" x 80" | Couples requiring maximum legroom, co-sleeping families, or adults with large pets. |
| California King | 72" x 84" | Taller adults (over 6 foot) or bedrooms that are long and narrow. |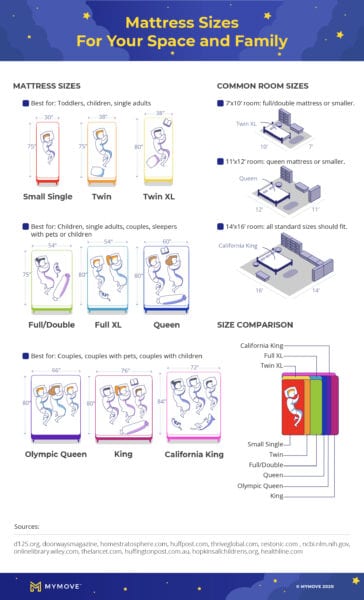 Small single bed:
Also known as a cot bed mattress, the small single bed measures 30″ x 75″. This makes it ideal for little ones transitioning from their crib but not yet ready for a twin bed.
Pros
Cons

Economical price point.
The size works well for young children in small bedroom spaces.

You will need to upgrade in size once the child outgrows their small single bed.
Both the mattress and bedding may be difficult to find.
Twin bed:
The twin mattress measures in at a compact 38″ x 75″, making it best for average-height single sleepers. Twin mattresses are commonly used on bunk beds and trundle beds.
Pros
Cons

Twin beds are excellent as a toddler's transition bed or for adults with limited space in a studio or loft apartment.

They are too small in size for taller children or adults.
This size is not an option for couples.
Twin XL bed:
The 38″ x 80″ twin XL mattress offers a compact width while providing a few extra inches in height.
Pros
Cons

The twin XL works well for taller adolescents and adults.
Two twin beds can be put together on an adjustable split king base.
The point may be less than a full-size mattress.

This size bed is not ideal for single sleepers who need room to stretch out.
Twin XL mattresses are too small for couples.
Bedding options may be difficult to find.
Full bed:
Does a full bed work best in your domain? Full-size bed dimensions measure 54″ x 75″ and offer single sleepers more room to stretch out.
Pros
Cons

Full beds provide ample legroom for single sleepers.
It's an excellent option in a guest bedroom.

They may not provide enough space for couples to sleep comfortably.
The small size of a full bed may not be aesthetically pleasing in a larger bedroom.
Full XL bed:
If the width of the full bed dimensions provides ample room, but the length falls short, consider a full XL. Measuring 54″ x 80″, the extra five inches will prevent your feet from hanging over the mattress.
Pros
Cons

It's a perfect size for taller adolescents and adults with limited bedroom space.
Bedding costs less than a queen (or larger) size mattress.

Full XL beds still may not provide enough space for couples to sleep comfortably.
Availability may be limited in comparison to standard full or queen-size mattresses.
Queen bed:
Both wider and longer than a full bed, the queen is popular for couples who need a little space when sleeping. The queen size bed dimensions measure 60″ x 80″.
Pros
Cons

The queen bed measurements fit most standard-size bedrooms.
It offers greater sleep space than a full-size bed while being more affordable than a king-size bed.

The queen is only six inches wider than a full or full XL bed.
It still may not provide enough room for couples with children or pets.
Olympic queen bed:
Measuring 66″ x 80″, the Olympic queen bed isn't one of the traditional bed sizes. However, it does provide wider sleeping space for couples in comparison to a typical queen bed.
Pros
Cons

It's excellent for couples needing extra width to stretch out but cannot fit a king size mattress in their bedroom.

Olympic queen beds aren't readily available, and you most likely won't find one on a showroom floor.
Bedding sets may be difficult to find, and style choices may be limited.
King bed:
If you need more sleep space, king beds certainly deliver. Measuring 76″ wide (a whopping 16″ greater than a queen) and 80″ long, a king bed provides plenty of space.
Pros
Cons

It's the mattress available without having to customize.
King beds provide ample legroom for couples to stretch out.
It's ideal for co-sleeping families or couples with pets.

The dimensions may be too large for a standard size bedroom.
Pricing of a king bed is higher and may not be feasible for those with a limited mattress budget.
California king bed:
The California king bed measures 72″ x 84″. If you're looking for length, the California king is four inches longer, beating out the twin XL, full, full XL, queen, Olympic queen, and king beds.
Pros
Cons

It's the longest mattress available without having to customize.
This is an excellent option for tall sleepers.

Overall pricing for both a king and California king mattress is higher than other mattress sizes.
The length of the mattress may impede easily moving about the bedroom.
What to consider when choosing a mattress size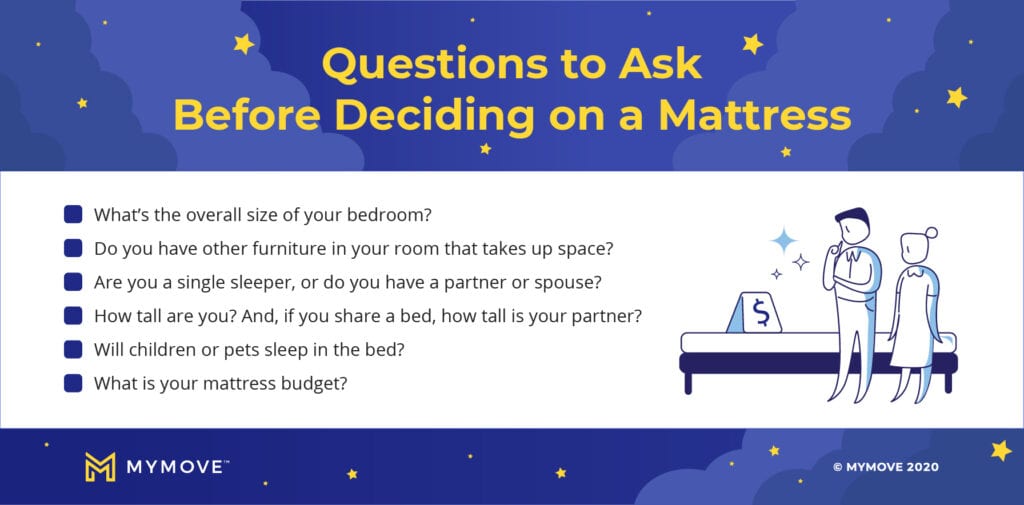 What is the overall size of your bedroom?
While spreading out in a king-size bed is certainly luxurious, fitting it in your bedroom may not be realistic. Be sure to measure your bedroom properly and account for a nightstand, dresser, and room to move about comfortably.
Are you a single sleeper or have a partner/spouse?
Single sleepers have greater flexibility in choosing a mattress size. However, if you're sharing the bed with a partner or spouse, assess if a double-size bed will ultimately feel cozy or cramped.
Will children or pets sleep in the bed?
If there is a chance of little ones joining you regularly or Fido taking up major real estate, be sure to factor in the need for additional space.
What is the height of the tallest sleeper?
No one wants their feet hanging over the mattress, so it's important to ensure all sleepers will fit properly on the mattress with some room to spare. For example, a 6-foot 5-inch individual would not sleep comfortably on a full-size bed.
The bottom line
Choosing the perfect bed size is possible. Take time to decide what dimensions will ensure you sleep through the night and fit in your sleeping space. Armed with this knowledge, you will rest easy.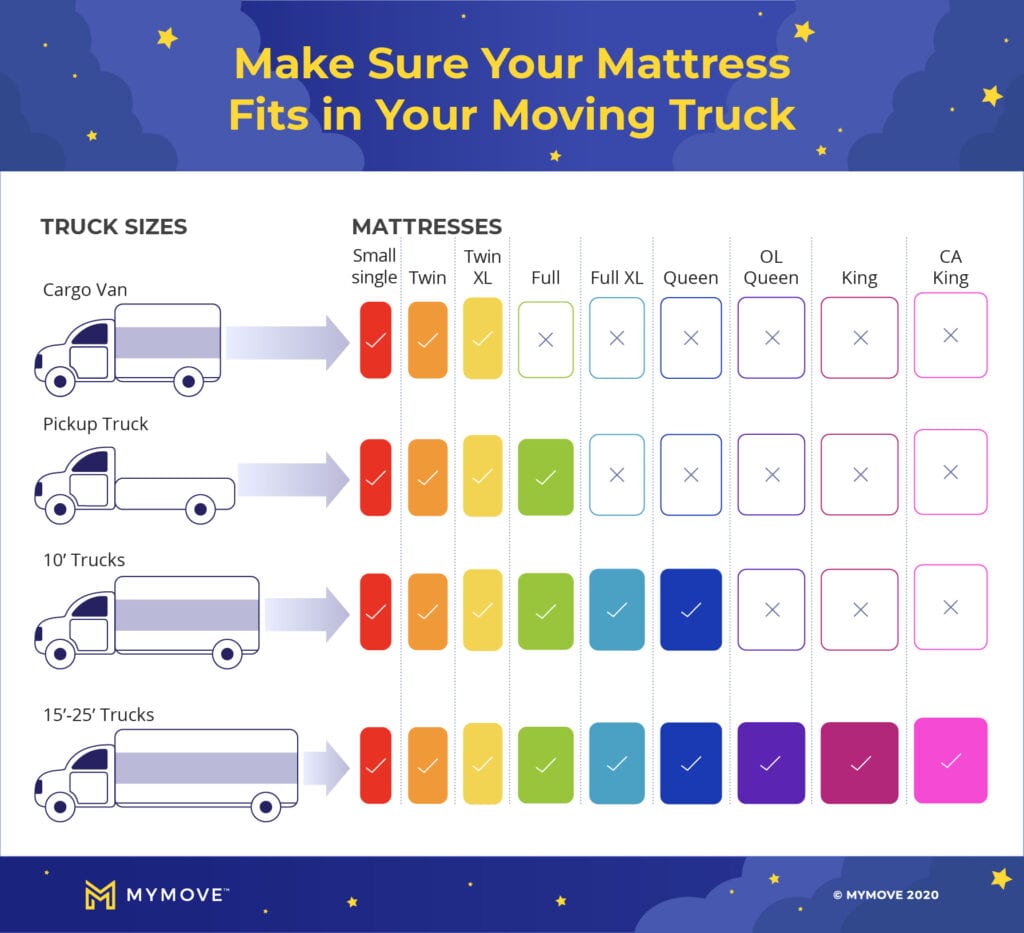 Frequently asked questions
Q:
What size bed is the biggest?
A:
The king-size bed dimensions of 76″ x 80″ measure the largest in bed sizes for width. The California king is the largest bed size for length measuring 72″ x 84″.
Q:
What is the smallest mattress size?
A:
The smallest mattress size is a small single, sometimes known as a cot mattress. A small single mattress measures 30″ x 75″.
Q:
What are standard bed sizes?
A:
A standard mattress size chart includes measurements for twin, twin XL, double, queen, king, and California king. Other options include a crib mattress, small single, and Olympic queen.
Q:
What size is a double bed?
A:
A double bed measures 54″ x 75″. Double beds and full beds are the same measurements.

---
Bring on the savings
Unpack unbeatable deals
We can't sugarcoat it — moving can be expensive. That's why we team up with your favorite brands to help you save on everything you need (and want!) for your new home. The best part? You won't find these deals anywhere else.
VIEW YOUR DEALS