The Best Mattress Stores to Buy From in 2021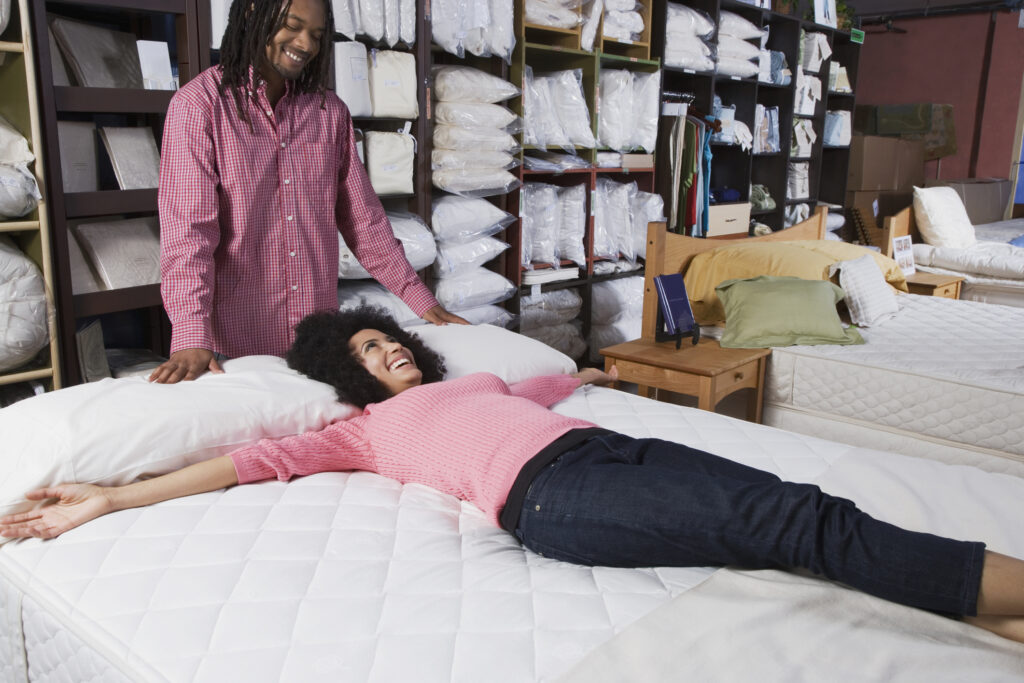 Purchasing a new mattress is an investment in your health and home. As you prepare to replace your outdated mattress, deciding on which mattress stores to visit can be daunting. From large retail stores to smaller, local businesses, finding the best place to buy a mattress requires research, planning, and savvy shopping skills. The reward? A peaceful night's sleep.
We spend approximately one-third of our lives sleeping. Trying before you buy in-store can help you get a feel for a mattress before you commit your money and your zzz's to it. To help you get started on your search, we've compiled data on the top five mattress stores of 2021.
The top 5 mattress stores of 2021
Methodology: We analyzed mattress stores on the following criteria — geographic availability, diversity of brands offered, Better Business Bureau rating, warranty, trial period, delivery, and shipping costs. In addition, real customer reviews and ratings provided valuable insight in selecting our top five mattress stores.
Founded in 1945, Ashley Furniture HomeStore is a leader in the retail mattress store industry with 681 stores across the United States and a total of more than 1,025 locations in 59 countries. Mattress pricing at Ashley Home Store is competitive with options for all price points, including bed-in-a-box, the traditional mattress and box spring, and adjustable mattresses and power bases. All mattresses sold by Ashley Furniture HomeStore are CertiPUR-US certified and hypoallergenic.
With an A+ rating by the Better Business Bureau, free mattress shipping, and a 10-year limited warranty, Ashley's lifestyle setting showrooms let shoppers test out memory foam, innerspring, and hybrid mattresses. Plus, if you're in need of a new bedroom suite, Ashley has a range of furniture styles to choose from. Savvy shoppers can cash in on Ashley's flash sales and daily deals to stay in budget.
Brands Ashley Home Store offers: Ashley-Sleep, Beautyrest, Sealy, Serta, Sierra-Sleep by Ashley, Stearns & Foster, and Tempur-Pedic.
The Original Mattress Factory differs from other brick and mortar mattress stores as they manufacture and sell their mattresses. By cutting out third-party retail storefronts, the Original Mattress Factory can offer a quality mattress selection at an economical price point. With 111 stores across the United States and an A+ Better Business Bureau rating, The Original Mattress Factory inspires confidence for consumers. Wondering what happens behind the scenes as your mattress is handcrafted? Take a factory tour through one of their 11 factory locations.
Mattress pricing starts at a low $229 for a classic queen-size mattress with a wide range of mattress types, including pillow top, two-sided, foam, hybrid, and adjustable. While returns are not accepted (because the Original Mattress Factory does not resell their mattresses), customers can take advantage of the 365-day Comfort and 30-day Size Change policies. Mattresses come with up to a 12-year limited warranty based on the model. Delivery fees start at $50 and are based on Zip Code™.
Brands Original Mattress Factory offers: All mattress models fall under the Original Mattress Factory brand.
3. Best selection: Macy's
Serving the community since 1858, Macy's is a well-known shopping destination. Shoppers may be surprised to find that Macy's has its very own mattress store in each location. With more than eight mattress brands offered at 551 locations across the U.S. and an A+ rating by the Better Business Bureau, Macy's lets customers test mattresses in-person before buying.
Macy's sells many mattress types, including gel memory foam, hybrid, innerspring, and bed-in-a-box. Free white-glove delivery is available for mattress orders over $787. Macy's offers a 120-day mattress return policy with the option of a one-time re-selection or full return. Zero percent financing options are available for up to 24 months, and Macy's Star Rewards members can earn additional cashback.
Brands Macy's offers: Beautyrest, Hotel Collection, Leesa, Purple, Sealy, SensorGel, Serta, Stearns & Foster, and Tempur-Pedic.
Mattress Warehouse has served the sleep community since 1989. Shop one of their 250+ locations rated A+ from the Better Business Bureau. Mattress Warehouse has impressive customer benefits, including a generous one-year Price Match Guarantee. If a local competitor offers your mattress at a lower price, Mattress Warehouse will match the price plus an additional 50% of the difference within 365 days of your purchase.
Take advantage of bedMATCH®, Mattress Warehouse's patented identification system, programmed to assess your sleep style, sleep needs, and body type to identify the best mattress for you. Free white glove delivery is available for qualifying purchases.
Brands Mattress Warehouse offers: Aireloom, Beautyrest, Bedgear, Cheswick Manor, Comfort Essentials, Kingsdown, Mattress 2.0, Nectar, Royal, Sealy, Serta, Somosbeds, Stearns and Foster, Tempur-Pedic, and the Mattress Warehouse Value Collection.
5. Best selection of adjustable air beds: Sleep Number
With 602 locations nationwide, Sleep Number offers an extensive collection of responsive air mattresses to meet individual sleep needs. An A+ from the Better Business Bureau, a 100-night sleep trial, and a 15-year limited warranty all help give peace of mind as you shop for your ideal Sleep Number.
Adjustable air beds are offered in four series: the Classic, Performance, Innovation, and Memory Foam.  Free shipping is offered on some models, while others require an in-home set up for $199.
Brands Sleep Number offers: All mattress models at Sleep Number stores fall under the Sleep Number brand. Sleep Number does not sell its mattresses through other retailers.
How to choose the best mattress in-store
Finding the best place to buy a mattress doesn't have to be overwhelming. Before you visit a mattress store, make your mattress "must-haves" list with considerations like mattress size, type, materials, and features. Then, detail any health and wellness needs, like back or neck pain, sleep apnea, or other sleep disorders.
Try all of the mattress brands and models in store to see how your body responds. Does lying on a memory foam mattress feel too warm? Which firmness level feels right? Do you like the luxe comfort of a pillow top, or do you gravitate toward a medium-feel latex mattress?
Don't rush. Take time to lay down, close your eyes, and listen to your body.
The bottom line
All mattresses and mattress stores are not created equally. It's essential to visit more than one location so you can compare store brands, pricing, and benefits. A new mattress is a long-term investment; don't rush yourself into a purchase.
Frequently Asked Questions
Is it better to buy a mattress online or in a store? 
There are pros and cons to both. If you want to see and touch a mattress before buying, in-store is best. But if you want to test a mattress out in your home, purchasing online with a free sleep trial might be best. Ultimately, the decision comes down to what environment is most comfortable for you.
Can I negotiate the mattress price? 
Absolutely! Retail mattress stores often offer discounts such as price reductions, free shipping, and upgraded white glove delivery. Brush up on your negotiation skills and be prepared to walk away if your salesperson won't budge on pricing. You can always return once you have visited the competition and shopped other prices.
When is the best time to buy a mattress? 
Holiday weekends such as Memorial Day, Labor Day, and President's Day can bring the best mattress sales. Be sure to check store ads along with brand and store websites.
What is the best way to test a mattress in the store? 
Dress comfortably in loose-fitting, soft clothing so you can lay down comfortably. Figure out your ideal firmness by asking a sales representative to show you mattress examples in soft, medium, firm, and plush. Don't be afraid to ask questions on everything from the mattress materials to the warranty.