Types of Mulch: How to Choose the Best Mulch for Your Yard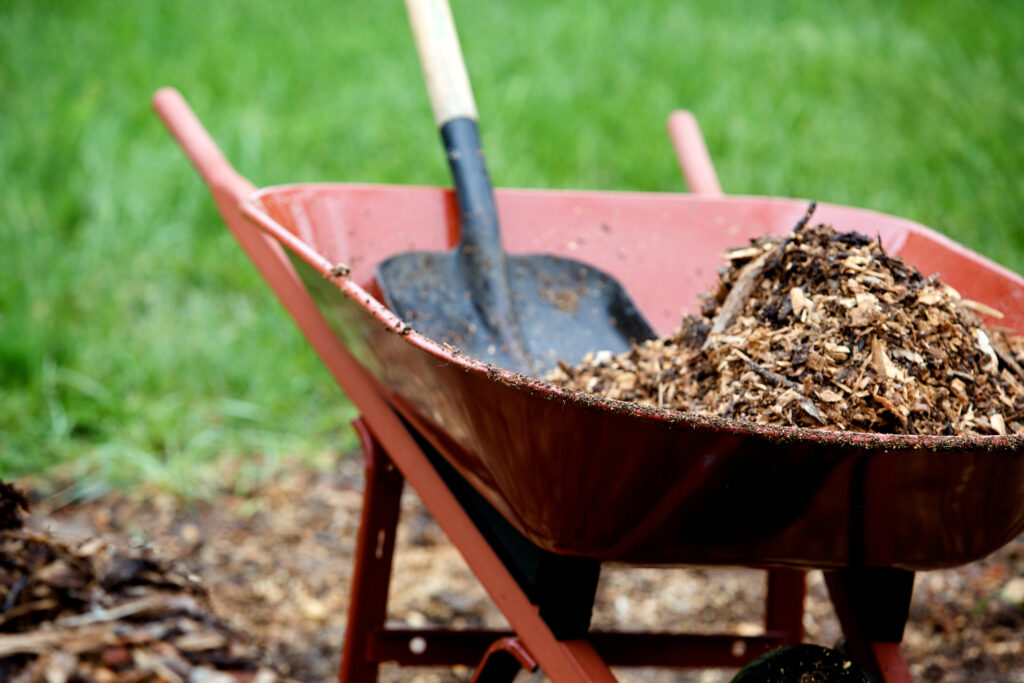 The products featured here are independently selected based on thorough research from our editorial team. If you buy something through links on our site, we may receive a commission.
Spring is the ideal time of year to get outside and work on your flowerbeds. Pulling out weeds and planting new flowers can make a big difference in the look of your landscape. But if you really want to upgrade your flowerbed and give it a finished look, lay new mulch.
Read this guide to learn about the different types of mulch available, guidance for selecting mulch colors, and ultimately how to choose the best mulch for your yard.
Why use mulch?
Mulch gives your flowerbeds a finished and uniform look. Once you have any new spring plantings in the ground, you can make everything look fresh and new with a layer of mulch.
The aesthetic benefits of mulch are what people notice first, but the reality is mulch also provides several practical benefits. Mulch can help improve soil moisture, reduce erosion and compaction, maintain soil temperatures, improve soil nutrition, and reduce weeds. The end result? You'll spend less time pulling weeds and watering your flowerbeds when you use mulch.
Understanding the types of mulch
Organic mulch
Organic mulch is made from naturally occurring materials such as wood, straw, stone, and manure. If you're dedicated to having an all-natural garden, then organic mulch is the best option for you. Organic mulch is also inexpensive and easy to find — two big benefits if you need a quick gardening fix. One of the cons that many gardeners experience with organic mulch is that it must be replaced more frequently than its inorganic counterparts.
Organic mulch options include:
Wood chips or bark
Straw
Stone or gravel
Compost and manure
Inorganic mulch
Inorganic mulch is man-made — products such as landscape fabric or plastic. Oftentimes, the inorganic mulch options are more expensive than their organic counterparts. This cost difference is often offset by the fact that inorganic mulch can last much longer than one season.
Inorganic mulch options include:
Landscape fabric
Landscape plastic
Rubber
Different mulch colors
Wood and bark mulch come in a variety of colors. The three basic colors you will find in most stores that sell organic mulch are black, red, and brown. Some retailers offer a longer list of mulch colors, including gold and various shades of brown. You can also find mulch in a "natural" color, meaning that it's without dye.
When it comes to wood mulch, the dyed varieties will last the longest. Bark mulch that has not been dyed can quickly fade to gray when exposed to the elements. Dyed bark mulch can typically last for a year. For example, Scotts Nature Scapes Color Enhanced Mulch guarantees year-long color — so expect to lay new mulch every spring season.
For the longest-lasting color, consider inorganic mulch. Rubber mulch can come in virtually any color and will hold its color much longer than wood or bark mulch. For example, Vigoro Cedar Red Rubber Mulch guarantees 12-year color staying power.
How to choose the best mulch for your yard
There's no one-size-fits-all option when it comes to choosing the best mulch. The most appropriate choice from the types of mulch available for your flowerbeds depends upon the details of the project and your preferences, especially when it comes to picking mulch colors. For each project, consider the following elements:
The size of your project
The different types of mulch can range significantly in price. The size of your project and the cost of the different mulch options can help you determine which is the best mulch for your yard.
If you deal with weeds
All types of mulch can help with weed prevention, but some options are better at keeping weeds away than others. If you fight a serious battle against weeds in your flowerbeds every year, then consider a mulch option designed for weed protection. Fabric mulch, such as Agfabric Easy Plant Weed Block Mulch, will provide the highest level of weed prevention.
Moisture retention
One of the primary benefits of using mulch in your flowerbeds is that it helps retain moisture. The level of moisture retention the different types of mulch provide varies. If you live in an area with extremely dry and hot weather, you need to choose the type of mulch that provides the best moisture retention.
Look and feel
Do you prefer the look of natural mulch? Do you like the modern aesthetic that comes with stone or pebbles? Take a look at your landscaping — do you have bright flowers that you want to pop? If so, consider a black mulch.
As you look at options for mulch, ask yourself what type you want to look at all season long.
Mulch longevity
Most organic mulch options will last for the season, and some will last for an entire year. Inorganic mulch options, like rubber mulch, can last much longer. Determining how long you want the mulch to last can help you make the right choice for your flowerbeds.
Frequently Asked Questions
What is the best type of mulch?
The best type of mulch is the one that fits your needs and preferences. All types of mulch will provide some help with moisture retention and weed control. Organic mulch options are inexpensive, but must be renewed every year. Inorganic options can provide you with benefits for years to come.
Do you have to remove old mulch before applying new mulch?
For the best results, you should remove old mulch before applying new mulch. Removing the old mulch will help you get rid of any dead plants or other debris that are leftover from the previous season.
What is the best mulch to prevent weeds?
Landscape fabric is an excellent type of mulch for preventing weeds because it creates a continuous layer of protection around plants in your flowerbed.