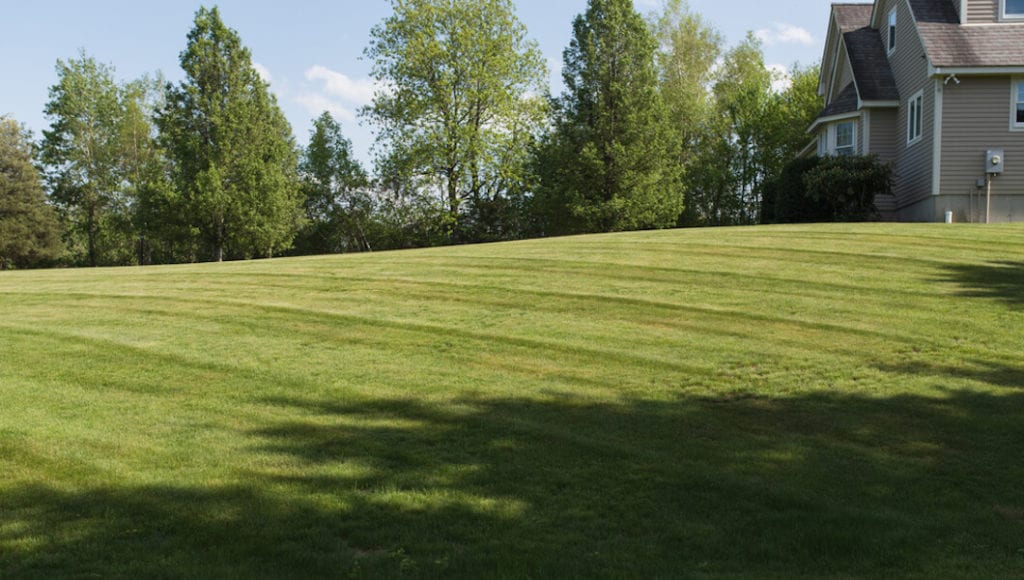 With how many chores a yard entails, deciding to stripe your lawn might seem like an added complication to the whole yard care process. But lawn stripes can give a classy, artistic look to a yard and add some unique visual geometry.
The beauty with lawn stripes is that they aren't hard to get. Most residential lawn striping systems come as a simple attachment that goes on the back of a lawnmower. And these attachments tend to run in the $100 to $200 range. So in the time it takes to mow your lawn, you're looking at an attractive big-league look in your yard.
Below, we'll cover how to get this gorgeous lawn trend in your backyard. There are multiple lawn stripe patterns to choose from, plus a few tips to follow for the best lawn striping. And, of course, there's the decision of whether or not to hire a professional lawn care service to stripe your lawn for you.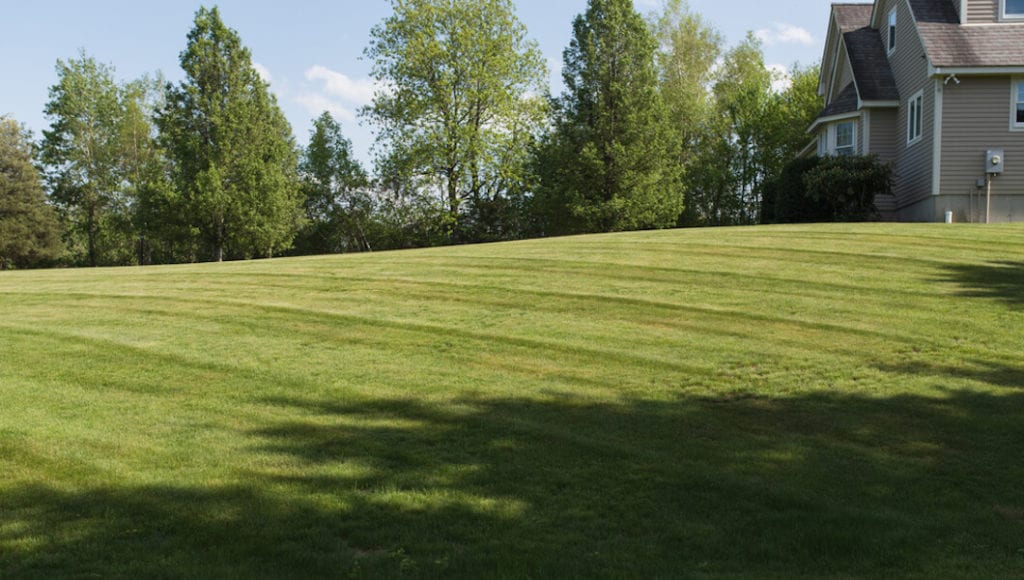 Decide on the stripe style
The first step is to choose what type of striping you want. There are several popular types of patterns you can stripe your lawn with, including:
These patterns can also be subtle or pronounced, depending on the length of the grass. Higher grass means a more pronounced pattern. As a general rule, larger-scale green spaces will do well with more intricate and pronounced patterns. Smaller yards may be overpowered by such a dramatic style, so people with smaller yards might want to go for a more subtle striped look.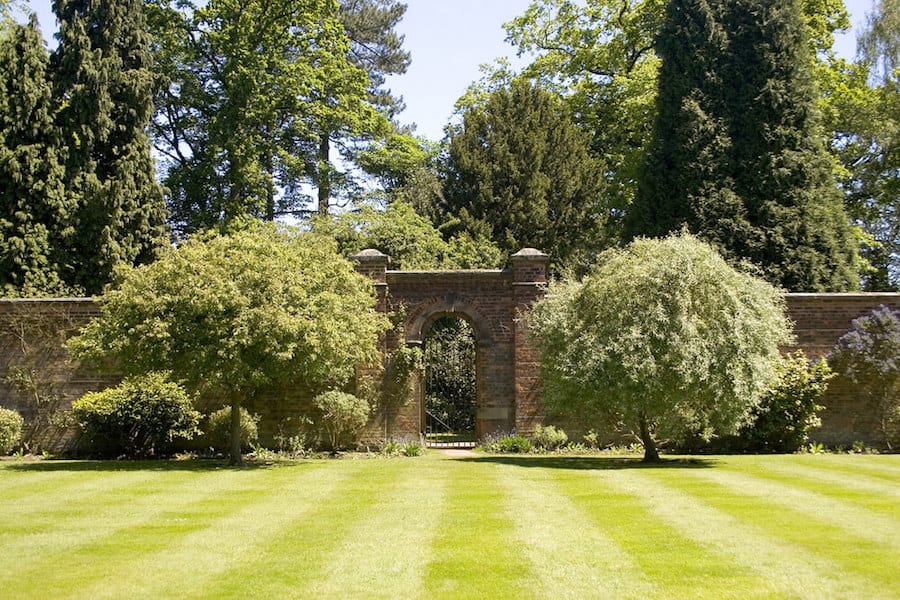 How to stripe your lawn
As mentioned above, getting this look is a lot easier than you'd think. A simple rolling attachment, usually placed behind a walking lawnmower, does the trick. What these attachments do is simply bend the grass blades without damaging the lawn. Grass that bends towards you looks dark, while grass that bends away looks lighter because of how the light is reflecting off of it. No fancy chemicals, no special grass seed. It's literally just a trick of the light.
But there are several other tips to keep in mind so you can stripe your lawn the right way:
Try sketching how you want the pattern to look first so you know exactly where to run the mower.
To keep your lines straight, start by mowing right next to something straight, like a fence, building or sidewalk. Then, while mowing, look ahead and around to keep the lawnmower oriented. Don't fall into the trap of just staring at the ground.
Striping the lawn with the same pattern repeatedly can permanently flatten grass, so try to switch up the pattern every couple of weeks or so. (You can read other lawn care tips here.)
For the best results, long-bladed and flexible grass, such as fine fescues, will take the striping better. You can stripe shorter-bladed and stiff grass, but the pattern won't hold as long or be as pronounced.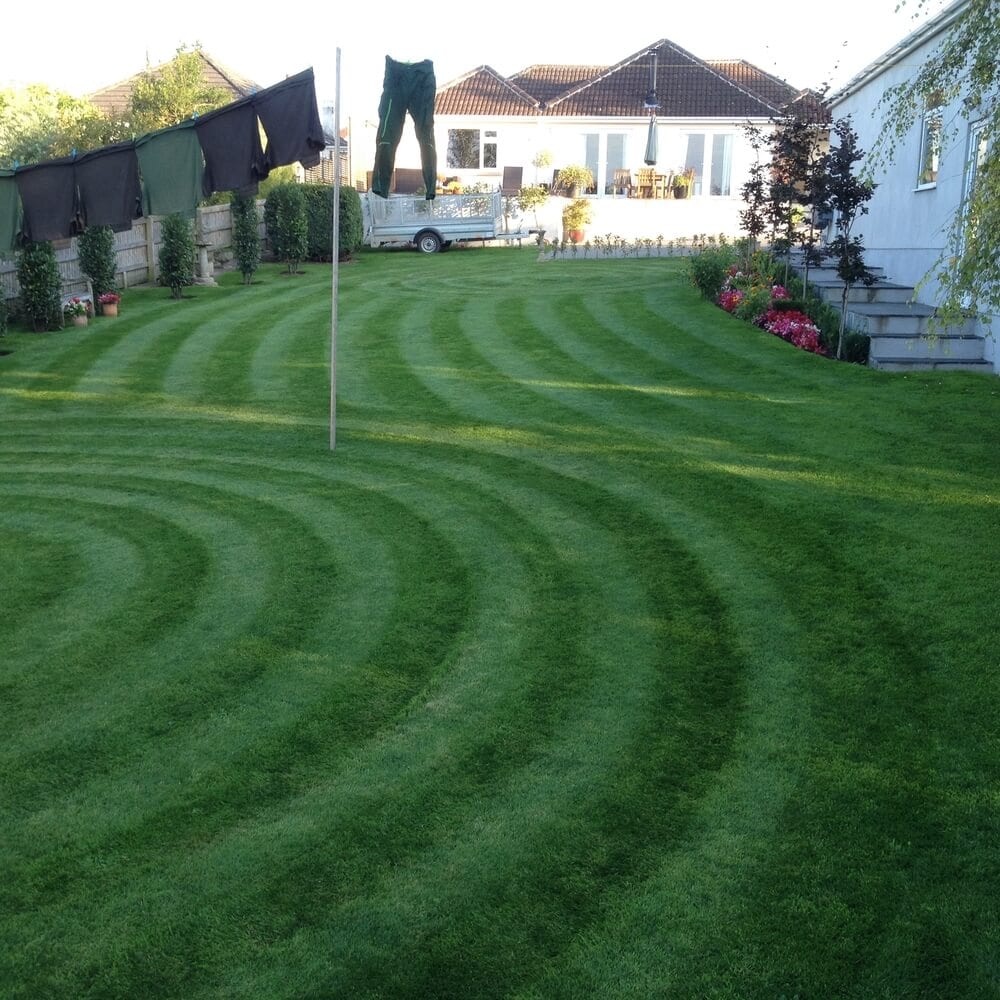 DIY vs. Hiring a Pro
Another consideration is whether you should stripe your lawn yourself or hire a pro. Cost and ease are going to be at the center of this issue.
If you do it yourself, you can get your own attachment for around $100 and stripe your lawn whenever you feel like it. Renting a lawn striper might even be an option, as rental equipment usually goes for several dollars for a few hours or so. It really is one of the more inexpensive landscaping embellishments out there.
A landscaping service can also stripe your lawn for you. If you already have your lawn professionally mowed, it might not be a stretch to see if they will stripe it while they're at it. Some lawn care services also specialize in striping lawns.
And remember, having a pro do it can be a great option if you just want an attractive lawn pattern for that big party you're hosting.