The Best Lawn Sprinklers of 2021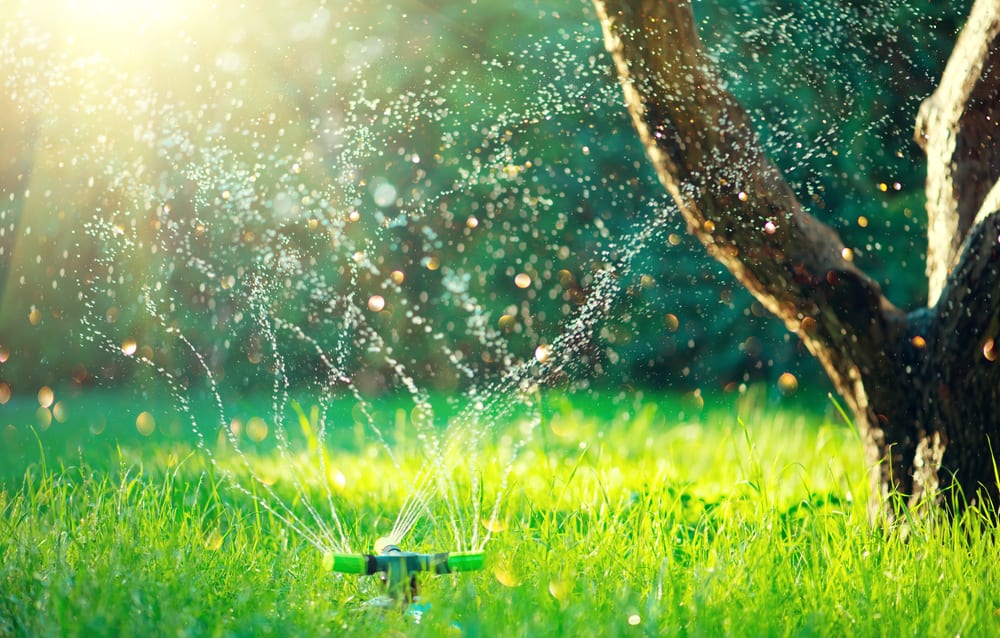 Depending on where you live in the United States, your yard can consist of any one of the more popular types of grass — from Bermuda and Bluegrass to Tall Fescue or Bahia — all of which need proper maintenance and irrigation. Besides following some basic lawn fertilization tips, installing a sprinkler (like of the best lawn sprinklers listed below) is essential to achieving that picture-perfect green grass you've been dreaming of.
The 8 best lawn sprinklers of 2021
Methodology: We sourced our list above by looking at the best selling sprinklers available on Amazon. We chose our top eight products based on cost, key features, product rating, and real customer reviews.  
Best for your budget: Melnor 65049-AMZ Oscillating Sprinkler with QuickConnect Product Adapter Set
Why it made our list
This oscillating sprinkler can cover up to 3,400 square feet, depending on the model. Its adjustable spray range allows you to use it on a variety of lawn types and sizes. The Melnor Oscillating Sprinkler also comes with a two-year limited warranty that covers any factory defects that appear after the purchase date.
Not only does this product have a 3.9-star rating on Amazon, but it's also inexpensive! For under $10 you can get a basic sprinkler to cover your lawn care needs.
Price on Amazon: $7.98-$14.99 (based on coverage area size)
Best overall: Rain Bird 32ETI Easy to Install In-Ground Automatic Sprinkler System
Why it made our list
The best sprinkler overall is a system that requires in-ground installation. Once correctly placed around your yard, The Rain Bird 32ETI will automatically water your lawn for the entire season. This system eliminates the need to constantly move a garden hose or make sprinkler adjustments. Once the sprinklers have completed a cycle, they automatically retract into the ground.
You do have to install the system yourself. Some Amazon reviews say installation can take a few hours, but that having a low-maintenance watering solution was worth it. This product has a 3.9-star rating on Amazon.
Price at Home Depot: $136
Most intuitive: Orbit 58322 Traveling Sprinkler
Why it made our list
One of the hassles of owning an inexpensive lawn sprinkler is that you have to manually move it across your yard for maximum coverage. The Orbit 58322 Traveling Sprinkler does the moving for you. This self-propelled sprinkler can cover up to 13,500 square feet of space using a 200-foot hose. With a simple twist of the spray arm, you can choose between three different speeds and adjust the total coverage area.
This product has a 4.3-star rating on Amazon, with customers saying it cut down on the number of times they had to adjust their sprinklers to cover bit lawns. Some reviewers note that you have to make sure to keep the hose straight, or else the sprinkler won't travel the full 200-foot distance.
Price on Amazon: $57.05
Most reliable: FORTIVO Lawn and Garden Sprinkler
Why it made our list
Fortivo is an extremely reliable brand, and this particular sprinkler has a rating of 4.1 out of 5 stars on Amazon. The product covers a wide area, leaving no dry patches, and doesn't leak during operation. The new model also comes with metal attachments on the bottom that prevent the unit from flipping over. The Fortivo Lawn and Garden Sprinkler is useful for all landscapes, and can easily navigate bumpy surfaces.
Price on Amazon: $22.99 (also comes with a 100% quality guarantee from the manufacturer)
Best for large front yards: Kadaon Garden Sprinkler
Why it made our list
The Kadaon Garden Sprinkler system can rotate 360 degrees and cover up to 3,000 square feet per unit. You can place the unit directly into the dirt and connect it to your garden hose. An added bonus? It's lightweight and easy to store when not in use.
This product has an average four-star rating on Amazon. Customers praise its wide coverage area and ease of use. But some reviewers wrote that the water coverage becomes uneven after long use, leading to overwatering in some areas.
Price on Amazon: $16.99
Best for easy installation: WOVUU Garden Sprinkler Upgrade
Why it made our list
The upgraded version of the basic WOVUU Garden Sprinkler comes with an additional 36 units on its spray nozzles, enabling the sprinkler to cover larger areas. With under 60 PSI water pressure, it can cover lawns with a distance of up to 42 feet away. The quick connector that comes with this upgrade makes installation very easy and minimizes water leakage.
This sprinkler has a 4.5-star rating on Amazon, with customers writing that it's lightweight, leak-free, and easy to use.
Price on Amazon: $15.99
Most affordable for in-ground installation: Melnor Pulsator Lawn & Garden Sprinklers
Why it made our list
If you have time to install individual sprinkler units, the Melnor Pulsator is an affordable and reliable product that only requires rubber tubing to connect the unit and the water source. You can easily adjust the water flow with a switch on each unit. You can also install multiple units around the yard for maximum coverage.
With an average 3.9-star rating on Amazon, reviewers write that this sprinkler system is lightweight with good water pressure. Some customers wrote negative reviews about durability, saying that the sprinkler broke or malfunctioned after long-term use.
Price on Amazon: $29.99
Best for large backyards: Orbit 58308N Tripod Base Sprinklers
Why it made our list
The best feature about the Orbit 58308N Tripod Base Sprinkler is its coverage area of up to 6,360 square feet. Each unit is made with heavy-duty brass material, which can withstand extremely high water pressure and just about any type of weather condition. Our best sprinkler for large yards also comes with a durable tripod mount that can extend up to 48 inches and resists tipping over.
With an average 4.1-star rating, this product is listed as the "Amazon Choice" for tripod sprinklers. Some reviewers wrote that the product was well-made and easy to use. Some lower-star reviews said the product would sometimes leak water or break after long-term use.
Price on Amazon: $39.97
*Prices as of 05/14/2020
Things to consider when shopping for sprinklers
Looking for the best lawn sprinklers can be a daunting task, especially when you consider the numerous products available on the market. Consider these factors when shopping for your next sprinkler system:
The size of your lawn: Your space is a huge determining factor in choosing the best lawn sprinklers. Take notice of the advertised coverage area for a prospective sprinkler before you buy it.
Watering frequency: If you water your lawn often, consider using a system that's installed in the ground. This cuts down on time and helps avoid the headache of manually moving your sprinkler around the lawn.
The severity of your climate: If you live in a part of the country with severe winters and summer storms, look for a sprinkler system that's built to withstand any type of climate.
Required maintenance of the system: Shop for a sprinkler system that comes backed with a warranty or guarantee, and that requires as little maintenance as possible.
Frequently Asked Questions
When should you start watering your lawn? 
The best time to water your lawn is before 10 am. If your lawn is starting to look a little gray, it's time to turn on the sprinklers.
What is the most effective lawn sprinkler? 
The most effective sprinkler will depend on what type of lawn you have and where you live. In most cases, automatic sprinkler systems will ensure that your lawn is watered regularly, even when you're not at home.
How does a sprinkler conserve water? 
The best lawn sprinklers are produced and calibrated in a way that maximizes the amount of water fed to each unit through the hose. Automatic sprinkler systems are usually more efficient than above-ground sprinklers.
What are rain sensors? 
Rain sensors can be installed with automatic sprinkler units. These sensors tell the sprinklers when it's raining to maximize water conservation.