25 Backyard Landscaping Ideas You Need to Try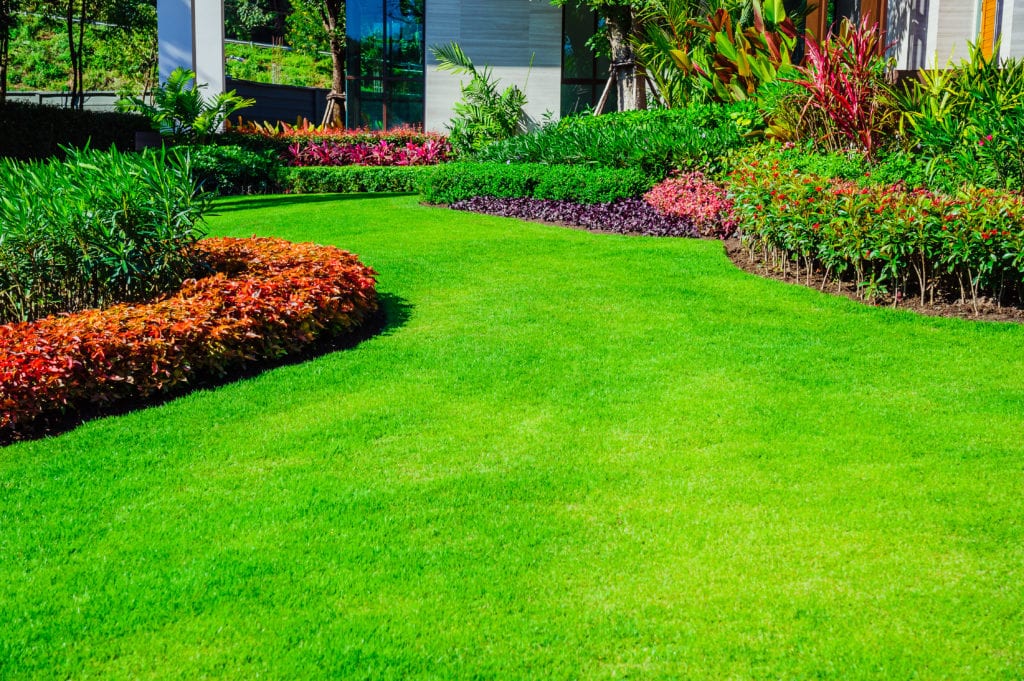 Just moved into a new house? After you've taken care of transforming your interiors, it's time to turn your focus to your outdoor surroundings. Just like your interior design, your backyard landscape design is all a matter of personal preference — and there are many different landscaping ideas to suit your style.
In this article, we'll share backyard landscaping ideas you can easily complete to enhance the look and feel of your yard.
Outdoor oasis: 25 backyard landscaping ideas for your next project
1. Traditional backyard garden
Having a flower garden is a traditional approach to backyard landscape design. Consider a well-planted garden with multicolor annual flowers — you can even add a flowing water fountain to top it off if the budget allows. The cost of landscaping a backyard of about 1,200 sq ft will run you a median price of $13,200.
2. Shaded loveseat
Building a loveseat or a swing set in your backyard can be a wonderful way to relax, especially during warm weather (or even chilly weather with a cozy blanket!). And if you're concerned about direct heat on occupants, you can always add a shed top. A loveseat will cost between $500 to $3,000.
3. Rustic outdoor dining
Want to add some outdoor dining to your backyard? Consider using a good flagstone flooring with some patches of flowers, then add some trim metal chairs to add a rustic feel. Flagstone flooring costs $15 to $30 per square foot to install, while rustic furniture costs an average of $149 per piece.
4. Shaded patio
If you have a small backyard space, a shaded patio might just be what you need. This little nook can be designed with a mix of green plants and wooden tables. A patio of about 20′ by 20′ will cost $6,000 to $10,000.
5. Gazebo
A gazebo is a lovely backyard landscape feature for homes with a lot of space. They can be constructed with bamboo or wood. Planting flowers along paved pathways leading to the gazebo can help beautify it. Gazebos cost between $7,500 and $10,000.
6. Plain greenery
Don't want complicated backyard landscape ideas? Use sod installation to create a well-built lawn, then add a personal touch to complete the look. If you enjoy hosting guests, add an umbrella with cozy seating. If you have kids, maybe a swing set or slide is the finishing touch you need. Use flower hedges to cover the backyard to shut out some of the sun and heat. Sod installation costs an average of $5,500 for an 8,000 square-foot yard.
7. Modern backyard relaxation spot
A modern backyard can be built using pavers interspersed with outdoor lawn grass. Build a fire pit as a focal point, add some outdoor furniture, and finish it off with artificial lighting. A relaxation spot in your backyard is a perfect place for family dinners and guest entertainment. The cost of building with all of these components starts at around $13,200.
8. Rockpool backyard
If you love rock gardens, cobblestones, and pools (who doesn't?), you can achieve a fantastic layout in your backyard using rock boulders, an artificial pool, and lighting. Rockpools of about 20′ by 30′ cost $20,000 to $55,000.
9. Lakefront backyard
For backyards with a lakefront, use boulders and decomposed granite to build a fire pit. The cost of building it could range from $700 to $1,500.
10. Backyard deck makeover
You can easily turn your backyard deck into a relaxation point by planting flowers and adding paper lantern lights to make your deck useful both for the day time and night time. Add some outdoor fixtures to complete the design. This simple backyard deck makeover will cost you under $500.
11. Vegetable garden
If you love to have fresh vegetables for your dinner table, why not landscape your backyard with a raised-bed vegetable garden? Raised bed gardens are quite cheap to build and should cost under $500.
12. Water feature
Adding a water feature to your backyard is one of the most dynamic changes you can make. Examples of water features could be a waterfall, a pond, or a fountain. Incorporating water features ranges from $2,500 to $3,500.
13. In-ground fire pit
Use a roaring fire pit and some boulder stones to create an amazing in-ground fire pit. Add in a well-defined path using rough-cut marble or paving stones with cultured greenery to help elevate the relaxing ambiance. A paver pathway costs $8 to $20 per square meter, while a fire pit installation costs about $700.
14. Dining deck
A backyard can be converted to an outdoor dining room on your deck. Use wooden panels to design the marked out space, create the flooring with hardwood floors, and add some local plants to add a touch of nature. Modern furniture can finish it off. The average cost of building a 16′ by 20′ deck is between $17,200 and $19,000.
15. Potted fairy gardens
Want to give your backyard a bit of whimsy, while also giving your little ones a fun project. Try making a fairy garden in big, terracotta planters. Fairy garden kits range from $20 to $50 on Amazon.
16. Paved stone backyard
You can transform your backyard using pavers. Paving stones add beauty and style to an otherwise boring backyard. Include a fire pit or a grill to make it stand out. Pavers cost about $2.67 to $3.65 per square foot to install.
17. Built-in slide
Do you have a backyard with a slope that is difficult to design around? One backyard landscape idea is to use the slope as a prop for a children's slide. You can also make a climbing post to keep your kids busy when they play outside. A slide costs an average of $193.
18. Kids' treehouse
Create a fun place for your kids in your backyard by building a treehouse. A simple tree house costs between $9,000 and $25,000, depending on the size.
19. Vertical planting
When you have a small backyard, a handy landscaping option is vertical planting. Vertical planters are used to grow herbs or flowers in a minimal space, but they also give visual appeal. Add some outdoor wrought iron furniture and paved flooring, and you have a cozy, secret garden feel. The cost of vertical planting can range from $300 to $1,000 (if you include both furniture and pavers).
20. Dry creek bed
Want to get the feel of a riverbed without the water? Try using stones, bricks, and flowerbeds to create a dry creek bed in your backyard. This can be done in a day with medium level skills. (Here is a breakdown of how to install it.) The cost of installation for a 4′ by 25′ is about $500 to $600.
21. River rock designs
River rocks can also be used to make fabulous designs for your backyard. You can make artistic medallions just for show, or create a geometric walkway reminiscent of a Greek mosaic. The average cost of installation of river rock is $192 to $246 per ton.
22. Stone walkways
You can design your backyard with walkways to lead to different parts of your backyard. Walkways can be made from flagstones, river stones, or simple paving stones. It costs between $15 to $20 per square foot to build a walkway.
23. Outdoor grill
Want a design feature that's also an entertainment must-have? Invest in a nice charcoal or gas grill. Build it into an outdoor island, or let it stand alone. Include a sitting place to help create an ambiance of relaxation and fun. The cost of building an outdoor grill ranges from $2,000 to $10,000.
24. Xeriscaping
Want to conserve water while landscaping your backyard? Try xeriscaping. This landscaping concept encourages alternatives to turf grass—think mulch, river stones, and tough local plants. The average cost of xeriscaping a 1,200 ft square yard is $12,000.
25. Build a pergola
A pergola is a wonderful idea for a backyard escape. It can be nestled in a natural green background with interlocking stone floors. The average cost of building a pergola of about 100 square meters is between $3,000 and $5,000.
Frequently asked questions
How do I make a landscape plan for my backyard? 
To make a landscape plan for your backyard, first mark out the area you will be landscaping on paper. Add in the natural features that can't be removed and then finish up by adding the elements you want to use for landscaping. Use graph paper to scale your drawing.
How can I landscape on a budget? 
To landscape on a budget, first determine what your budget is, choose a project that fits with your budget, and reuse available materials to cut down the cost of materials and delivery.
How do I make my landscape beautiful? 
To make your landscaping project beautiful, include flowers, green plants, and river rocks. These natural accents help to elevate your surroundings and make them beautiful.
What simple materials can I reuse for my landscaping projects? 
There are tons of reusable materials available for your backyard landscaping ideas. You can use old wooden boxes, tires, bottles, painted cement blocks, plastic buckets, and even old cutlery. Don't have any of those lying around? Go to antique stores or search for upcycled materials on online marketplaces like OfferUp and Facebook Marketplace.
---
Everything for your move, all in one place
Curate your personalized moving checklist, set up TV & Internet, and more with a free MYMOVE account.
Save on your move and tackle upcoming to-dos with your free MYMOVE account.