Find High-Speed Internet For Your Home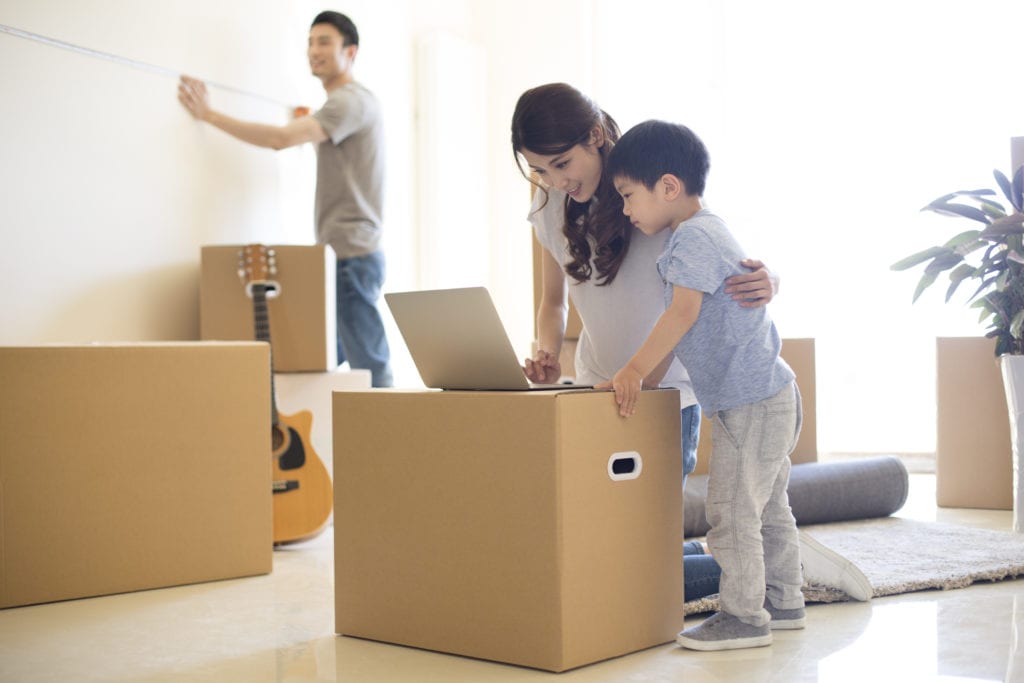 Moving is the perfect time to take stock of your services and even make some changes. One thing you could upgrade is your high-speed internet service provider (ISP). You'll be disconnecting from service at your old home, so why not take a look at which high-speed ISPs offer plans in your new one?
When you start researching internet plans, you might find that you already have the best service available. Or, you could discover that your new address is served by an ISP that's cheaper or offers the fastest internet speed.
Doing your due diligence and researching high-speed internet plans now could save you stress and money in the future while also ensuring that you and your family have the internet connection you all need in your new home.
What is high-speed internet?
Internet speeds are measured by how much information can be transferred each second. Think of internet speeds in the same way you understand speed limits when you're driving, but instead of miles per hour, you measure bits per second (bps).
Bps measures how much data you can get or send in a second. Bits are usually measured in large quantities, like Kbps (1,000 bits per second), Mbps (one million bits per second), or Gbps (one billion bits per second).
"Good" internet speed is generally defined as services exceeding the Federal Communications Commission's minimum download speed of 25 Mbps. So that leaves a lot of interpretation when it comes to "high-speed internet." Many high-speed internet providers offer plans with speeds between 100 Mbps and 1 Gbps.
But before you splurge for the fastest internet provider (which may have you seeing dollar signs), sit down and think it through. When it comes to choosing the right high-speed internet, it all depends on what internet speeds you need for your daily online activities.
The FCC has a broadband speed guide that outlines the average download speeds required to do some of the most popular online activities — from listening to music to browsing social media. Take the speeds of your regular online activities and add them up. Make sure to consider every member of your household.
For example, it takes a download speed of 25 Mbps to watch a movie streamed in Ultra HD 4K video. If you have more than one person in your household, each of them might be watching a different movie, so four people watching high-definition movies at the same time need about 100 Mbps. This number can serve as a baseline to help determine the minimum internet speeds your household needs.
How do I get fast internet service at my new home?
Now that you know what speeds you're looking for, you can investigate what high speed internet options are available in your area. Just know that your range of options will largely vary by location. In metropolitan areas, you might find several competing services, while some rural locations offer only one, or in some cases, none.
Determine what providers service your area and then start comparing them based on the type of internet they deliver. Speeds and connectivity can vary based on the internet type.
In the U.S., there are four main types of internet service: 
Digital subscriber line (DSL) is provided over telephone lines, but at a higher rate of speed than traditional methods. On average, this delivers the slowest wired connection speeds. With different technologies based on DSL and hybrid configurations available, DSL speeds can vary from around 1 Mbps to 100 Mbps.
Cable systems use the same wires as cable TV to provide internet service, which is typically faster than DSL. Connection speeds vary by provider, but 10 Mbps to 500 Mbps download speeds are widely available, with some companies offering up to 1,000 Mbps connections.
Fiber-optic networks convert electrical signals into light, which is transmitted through glass fibers. While this is largely considered the fastest internet type, it's not as widely available. Due to the high cost of infrastructure, fiber internet is only offered in select regions. Speeds with a fiber-optic service are mostly based on what the provider supplies with your plan, but some packages offer download speeds ranging from 100 Mbps to 1 Gbps.
Satellite internet communicates directly with orbiting satellites to deliver internet to any location through a responding "dish." While slower than most wired systems and vulnerable to weather conditions, it can provide internet in almost any location, no matter how remote. Download speeds depend on the provider but can range from 12 Mbps to 100 Mbps.
Once you've determined what providers there are and how they'll deliver your service, you can start pricing high-speed internet plans. By comparing prices, speeds, and features each company offers, you can find the best service to fit your family's needs.
High-speed internet providers near me
Searching for the best high-speed internet provider in your new area can be a bit difficult, but you can start by checking to see if any of the major, nation-wide ISPs offer services near you. Here's a list of the top high-speed internet providers, as surveyed by the American Customer Satisfaction Index (ACSI).
*Prices are as of 1/29/2020. Please note that pricing may vary by location.
Methodology: We sourced the internet service providers above using the ACSI yearly benchmark. The ACSI analyzes customer satisfaction through interviews with hundreds of customers regarding their experiences with their internet provider. The ACSI's yearly summary benchmark lists 13 major internet service providers and their scores since 2013. Using the ACSI list as a base, we compared the providers based on internet type, offerings, speeds, prices, and availability. 
How to save money on high-speed internet after you move:
There are more ways to save on internet than by just picking a low-cost provider. Try these ideas to reduce the cost of your high-speed internet plan:
See if the provider bundles other services, such as TV or phone, with a discounted rate.
Check to see if buying your own equipment will save you a monthly leasing fee.
Find out if new subscribers or customers switching services get a discount.
Research local companies and clubs to see if customers or members get special rates.
Ask your employer if they have employee agreements with providers.
Frequently asked questions
How fast is high-speed internet? 
According to the FCC, "good internet" has speeds of at least 25 Mbps for downloads and 4 Mbps for uploads. Many high-speed internet providers offer plans with speeds ranging from 100 Mbps to 1 Gbps.
Which providers offer high-speed internet?
Many companies across the nation offer high-speed internet plans, including cable companies, phone companies, fiber providers, and satellite providers.
How fast a high-speed internet plan should I get?
Fast enough to handle the heaviest load your household needs at one time. Consider the number of people using it at once, what they are using it for, and how many devices are connected.
Can I use my favorite internet-based service with high-speed internet?
Yes, almost every use of the internet (gaming, streaming video, streaming music, video conferencing, etc.) can be done with a 25 Mbps internet connection. But if more than one person or device is using your connection, you may have problems unless you increase your speed beyond the minimum level of 25 Mbps.