Verizon Fios TV Packages, Plans, and Reviews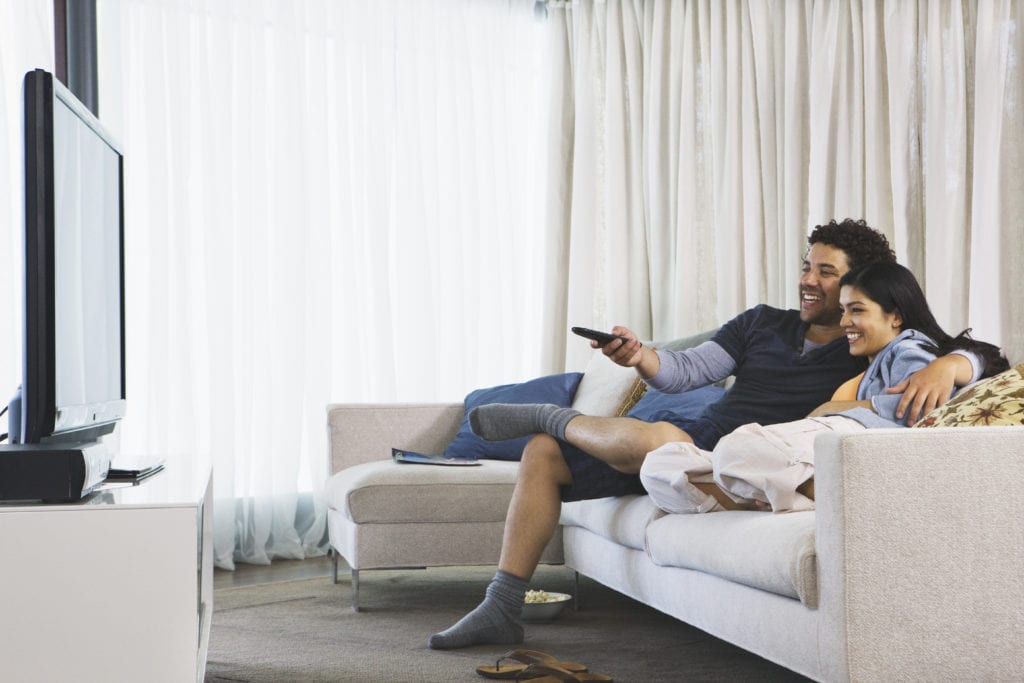 What you need to know about Verizon Fios TV
Verizon Fios TV packages come in different shapes and sizes for all kinds of TV watchers. And when you sign up for Fios service, you don't just get variety. You get reliability from a provider with high marks in customer satisfaction. Verizon Fios TV ranked #1 in customer satisfaction by the American Customer Satisfaction Index in 2019, and with a score of 70, it has ranked highest for the past several years.
Fios TV isn't Verizon cable TV, so there's no such thing as "Verizon Fios cable." Instead, Fios uses a new form of connectivity, a fiber-optic network that delivers high-speed internet and TV service to your home, if you live within certain coverage areas.
It's important to check and make sure your home receives Fios service, though. Due to the high cost of fiber-optic expansion, Verizon has limited Fios availability, offering service in metro areas only, across nine states.
There are a number of Verizon TV packages available, starting at just $50/mo. What's nice about Fios plans is that you can customize them. You simply choose five of your favorite Verizon channels, and then the company recommends Verizon channel packages based on your preferences — all without a contract.
Verizon Fios TV plans and prices
There are many Verizon channel packages and prices to choose from with Fios TV. It's important to research your options carefully, to ensure you only end up paying for the Verizon channels you want. To give you an idea of pricing, here are some packages and starting prices Verizon Fios offers:
* Pricing as of 3/24/2020
Verizon Fios channel selection
The biggest Verizon Fios TV channel plan offers over 425 channels. This includes premium channels like HBO, Showtime, and Starz. There's also Cinemax and Epix, with a full enough lineup of both movies and television shows to keep you and your family entertained.
Fios has dedicated sports packages for the athletes and sports enthusiasts in your home who enjoy watching all of the big games. They can choose from NHL Center Ice, NBA League Pass, MLB.tv Premium, MLS Direct Kick, and FOX Soccer Plus.
Verizon Fios also has more than 25 international TV packages, making it possible for everyone to find something they love watching. Your family can choose from Spanish TV, a variety of Asian packages, and select European packages.
Notable Verizon Fios TV features
Verizon Fios TV has a lot of unique features, including a customizable app. The option to personalize your channel choices makes the app a big hit with its customers. Find out more to see if the features it offers make the service the right choice for your household.
Make sure to check for these Verizon Fios TV deals
Movers can save a lot of money by finding the right deal from Verizon Fios TV. The company features a lot of introductory offers that could provide a much-needed savings break at a time when you need it most. After all, it's not exactly inexpensive to move. Here are some of the best money-saving offers from Verizon Fios TV.
Check with Verizon Fios TV directly at 1-800-837-4966 to find out which deals are available in your area.
Verizon Fios TV reviews
When it comes to customer satisfaction, Verizon Fios TV is leading the charge. In 2019, it led the American Customer Satisfaction Index rating system with a solid score of 70. The company was able to maintain its score from the previous year.
Verizon Fios TV boasts an impressive A+ scorecard from the Better Business Bureau, based on the company's interactions with customers on that platform. Verizon as a whole receives an average one-star (out of 5) from over 700 customer ratings on the BBB website. Positive reviews about the Fios service, in particular, praise service reliability and quick responses from technicians when problems do arise. Negative reviews about Fios cite the service's limited availability and billing issues as some of the reasons behind customer concerns.
If you look at another third-party review site, Trustpilot, you'll see that customers there give Verizon Fios an average four out of five stars (based on more than 1,800 reviews).
Digging Deeper: Verizon Fios TV pros and cons
Pros:
Cons:
Frequently Asked Questions
How much does Verizon Fios TV cost?
It starts at $50/mo. for 125+ channels, but can go up to $90/mo. for 425+ channels.
How can I watch Verizon Fios TV?
Through your internet connection, you'll have access to your complete channel lineup.
Does Verizon Fios TV offer TV services in my area?
It depends. Check to see if you're in one of the metro areas where it offers service across nine states.
Can I get access to international channels?
Yes. Verizon Fios TV has several international channel packages you can choose from. There's Spanish TV, a variety of Asian packages, and select European packages.
How can I get in touch with Verizon Fios TV?
Call the company at 1-800-837-4966. Or get in contact online.