How to Choose an Internet Service Provider For Your New Home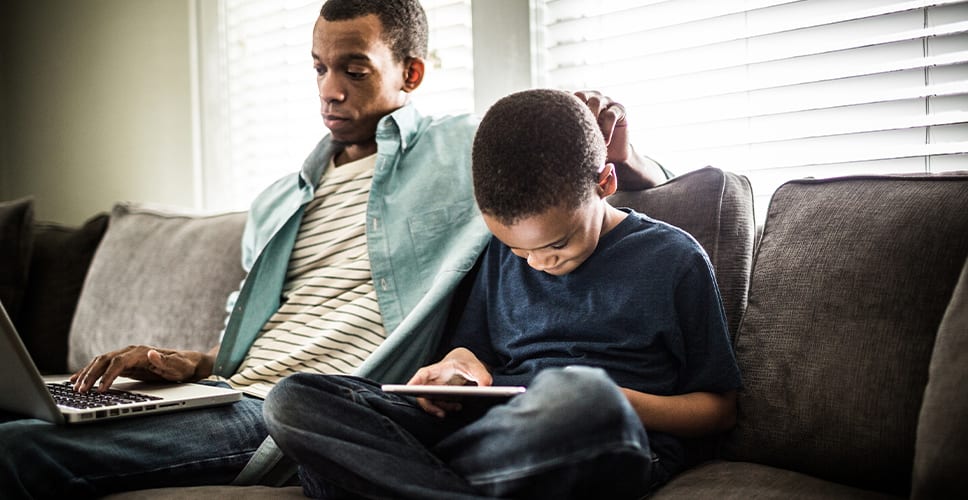 Let's paint a scenario. Your crazy Moving Day went off without a hitch (hopefully!) and you're sitting on your couch ready to unwind. You have your laptop in hand ready to commence a Netflix binge or browse Wayfair for new decor when your heart falls. You realize you don't have internet.

Don't let this post-move nightmare happen. Plan to have your internet service connected by the time you move in.

[deals-hub-ad]

You might be thinking: That's a lot of work during an already crazy time. I don't want to add that to my moving checklist.

But trust us, you do. And also trust us when we say that it doesn't have to be a stressful process. Don't worry, you've got this and we're here to help.
Terms you need to know
You'll be introduced to a lot of vocabulary words while shopping for internet. They can get overwhelming but as you dig deeper into the world of internet service providers, you'll start to see that terms are pretty uniform across the board. To prevent the constant google searching, keep these definitions in your back pocket while you shop:
Gigabits per second (gbps): The unit of measurement for internet speed that determines how many thousands of "bits" of data are moving through a connection per second. You'll notice that the gbps measurement is preceded by a "k,"  "M," or "G." The prefixes determine exactly how many thousands of gigabits are being transferred. The more bits, the faster the internet speed.
"k" = 1,000 bits
"M" = 1,000k (or, one million bps)
"G" = 1,000M (or, one billion bps)
Data: An umbrella term to describe content that someone might upload or download from the internet.
Upload Speed: How long it takes for your internet connection to send data from your device to the internet. Think, uploading a video to Facebook.
Download Speed: How long it takes for your device to retrieve data from the internet. Think, watching a movie on Netflix.
Broadband: An umbrella term for high-speed connection to the internet.
Bandwidth: The maximum amount of data that can be transferred through an internet connection at one time. Bandwidth is usually measured in Mbps.
Coverage Map: A map that shows you where you can go and still have access to the internet. Each internet service provider will have its own coverage map.
Types of Internet
Digital Subscriber Line (DSL): Internet connection that uses a phone line to transmit data. DSL is known for its high availability and lower costs, but common speeds are around 24 Mbps or lower. Learn more about DSL with Allconnect.
Cable Internet: A connection to the internet using coaxial cables, much like cable TV. Cable internet supports higher bandwidth (up to 10 times faster) than telephone lines. A notable drawback is that you could have slower internet speeds during peak usage times because you're sharing a connection with other users in your area. Learn more about cable internet with Allconnect.
Satellite Internet: Internet connection that uses satellite signals to transmit data. Satellite internet providers are best suited for rural areas where DSL and cable internet are not available. Internet speeds with satellite connection are comparable to DSL speeds but can be impacted by weather. Learn more about satellite internet with Allconnect.
Fiber: This type of internet uses cables made of thin glass or plastic fibers to transmit data. Fiber internet is able to support speeds that can reach up to 1,000 Mbps, far faster than both cable and DSL. It's the best type of internet for the price but is only available in select areas — usually cities and neighborhoods. Learn more about fiber internet with Allconnect.
Steps to Finding the Best Internet Service Provider for Your Home
Step 1: Determine the speed you need
The type of internet you need will be determined by how many users you have in your new home and your internet activities. Both of these factors impact internet speed.
Is it just you in the home, or do you have a family full of social media-using, video streaming, gamers?
To put internet speed into perspective, Ultra HD (aka super high quality) video streaming requires 25 Mbps to display that new Netflix documentary in perfect clarity. Email and social media browsing need .05 to 5 Mbps.
And if you have a ton of people connecting to the internet during peak hours, it's sure to slow down your connection. Make sure you have the bandwidth to support them all.
To learn more and test your current internet speed, read: MYMOVE's Guide to Choosing the Best Internet Speed
Step 2: Figure out the internet service provider options in your new area
Your internet options will depend largely on where you live, as most internet service providers vary by location. This is due to the differing types of internet (satellite is available everywhere while fiber options are still rare) and service provider efforts to keep operating costs low by not extending service to places where other companies already dominate.
To figure out what internet service providers operate in your area, look up your new address with Allconnect. You will also be able to study the different services and packages each provider offers.
Step 3: Compare providers in your area to determine if they're right for you
Once you get a list of names, you can start to compare providers — what they offer and the deals they include. With Allconnect's internet service provider comparisons, you can look at companies side-by-side to study different plans and how those offerings may best fit your family's needs. This will help keep you from overpaying or choosing the wrong plan.
Reviews.com, with the help of 10 IT professionals, also compiled a list of some of the top high-speed internet service providers in 2019. This list can serve as a jumping point as you research your options.
Here are Reviews.com's top 8 picks, as well as each provider's strongest selling point.
You may be thinking: This is a lot of work. Don't get overwhelmed. Start with the list of providers in your area and determine if they offer the type of internet you want.
Don't get bogged down by jargon and don't be afraid to ask each provider lots of questions. Most importantly, negotiate! At the end of the day, it's your decision and the provider wants your business.
Step 4: Think through money-saving options
Don't be afraid to ask each company about mover discounts or deals for switching providers. Local providers often run promotions with different sign-on deals. Look for those deals by inputting your new address with Allconnect here.
Another money-saving option to think through? Bundling your internet with your TV. This could cut a substantial amount from your monthly bill, depending on the provider you choose. With some providers (like AT&T), you can also bundle your wireless plans with internet.
Things You Should Know if You're Switching Providers
If cost, internet speeds, or location are causing you to seek out other internet options, remember to look into the cancellation process with your old provider before signing up with a new one. Often, internet service providers will lock you into a contract that includes early termination fees.
Check your previous provider's website or call customer support to learn more about their cancellation process.
If you're between a rock and a hard place and need a new provider before your move, some companies run promotions that offer buyouts from your former provider. The new provider may cover your early termination fee or other costs that come with switching to their service. Make sure to check with your new company before signing on the dotted line.
Learn more about switching internet providers with Allconnect.
Final Tips
Consider reputation and customer service
You may be enticed by the best deal and lowest cost, but don't let it rule your entire decision. You will likely have to deal with your internet provider a number of times after signing the contract. Let's be honest, internet providers may not be numero uno on your "list of people I want to talk to."
So, do yourself a favor and research their reputation by looking at customer reviews and the company's American Customer Satisfaction Index ranking.
Sign only when you're satisfied
Remember to ask questions and negotiate. If you don't understand your contract or the terms of your internet package, talk with your provider. And work hard to get the best deal by asking for those promos and bundles. Remember: You have the power.
Plus, this will help you determine the quality of customer service.
Read the fine print
We can't stress this enough. We know you're tired and that the moving process comes with tons of documents that have LOTS of fine print.
Don't get lazy now, or you'll be sucked into a contract you don't really want.
Put on those reading glasses. Pour yourself a cup of coffee and read. Don't be scared of the legalese (which we know is everywhere in that contract). Make note of terms and phrases you don't understand and ask the provider.
You can also learn how to spot hidden fees with Allconnect's guide.
The Bottom Line
Don't wait until the day before you move to remember internet. This will only add unneeded stress to a chaotic time.
Put a reminder on your calendar a few weeks in advance to step away from the moving boxes and sit down at your computer to research your internet service options. Whether you end up switching providers or stick with what you know, you can rest well on your first night in your new home knowing that you did your due diligence.
You've earned that Netflix binge, friend.