2 'Don'ts' and 1 Big 'Do' When Choosing a New Home Security System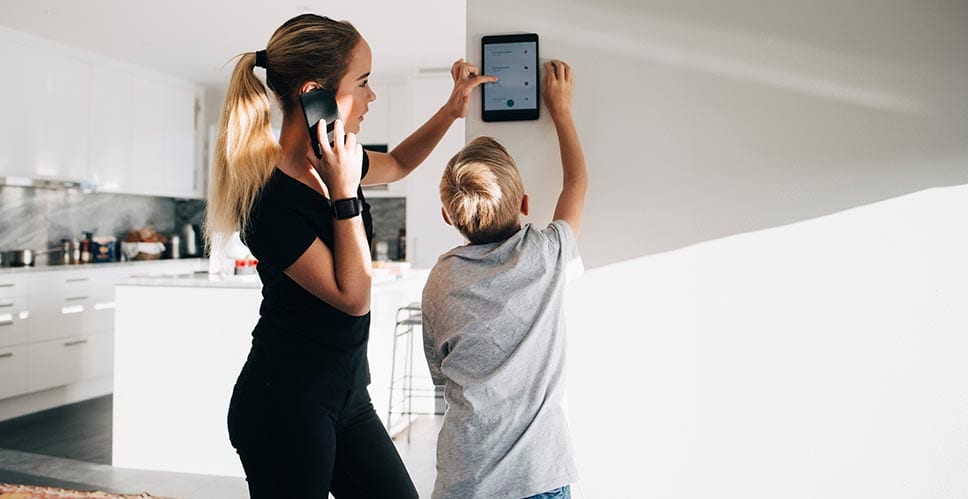 This post has been provided by: SimpliSafe. MYMOVE may collect a share of sales from links featured on this page.
Moving soon? Congrats! A new home is an open book of exciting opportunities. We're willing to bet that you were mentally previewing paint swatches, placing furniture and planning an unforgettable housewarming party from your very first walkthrough. We're also willing to bet that, while you were visualizing this picture-perfect dream home, you were probably forgetting to include one of the most crucial aspects every new home needs: a home security system.
Even if you're relocating to a relatively safe neighborhood, installing an alarm or security system in your new home should not be neglected. Statistics show that homes with a security system are three times less likely to be burglarized. What's more: nine out of 10 convicted home intruders admit that they typically avoid a home protected by an alarm system.
Fortunately, finding the perfect security system for your new home is easier than ever, thanks to today's competitive (and generously affordable) pricing and simpler DIY setups that make installation a breeze. Additionally, many of the best providers now provide contract-free plans, so you won't feel locked into a commitment.
With so many options and brands available, it can be a tad tricky to find the best option for keeping you and your family safe. Good news: we're here to help. Here are three top tips to keep in mind when searching for the perfect home security system.
1. Don't Let Providers Scare You
The thought of your new home getting broken into is naturally scary, but don't fall for the scare tactics many home security companies and salesmen can sometimes use. They may claim that crime is rising in your new neighborhood (especially if it's an area you're not quite familiar with), or that crime is up all over the nation (FYI: crime is actually down 5% nationwide). These fear tactics are usually a big giveaway that you're being hurried into a sale. Don't fall for it! Do your own crime rate research before making a decision.
2. Don't Sign a Contract
Home security contracts can be tricky. Contracts are very common, especially among big-name home security companies, and they can be pretty confining. Contracts can lock you into paying $35 to $45/month — and sometimes much more — for up to three years, with stiff penalties for cancellation. Sometimes, expired contracts can even auto-renew without your consent, locking you in for another several years.
Worse still: due to surreptitious home security system sales tactics, people often don't realize they've signed a contract with so many stipulations until it's too late. Make sure you review your contract from top to bottom before signing, and don't be afraid to ask questions. Plus, here's a huge relief for the contract-phobic: many top home security providers are now providing contract-free options.
3. Do Consider DIY-Installed Home Security
There's a misconception that top home security systems require a professional for installation. At one time, this was the case, but today, it isn't. These modern DIY-installed home security systems often provide better protection than their predecessors. For example: DIY-installed systems use sensors that are simple to place on walls and windows, eliminating the necessity of landlines that intruders can disable with a simple snip.
Picking the perfect home security system may not be as glamorous as planning out your dream kitchen or picking the perfect paint color for your bedroom, but choosing the right system is an absolute necessity in keeping your home and your family safe. Arm yourself with these do's and don'ts, and we're sure the home security system you select will be a safe bet.
Find the perfect system for you and your family, and order online here.