Porthole Windows: They're Not Just for Ships and Boats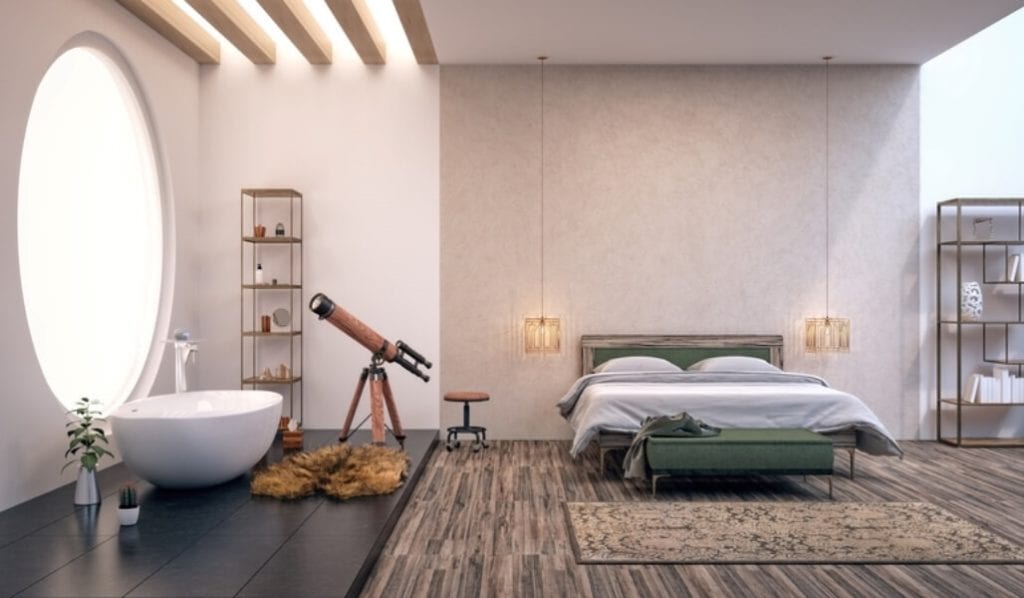 Porthole windows are standard on ships and boats. However, they're now showing up in residential homes. Just as garage doors aren't just for garages anymore, porthole windows are being used in other applications. And since porthole windows are available in a variety of materials and sizes, they can add a completely unique touch to your house (from both the interior and exterior). But, how do you know if a porthole window is right for your home?
Advantages of a Porthole Window
This porthole window is perfect for stargazing. "Porthole windows have the ability to turn a seemingly plain room anywhere in the home into a unique space," according to Brad Roberson, president of Glass Doctor. He says bathrooms are a popular location. "Why should bathrooms be boring? A porthole window can enhance even the simplest spaces, and that includes bathrooms," Roberson says.  "And as a bonus, it can also give the nautical illusion of being on a cruise, and who doesn't want to feel like they're on vacation?"
Porthole windows can also be used to line the walls of a staircase, according to Roberson. "Using these rounded windows there can help not only draw in light when transitioning levels but also create the illusion of more space," Roberson says.
Another fun place for them is in the ceiling. "We all have seen a skylight, but circular windows in the ceiling can create a fun illusion of the sun when the light shines through." Roberson says.
Many homeowners use porthole windows as artwork.  "Depending on your home's scenery, whether it's overlooking a beautiful beach or lake or the city lights, a large circular window can be thought of as a piece of artwork and a focal point in any room, particularly a living room." Besides bathrooms, attics and loft areas, porthole windows are also being used in other areas of the home, and there are even doors with porthole windows in them.
Disadvantages of Porthole Window
The porthole complements this home's design. Image courtesy of Dan Nelson, Designs Northwest ArchitectsHowever, there are some factors homeowners should consider before installing porthole windows. "I think porthole style windows are fine as long as a homeowner is just using them for aesthetic purposes," according to Nathan Outlaw, president at Onvico, a general contracting and design-build company in Thomasville, GA.
"They can look great with an appropriately themed room or home but don't serve much of a purpose," Outlaws explains." The light brought in is minimal, they can't let as much breeze in." He says another issue is that they don't serve as egress windows. In the event of an emergency (like a fire), you need a window large enough, and placed low enough, to crawl through. If you're considering a porthole window, make sure that you have at least one other larger window in the room.
This metal porthole fits perfectly in the metal wall. Image courtesy of Dan Nelson, Designs Northwest Architects"There is also the problem of making them look good in relation to the outside of the home, Outlaw says. "Many times they look great in the room they are placed but mismatch the exterior architectural style." That's not a problem for the well-designed homes in the two photos immediately above, but it is something to consider.
Resale Value
Porthole windows are trendy, but will they affect your home's resale value or not?
"I do think that buyers may see the window type as an obstacle when they start to think about reselling in the future," says Nicole Durosko of Warburg Realty.
"Anything that a homeowner does that is too specific, no matter how trendy or cute, will narrow the audience of potential buyers," warns Steven Gottlieb of Warburg Realty. "If a potential buyer doesn't want a porthole window, it adds to the number of 'renovation tasks.'" He believes that it won't widen the potential buying audience, but says it could narrow the field of buyers.
And Karen Kostiw of Warburg Realty believes a porthole window could be a distraction, and it might turn off a buyer. "Today's buyers are looking for large windows and lots of light," she says. However, if there are other windows that provide natural light, it probably won't be a deal-breaker. And in waterfront homes, it could actually be a selling point.