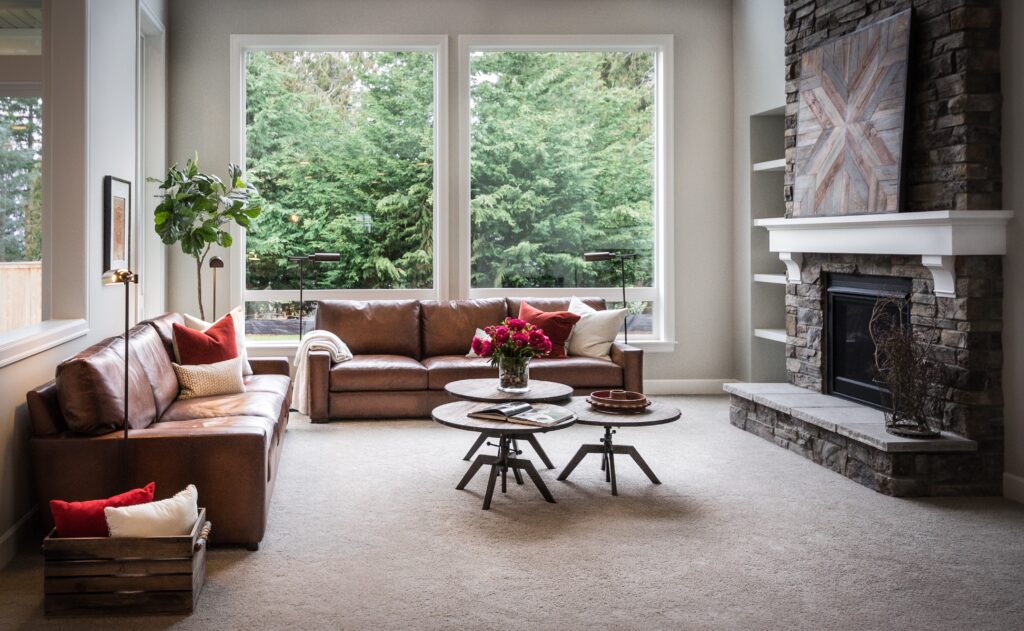 Best Replacement Windows: Reviews and Comparison
Finding the perfect replacement window for your home can be tough, especially when you have so many options to choose from. To choose the best option for your needs, you should consider factors like material type, window style, frame type, energy efficiency, and cost. This handy guide covers the best replacement window options, so you can pick the right one for your home.
What Makes the Best Replacement Windows?
Consider the following factors when weighing replacement window options.
Price
When selecting a replacement window, make sure to have a set budget in mind. Window prices usually range from $200 to $1,500, depending on the type of frame material and window style you choose. The most common window frames include:
Wooden frame: These are generally expensive, but they offer exceptional aesthetic value. With proper maintenance, these windows can last for years while offering excellent thermal insulation to help you save on energy costs.
Vinyl frame: Vinyl frames are cheaper than wooden frames and resistant to moisture. These frames are available in different shapes and sizes, but most of them cannot be painted. However, there is a range of stock colors that you can choose from to match the window with your home's aesthetic.
Composite frame: Composite frames are the least expensive of the three frame options. These frames are comprised of fiberglass or organic materials, which make them strong and energy-efficient. Similar to other frames, composite frames are available in different sizes and shapes.
When selecting replacement windows, you should also factor in installation costs, which can range from $300 to $2,000 per window, including labor charges.
Features
Consider the following features to ensure your window replacements are in line with your upgrade requirements:
Window design: Double-hung is the most popular window design, featuring two sashes that can move up and down. These windows often come with tilt-in sashes so that you can tilt the moving part of the window for easy cleaning. Other design options include single-hung, casement type, and awning-style, all of which come with different operating mechanisms and structure designs.
Glass panes: You should also consider the number of glass panes needed for adequate insulation. Most brands offer double-pane glass filled with argon gas that improves the insulating properties of the window. You can also get triple-pane glass, which costs more but is ideal for those living in extremely cold regions. The three glass layers also dampen noise.
Energy efficiency: Make sure that the replacement windows you choose are energy-efficient. Look for windows with an Energy Star label to ensure that they meet the minimum standard for insulation defined by the Environmental Protection Agency. Windows with Low-E (low emissivity) coating further improves glass efficiency by reflecting heat while allowing light to pass through.
Other energy-efficiency metrics include:
U-Factor, which indicates how well the window prevents heat from transferring outside. U-value ranges between 0.20 and 1.20. The lower the number, the better the efficiency.
Solar Heat Gain Coefficient (SHGC) is a measure of how efficient the window is at blocking heat from the sun. The SHGC number ranges from 0 to 1. Windows with a low SHGC value are ideal for hot climates.
Visible Light Transmittance (VT) indicates the amount of light the window allows to pass through, ranging from 0 to 1. A high VT number means you'll receive more light inside your home.
Customer support
When selecting a particular window brand, make sure it offers quality customer support. Most reputable brands offer trained professionals who assist homeowners throughout the selection and installation process. These company-run programs ensure that your windows fit properly while meeting your energy-saving goals.
Customer reviews
Another great way to determine the quality of prospective replacement windows is through customer feedback. Most reputable brands provide testimonials about their products on their website. These reviews are a great way to verify the claims made by companies about their products.
Warranties
Warranties are another great way to identify window quality.  Most window manufacturers offer a 20-year warranty on glass and a 10-year warranty on other parts. However, you should also look for windows that offer an option to transfer warranties, so that when you move, the new owner receives peace of mind. Many brands and independent dealers also offer installation warranties, so if anything goes wrong within the warranty period, your repair costs are covered.
Best Replacement Windows
The following list outlines our top five replacement window recommendations.
Andersen Windows
Andersen is the largest window company in North America, offering a range of energy-efficient replacement window options. The company categorizes window product lines into 100, 200, and 400 Series, with 100 Series being the most affordable and 400 Series offering the highest quality. Andersen also offers Architectural Collection windows, which are comparatively expensive but offer an aesthetic value to your home. The company includes a transferable 20-year warranty on glass and a 10-year transferable warranty for other parts on all of its product lines.
Pricing: Prices vary based on the window style, frame type, and where you live, ranging from $200 to $2,000.
Pella Windows
Pella is one of the oldest trusted brands offering high-quality, energy-efficient windows for home improvement. You can choose from a range of styles, color options, and feature sets to match with your home's aesthetic and needs. The company also offers impact-resistant glass, which is ideal for homes located in hurricane-prone regions. Additionally, Pella offers excellent warranty coverage for its products. For example, the wood windows come with a limited lifetime warranty on glass and cladding. The company also offers a two-year limited warranty on labor, which is transferable. Fiberglass and vinyl windows include a 20-year warranty on glass and a limited lifetime warranty on all non-glass components.
Pricing: Pella window prices range from $100 to $800, depending on the frame type and window style.
Simonton Windows
Simonton is another trusted brand that manufactures vinyl windows and patio doors. The manufacturer provides a range of energy-efficient window styles and color options. All products come with an Energy Star rating. Simonton also offers a 20-year warranty on glass and a non-transferable lifetime warranty on other window parts, such as vinyl, hardware, and screens.
Pricing: Simonton windows cost between $200 and $350, based on style and frame type.
Milgard Windows
In the industry for more than 50 years, Milgard is a popular brand that offers affordable wood, fiber, vinyl, and aluminum replacement windows. These energy-efficient custom windows come in different styles and color options. The company also offers triple-glazed windows under the Quiet Line series, which provide superior sound control. Milgard includes a non-transferable full lifetime warranty on all products.
Pricing: Prices for Milgard windows range from $270 to $350, based on window style and frame type.
Atrium Windows
Atrium offers a broad range of vinyl windows in different sizes and colors. These windows are also Energy Star-certified and offer excellent energy savings compared to old drafty windows. The company offers a limited lifetime warranty on non-glass parts and a 25-year warranty on insulated glass.
Pricing: Atrium windows cost between $100 and $1,000, depending on the style you choose.