Staircase Design: Don't Let Your Staircase be a Wasted Space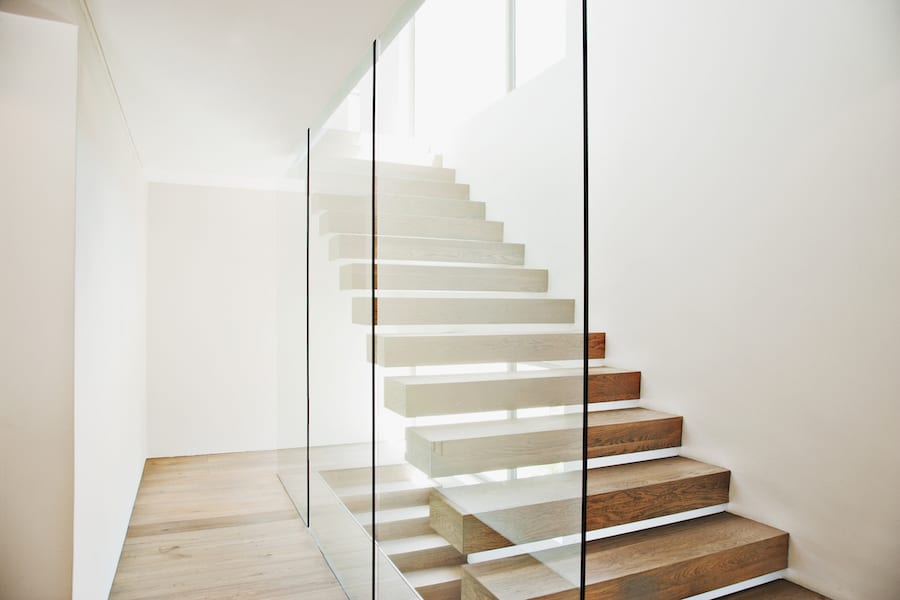 [caption width="1000" id="attachment_314960" align="aligncenter" ]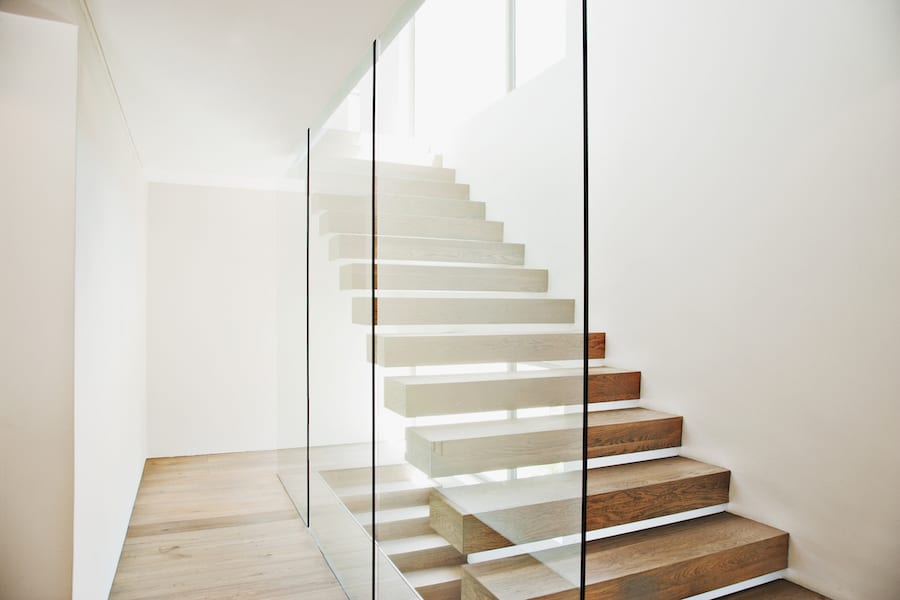 Stairs can be a forgotten space – or an area that wows. Here are some pointers for staircase design. Image: Martin Barraud/
Getty Images
[/caption]Shop These Products Now:
Non Slip Stair Trends
-
Wooden Flooring
You've been working on your home design. Bedroom? Check. Living room? Check. Kitchen? Bathroom? Dining room? Check, check and check. Before you put away your list and consider yourself finished, think about the areas of your home that often go overlooked but can make all the difference. For example, don't forget about your staircase design.Sure, the stairwell is a small area. The square footage available to integrate certain design elements is limited. But it's also the bridge between the floors of your home and, as such, the bridge that can connect your separate room designs and create one cohesive feel throughout your home. Don't miss this design opportunity! Here are five things you can add to take your staircase design to the next level.[caption width="1000" id="attachment_314958" align="aligncenter" ]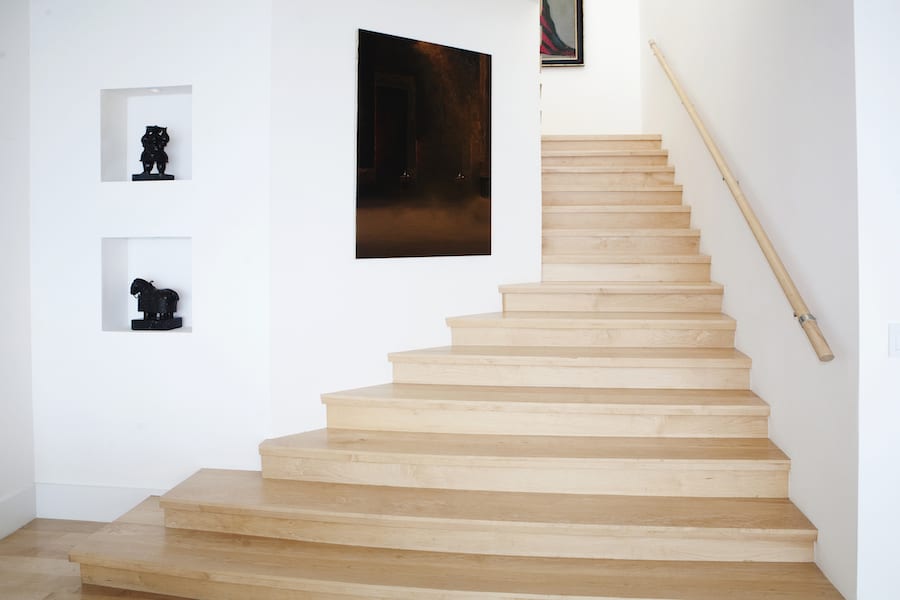 Art is the obvious choice to amp up a staircase – and for good reason. Image: Camilo Morales/
Getty Images
[/caption]Shop These Products Now:
Stair Railing
-
Wall Painting
Art
Yes, art is the most obvious thing we can add to our staircases to give them a sense of design. It also happens to be the obvious choice for a reason. Adding art to your stairwell is an instant way to beautify the space and add visual interest that doesn't take up any square footage. A single, large piece can establish the space, but the staircase is also an ideal place for a gallery wall. Try creating an art-based staircase design that flows with the stairs, as showcased in the photo above.[caption width="1000" id="attachment_314961" align="aligncenter" ]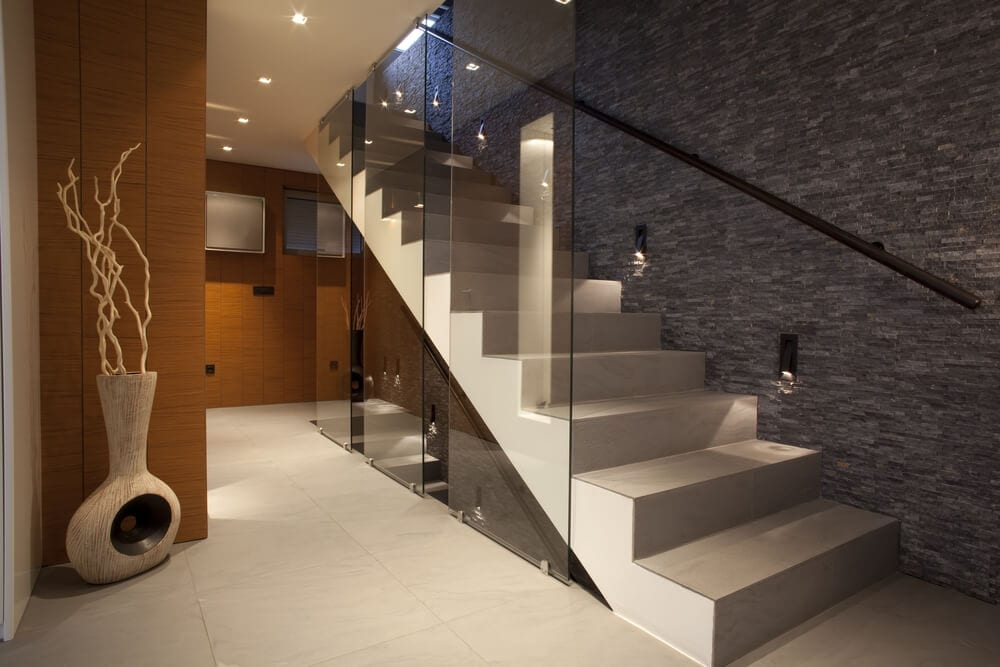 While replacing your railing might require a little elbow grease, it's a high-impact way to revitalize this space. Image: Rade Kovac/
Shutterstock
[/caption]Shop These Products Now:
Large Vase Decor
-
Stair Hand Railing
Railing
Creating an
architecturally-interesting staircase
is a great way to ensure the space can hold its own. It can also require a fairly major renovation. Fortunately, you can give your stairway architectural presence without temporarily knocking out your access to the second floor. All you have to do is rethink your railing.Your railing is the perfect opportunity to transform the feel of any room that looks onto your stairs. An extended wood railing, like the one in the photo above, adds warmth and natural texture to the room. Free-hanging glass, on the other hand, can create a minimalist, sleek feel. A cable railing lends an air of industrialism. Whatever tone you want for your home, your railing can help you nail it.[caption width="1000" id="attachment_314956" align="aligncenter" ]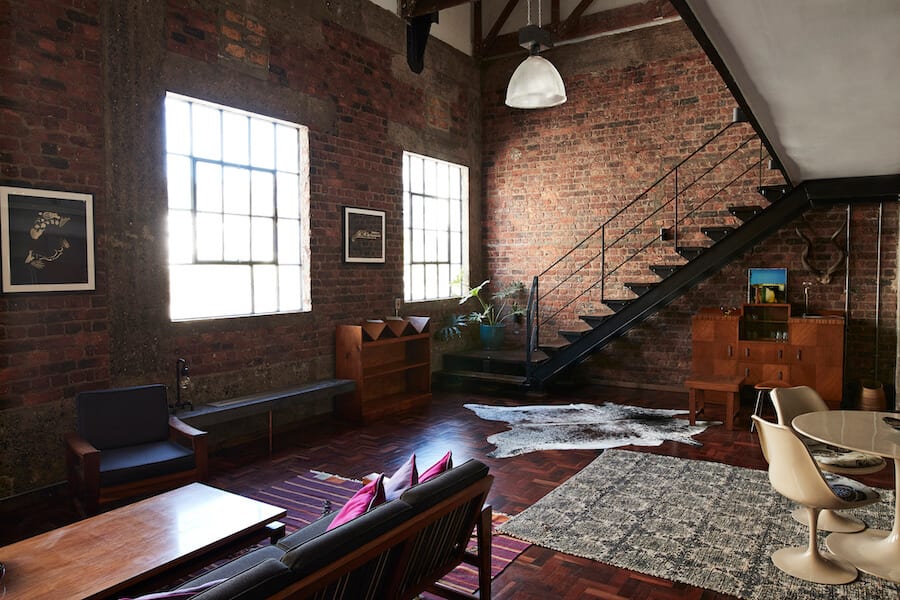 When you have the space to add furniture near your stairs, it can wow. Image: Klaus Vedfelt/
Getty Images
[/caption]Shop These Products Now:
Stair Handrails
-
Bricks Wallpaper
Furniture
Not every staircase has a landing large enough to accommodate furniture. But think creatively about the space around the top and base of your stairs, too. Adding a piece of statement furniture can instantly transform the area from mundane to monumental.The trick with choosing the right piece of furniture is matching the visual weight of the piece to the corresponding stairway. A solid, structural staircase, like the one pictured above, is helped by a low-profile, visually heavy piece of furniture. A narrower, simpler staircase would be better served by something more lightweight. If you're not sure what will work, try moving pieces you already own into the area until you find the right profile for the space.[caption width="1000" id="attachment_314959" align="aligncenter" ]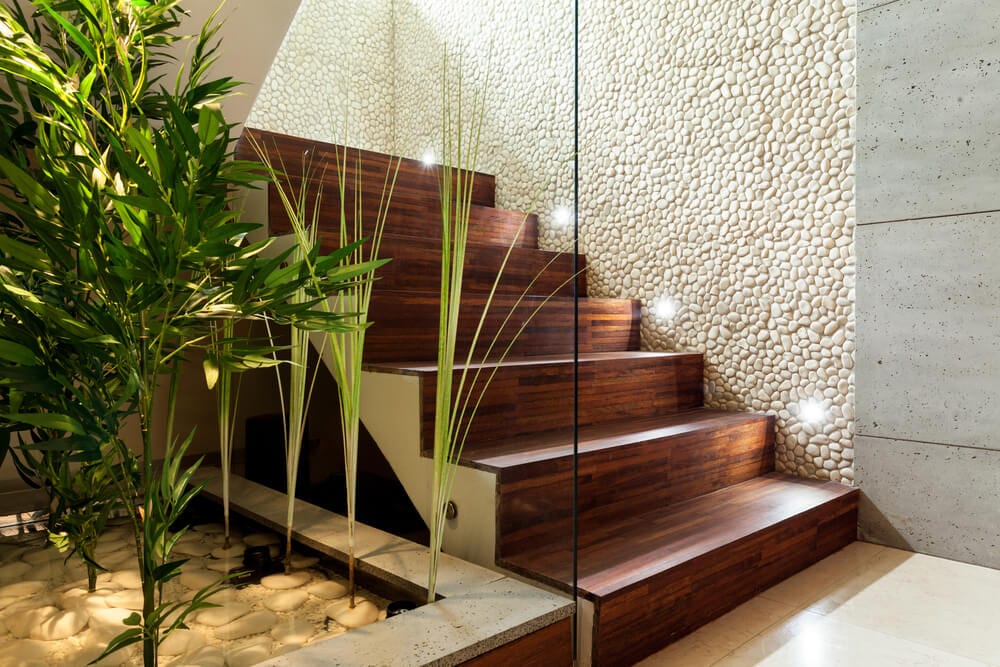 There's no better place to take risks with lighting than in your staircase design. Image: Photographee.eu/
Shutterstock
[/caption]Shop These Products Now:
Tree Plants
-
Stairway Lights
Lighting
Thinking about an unusual pendant light but not sure where it would work? Have you wanted to play with light sources set in the walls or floor? This is the place to do it. Your staircase is a confined design opportunity. Its relatively small footprint makes it an ideal place to take some big risks. And because of the inherently sculptural nature of stairs, bold design choices can be especially fun and interesting.[caption width="1000" id="attachment_314957" align="aligncenter" ] Add interest without overwhelming the space by playing with woodwork. Image: Marko Poplasen/
Shutterstock
[/caption]Shop These Products Now:
Stair Glass Railing
-
Planter Balls
Molding & millwork
If you like a clean aesthetic in your home, you might not want to make a small space like a stairway look busy with art or runners. That doesn't mean you have to leave it plain, though. This is a perfect location to integrate molding or other millwork into your home. If you're of the Joanna Gaines school of design and have been bitten by the
shiplap bug
, your stairway can be the starter course that begins its introduction into your home. And because this is a relatively small area, adding wood-based elements – which are pretty pricey in large-scale rooms – is significantly easier on your budget.Have you put some thought into your stairway design? Or is this a forgotten area of your home? Have you ever been truly wowed by a staircase? Let us know in the comments!